Florence, AL (June 6, 2023) – The 12th annual Toyota Bonus Bucks Owners event will be held at Pickwick Lake in Florence, Alabama the weekend of October 21-22,
2023 on the iconic Tennessee River where teams will need to aim for a solid 20- pound limit of smallmouth bass to take home the $5,000 first place check from
this No Entry Fee event.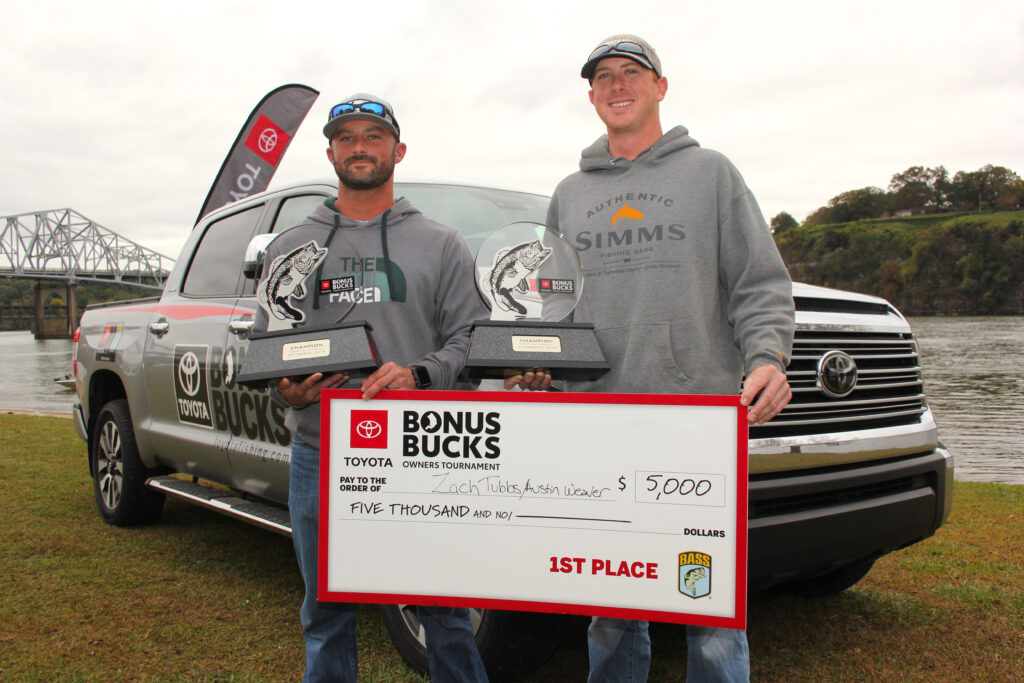 Covering more than 53 miles, Pickwick's iconic waters flow through three states, including Mississippi, Alabama and Tennessee, a region that is home to a huge number of loyal Toyota Bonus Bucks members. The weekend kicks-off Saturday afternoon with a registration meeting at McFarland Park where Team Toyota pro anglers will be on hand to greet guests.
B.A.S.S. tournament staff will conduct the tournament and be onsite Saturday afternoon for angler registration, where participants will receive a generous amount of free gear, along with a complimentary dinner.
Again, guests pay no entry fee, and the top 31 placing teams on Sunday are guaranteed a tournament paycheck. Plus, only one of the two team members must be currently registered in the Toyota Bonus Bucks Program to be eligible to compete in the event.
The eligible team member must own or lease a 2019 or newer Toyota Tundra, Tacoma, Sequoia, or 4Runner.
Of all the events Toyota is honored to be a part of, very few feature the genuine fellowship the annual Bonus Bucks Owners event brings forth. It's always so f spending time with people who depend on our vehicles to pursue their passiofor fishing," says Steve Appelbaum, National Manager, Sponsorship Integration, Integrated Marketing Operations, Toyota Motor North America.
Visit toyotafishing.com for more program details. Bassmaster Elite Series, MLF Bass Pro Tour and Pro Circuit anglers are not eligible to participate in the Toyot Owners Tournament. Participants are encouraged to sign up as soon as possible for this prize-rich event. Registration is limited to 300 teams. To register, visit: https://ownersevent.toyotatrucksbonusbucks.com . If you have. questions, or need assistance, contact the Toyota Bonus Bucks Headquarters via email: bonusbucks@dynamicsponsorships.com.
About Toyota
Toyota (NYSE:TM), creator of the Prius hybrid and the Mirai fuel cell vehicle, is committed to building vehicles for the way people live through our Toyota and Lexus brands, and directly employs more than 48,000 people in North America (more than 39,000 in the U.S.). Over the past 65 years, Toyota has assembled nearly 45 million cars and trucks in North
America at the company's 13 manufacturing plants. By 2025, the company's 14th plant in North Carolina will begin to manufacture automotive batteries for electrified vehicles. Through our more than 1,800 North American dealerships (nearly 1,500 in the U.S.), Toyota sold more than 2.4 million cars and trucks (more than 2.1 million in the U.S.) in 2022, of which, nearly one quarter were electrified vehicles (full battery, hybrid, plug-in hybrid and fuel cell).
You can follow us here 👇👇👇👇👇👇👇👇👇👇
Instagram https://www.instagram.com/bass_365/
Facebook https://www.facebook.com/365bass/
Keep up to date with everything going on in the fishing world http://bass365.com/
Download the BASS 365 LIVE app for free!
https://apps.apple.com/us/app/bass-36…