Greg Vinson maintained his lead throughout the Qualifying Round. Photo by Cobi Pellerito. Angler: Greg Vinson.
BAY CITY, Mich. – Thursday was the true definition of "moving day" at Minn Kota Stage Seven Presented by Suzuki on Saginaw Bay, with six anglers jumping into the Top 10 and six others falling out. But while more half of the Top 10 reshuffled, the top of the standings remained the same, with Alabama's Greg Vinson placing 14 pounds, 14 ounces of bass on SCORETRACKER® to bring his two-day total to 37-4.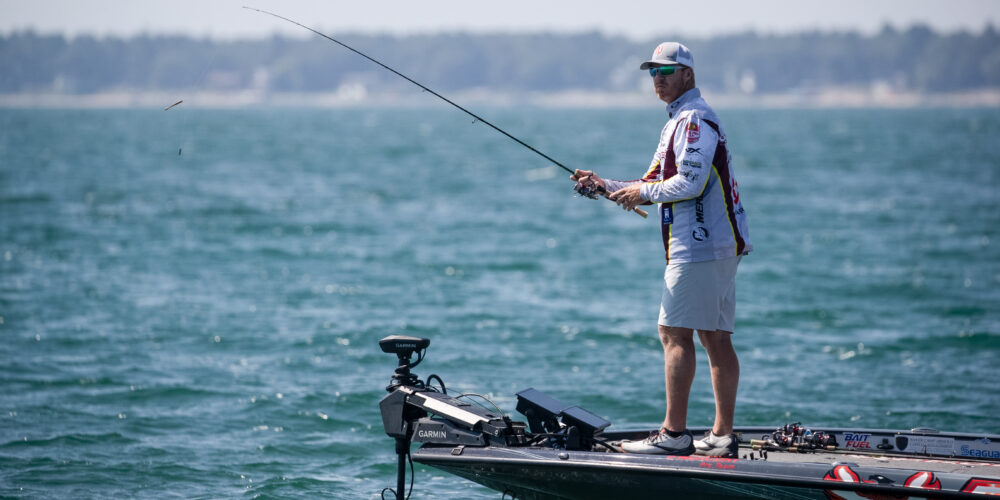 Vinson will lead the 20 anglers from Group A into the Knockout Round, with Kevin VanDam finishing second in the group with 33-7 over two days of fishing.
Vinson sticks to plan and then explores
After sacking up 22-6 of smallmouth to kick off the event, Vinson tried to replicate his success with bronzebacks on Thursday. He went back to the same area to start the day, and while he still caught plenty of fish, the size was much different.
"Today was a lot slower than I expected," Vinson said. "There are still fish in my area, but I didn't see as many. It also seemed like they were in a bad mood and didn't want to bite."
After settling in, Vinson was able to secure a limit of close to 14 pounds and knew that he would advance to the Knockout Round. His next move allowed him to cull up another pound.
"After I felt safe, I shifted gears and went fishing for largemouth," he said. "I feel good about what I found and know that I can jump on the largemouth deal if the smallmouth aren't biting. I may not catch 18 or 20 pounds, but know I can get a good bag of them. Either that or I'll have to mix and match and have some of both."
While game planning around which species to target, Vinson must decide how long to chase the brown ones.
"I know smallmouth are going to be the way to win this, so I'm going to start with them again," he said. "I feel like it's going to take 17 or 18 pounds a day to have a shot to win. Besides the bag I had the first day, there haven't been many really big bags, and hitting that mark two days in a row looks like it will be really strong."
VanDam lurking in final regular-season event
Fishing his final regular-season event in his storied career (and in his home state), VanDam has given himself a shot to go out with a win. VanDam cruised on Thursday, catching smallmouth in Period 1 before tallying a mixed bag of 15-12. He's looking to prolong his retirement as long as possible this week.
"I feel good about the event so far; anytime you can make the Knockout Round is good," he said. "You can't get to the Championship Round and give yourself a shot if you don't make it on the first two days. I'm trying to extend this event as long as possible since it's my last one."
With two of the better bags in his group on both days of competition, VanDam is clearly on a solid game plan. He's also done it by fishing his primary areas for just a period each day before searching for new fish.
"It took a while today, but I started piecing it together," VanDam said. "I've really only fished two periods so far this week, and I feel like a lot of other guys are doing the same thing. There's no slacking off anymore, and I believe it will take some better weights from here on out to do well and give yourself a shot at the win."
Six in, six out
With just over 2 pounds separating 10th through 24th , it was inevitable that there would be some big movers both above and below the Toro Cut Line on Thursday. That became a reality as Brandon Coulter, Justin Lucas, Tommy Biffle, Josh Bertrand, Mark Davis and Gary Klein all started the day inside the cut but had fallen out of it by the end.
Ryan Salzman, Roy Hawk, Dustin Connell, Andy Morgan, Edwin Evers and David Walker replaced those six. Walker and Evers made the most significant moves, jumping 13 spots each, as Walker rose from 33rd to 20th and Evers rallied from 31st to 18th.
AOY watch
Jacob Wheeler (10th) and Ott DeFoe (12th) have advanced to the Knockout Round. Coming into the event, they sat second and third in the race for the Bally Bet Angler of the Year.
Alton Jones Jr. led by Wheeler by 7 points and DeFoe by 10 entering Stage Seven. All eyes will be on "Junior" Friday – if doesn't advance, it will be DeFoe, Wheeler, or even Matt Becker taking the title. Becker was just one point back of DeFoe entering this week. He sits 26th in Group B after a day of fishing but less than a pound back from advancing.
The earliest a new AOY will be crowned is Saturday's Knockout Round, but more than likely, fans will have to wait until Sunday's Championship Round to see who wins the trophy and accompanying $100,000 prize.
What's next
Group B gets one more shot at Saginaw Bay on Friday. It will be all or nothing for them, as 20 will advance to the Knockout Round, with the other half heading home for the season. Anglers will begin fishing at 8 a.m., with the MLFNOW! live stream kicking off at 7:45 a.m. ET. You can follow the action and get live scoring updates at MajorLeagueFishing.com.