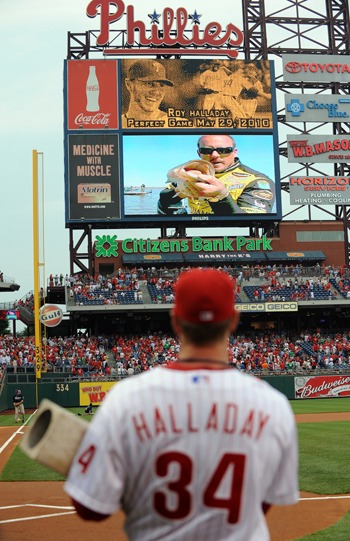 Skeet Reese was traveling last Friday when the call came from a Bassmaster staffer.
Would Reese, the caller asked, be interested in fishing with Philadelphia Phillies ace pitcher Roy Halladay? And could Reese squeeze the making of a tribute video into his schedule — today?
Philadelphia PhilliesHalladay, holding the pitching rubber used in his historical performance, looks on as Skeet Reese congratulates him on his perfect game and shares the news that they will be fishing together.
Absolutely, said Reese, on his way to hop a plane to this week's Bassmaster Elite Series tournament in Tennessee.
The Phillies organization sent a production crew to meet Reese's flight in Nashville. The video they made with Reese was used the next day (click here to see the tribute) on PhanaVision at a pregame ceremony in Philadelphia honoring Halladay's perfect game a week earlier in Miami.
"What a cool opportunity," said Reese. "Roy must be a huge bass fishing fan for the Phillies to orchestrate this, considering throwing a perfect game is such a rare achievement. It's going to be an absolute blast."
Halladay was pleased that the Phillies arranged a trip with the 2009 Bassmaster Classic champ and 2007 Toyota Tundra Bassmaster Angler of the Year. The invitation was extended to Halladay and two friends, and in the two-time 20-gamer winner's typical low-key style, he picked his two sons.
"The trip was a great surprise. I'm looking forward to learning a few things from Skeet. He's not only one my favorites, he's one of the best," Halladay said.
They will fish either Clear Lake or the California Delta, Reese said, adding that the trip probably will take place in the Major League Baseball offseason but that no date has been set. That's because the Phillies are contenders to advance to the MLB playoffs and win the World Series. For Halladay's sake, Reese said he hopes the fishing trip would take place in November (which would signal a late postseason run for the Phils).
Reese was told Halladay is an avid angler but not what the pitcher's skill level is on the water.
"If he can't cast, I'll be bustin' his chops," Reese joked. "I'll see how accurate he is with a fishing pole, that's for sure. He can hand me a ball and glove to see how accurate I am with it — I would not be good, I'm sure."
Reese's video message played before thousands at the Philadelphia stadium, the first time the team had been at home since the pitcher's perfect game May 29 in Miami. The hometown crowd gave Halladay a standing ovation for becoming only the 20th "perfect" pitcher in Major League Baseball history.
The only other perfect game in Phillies history was almost 50 years ago, when Jim Bunning did it in 1964. Bunning is scheduled to be on hand Aug. 26 when the team salutes Halladay again in a big celebration on their home field.
In Bassmaster Elite Series competition, there's nothing equivalent to a MLB perfect game, but for Reese, his April 2010 victory at Virginia's Smith Mountain Lake came close.
"It was almost a perfect tournament, not just because I won, but because I won by such a big margin," Reese said. His four-day total was 14.3 pounds more than his nearest challenger.
Reese and Halladay have more in common than their love of fishing: Both are at the top of their respective games. Halladay is a Cy Young Award recipient; Reese is the 2007 Angler of the Year and in position to win again this season after five top-5s out of six events this season, including two wins.
Story credit:  Bassmaster.com