New Jersey Pro Catches Five Smallmouth Weighing 28 Pounds, 10 Ounces to Top Win by 2-Pound Margin and Earn Top Payout of $100,000
UNION SPRINGS, N.Y. (June 11, 2023) – It was an emotional afternoon for Vineland, New Jersey pro Adrian Avena. After numerous seasons of watching his roommates and travel partners earn multiple wins and championship victories, the 12-year veteran finally earned his own red trophy. Avena caught eight scorable smallmouth bass Sunday, with his best five weighing 28 pounds, 10 ounces to win the Major League Fishing (MLF) Bass Pro Tour Favorite Fishing Stage Five on Cayuga Lake Presented by ATG by Wrangler and earn the top payout of $100,000.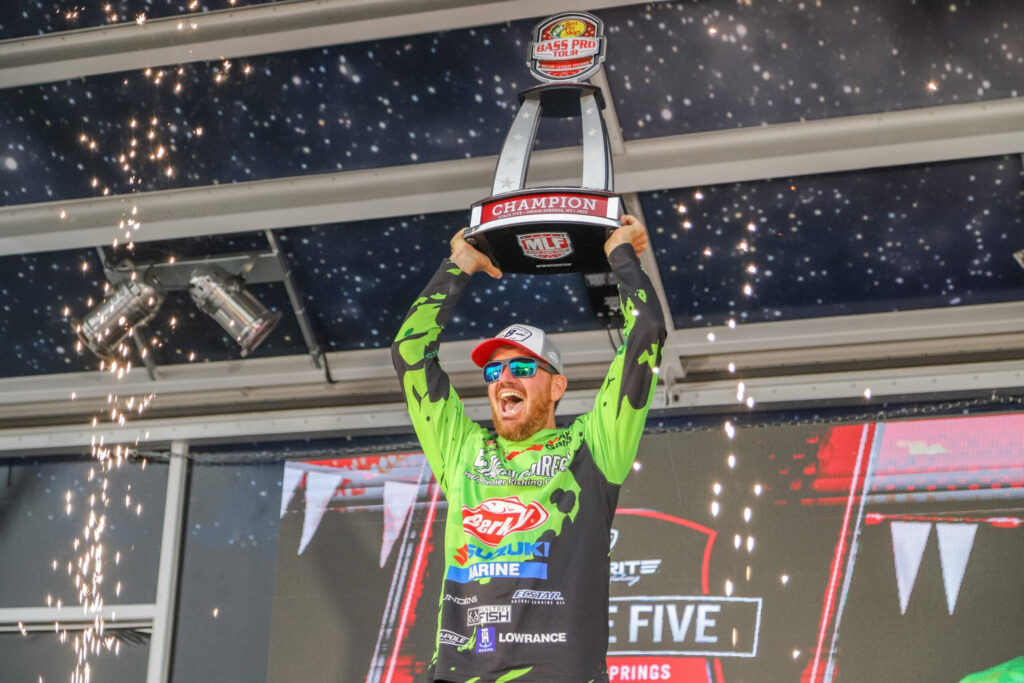 Link to Hi-Res Photo of Favorite Fishing Stage Five at Cayuga Lake Winner Adrian Avena
Link to HD Video – Fish-Catch Highlights of Championship Round on Cayuga Lake
Link to Photo Gallery of Adrian Avena's Championship Round Afternoon Highlights
Avena's two-day Knockout and Championship Round total of 10 bass weighing 58 pounds even earned him the victory by a 2-pound margin over second-place finisher Spencer Shuffield of Hot Springs, Arkansas, who finished with a two-day total of 10 bass weighing 56 pounds even, good for $45,000.
Over his four days of competition, Avena weighed in 20 smallmouth bass totaling 105 pounds even. Also breaking the 100-pound mark over four days were five other pros – Shuffield (106-10), Jacob Wheeler (100-8), Alton Jones Jr. (102-4), Matt Becker (102-0) and Kevin VanDam (102-2).
It was an incredible week of fishing that will likely be looked back on as the greatest smallmouth event in Bass Pro Tour history.
"You have no idea what this win means to me," Avena said on stage in his post-game interview. "I travel and room with three of the best guys in the world, and I ain't going to say that I got tired of them winning all the time, but man, it was starting to take a toll on me.
"I love them guys, and when you surround yourself with a house full of guys that are straight hammers it rubs off a little bit. But watching them boys win trophy after trophy… I'm just so glad that now I've got mine."
Throughout the week Avena targeted bedding smallmouth, using a flogger to locate the bass and then drop-shotting a Berkley PowerBait MaxScent Flat Worm or a 4-inch Berkley Gulp! Alive Minnow. He threw the setup on an Abu Garcia Fantasista rod with a Abu Garcia Revo Rocket spinning reel.
"The Gulp minnow was the deal, but the key was the chartreuse top," Avena said. "The chartreuse color was a big player this week. Also, I used a very small leader – getting my bait close to the bottom really mimicked those perch that were getting into their beds.
"Another big key was fishing deeper than everyone else," Avena continued. "After you'd hook a smallmouth they'd shoot straight up, so I had to have a spinning reel setup with a very fast gear ratio. I used the Revos all week."
Despite starting the day with a lead, Avena said that he was never comfortable throughout the final day of competition.
"I told myself this morning that I was not stopping on a fish that was under 5½ pounds, as I knew they wouldn't win this tournament," Avena said. "This lake is chock full of 4-pounders, and I passed up on so many of them todaybecause I knew they wouldn't help. I didn't catch a whole lot of bass today, but I caught the right ones that I needed.
"I have so many people to thank, that have believed in me from the start, and this just feels really good to be able to do this for them," Avena went on to say. "My dad has a weak heart, and he's always telling me, 'Adrian, I want to see you win a tournament before I pass away.' Well, pop, we got it done this week. I'm still shaking, and I am freaking stoked!"
The final 10 pros from the Favorite Fishing Stage Five at Cayuga Lake Presented by ATG by Wrangler finished:
1st:        Adrian Avena, Vineland, N.J., 10 bass, 58-0, $100,000
2nd:       Spencer Shuffield, Hot Springs, Ark., 10 bass, 56-0, $45,000
3rd:       Dakota Ebare, Brookeland, Texas, 10 bass, 55-2, $38,000
4th:        Jacob Wheeler, Harrison, Tenn., 10 bass, 54-0, $32,000
5th:        Alton Jones Jr., Waco, Texas, 10 bass, 53-8, $30,000
6th:        Mark Rose, Wynne, Ark., 10 bass, 52-4, $26,000
7th:        Matt Becker, Ten Mile, Tenn., 10 bass, 52-0, $23,000
8th:        David Dudley, Lynchburg, Va., 10 bass, 51-15, $21,000
9th:        Takahiro Omori, Tokyo, Japan, 10 bass, 51-4, $19,000
10th:     Kevin VanDam, Kalamazoo, Mich., 10 bass, 49-11, $16,000
Full results for the entire field can be found at MajorLeagueFishing.com.
Overall, there were 97 scorable bass totaling 459 pounds even weighed by the 10 pros on Sunday.
Dakota Ebare earned Sunday's Championship Round $1,000 Berkley Big Bass award with a 6-pound, 7-ounce smallmouth that bit in Period 1. Wheeler earned the $3,000 Berkley Big Bass award for the overall largest bass of the event with his 7-pound, 5-ounce smallmouth that he weighed during Saturday's Knockout Round of competition.
After five events in the Bass Pro Tour regular season, Ott DeFoe of Blaine, Tennessee, remains the leader in the 2023 Bass Pro Tour Bally Bet Angler of the Year (AOY) standings with 360 points. Pro Dakota Ebare of Brookeland, Texas, sits in second place with 332 points, while Bass Pro Tour Rookie Matt Becker of Ten Mile, Tennessee, rounds out the top three with 316.5 points. Bally Bet will award $100,000 to the 2023 Bass Pro Tour Bally Bet Angler of the Year winner.
The next regular season Bass Pro Tour event will take place later this month – the General Tire Stage Six at Lake St. Clair Presented by John Deere Utility Vehicles, June 24-29, at Lake St. Clair in Harrison Township, Michigan.
The Favorite Fishing Stage Five at Cayuga Lake Presented by ATG by Wrangler featured pros competing using the MLF catch, weigh, immediate-release format, with each angler's five (5) heaviest bass per day tallied as their day's weight. Anglers strive to catch their heaviest five fish each day, while also feeling the pressure and intensity of the live scoring SCORETRACKER® leaderboard. Minimum weights are determined individually for each competition waters that the Bass Pro Tour visits, based on the productivity, bass population and anticipated average size of fish in each fishery.
The six-day bass-fishing event showcased 80 of the top professional anglers in the world, competing for a purse of more than $805,000, including a top payout of $100,000 and valuable Angler of the Year (AOY) points in hopes of qualifying for the General Tire Heavy Hitters All-Star event and REDCREST 2024, the Bass Pro Tour championship.
Television coverage of the Favorite Fishing Stage Five at Cayuga Lake Presented by ATG by Wrangler will air as two, two-hour episodes starting at 7 a.m. ET, on Saturday, Oct. 21 and Saturday, Oct. 28 on the Discovery Channel. New MLF episodes premiere each Saturday morning on Discovery, with re-airings on the Outdoor Channel.
Proud sponsors of the 2023 MLF Bass Pro Tour include: 13 Fishing, Abu Garcia, Ark Fishing, ATG + Wrangler, B&W Trailer Hitches, Bally Bet, Bass Cat Boats, Bass Pro Shops, Berkley, Black Rifle Coffee, Daiwa, Epic Baits, Favorite Fishing, Ferguson, Fox Rent A Car, General Tire, Grundéns, Humminbird, Lowrance, Minn Kota, Mercury, Mossy Oak, Onyx, Power-Pole, Rapala, Star tron, T-H Marine, TORO, Toyota, U.S. Air Force, Yellowstone Bourbon, Yo-Zuri and Zoom Baits.
For complete details and updated information on Major League Fishing and the Bass Pro Tour, visit MajorLeagueFishing.com. For regular updates, photos, tournament news and more, follow MLF's social media outlets at Facebook, Twitter,  Instagram, and  YouTube.
About Major League Fishing
Major League Fishing (MLF) is the world's largest tournament-fishing organization, producing more than 250 events annually at some of the most prestigious fisheries in the world, while broadcasting to America's living rooms on CBS, the Discovery Channel, the Outdoor Channel, CBS Sports Network, the World Fishing Network and on-demand on MyOutdoorTV (MOTV). Headquartered in Benton, Kentucky, the MLF roster of bass anglers includes the world's top pros and more than 30,000 competitors in all 50 states and 13 countries. Since its founding in 2011, MLF has advanced the sport of competitive fishing through its premier television broadcasts and livestreams and is dedicated to improving the quality of life for bass through research, education, fisheries enhancement and fish care.
Get all of your tackle here.
Help us reach 15000 subs!   
 / @bass365  
You can follow us here 👇👇👇👇👇👇👇👇👇👇
Instagram https://www.instagram.com/bass_365/
Facebook https://www.facebook.com/365bass/
Keep up to date with everything going on in the fishing world http://bass365.com/
Download the BASS 365 LIVE app for free!
https://apps.apple.com/us/app/bass-36…