CLARKSVILLE, Va. — Greg Alexander visited John H. Kerr Lake a month before the B.A.S.S. Federation Nation Mid-Atlantic Divisional, and put together a solid pattern. By the time official practice began, however, Alexander knew he would have to throw that out and start all over.
"When I was here a month ago, I was catching 15 pounds," the Delaware Federation Nation member said. "I was fishing the main run up the river, but with (Tropical Storm Hannah), I knew that was trash."
Running down river to find cleaner water, Alexander was able to post a three-day total of 27 pounds, 11 ounces to win the overall divisional title.
"During practice, I waypointed as many fish as I could fine," he explained. "I had 30 to 40 fish waypointed that I thought could help me."
His key was working isolated boat docks and laydowns with a ½-ounce green-pumpkin Hunter Creek Baits Cheeseburger Jig rigged on 20-pound Berkley Trilene Big Game and tipped with a green-pumpkin Zoom Super Chunk.
"They were very shallow," Alexander said. "The fish were on the last (dock) float next to the bank, and when they were on wood they were right up on the bank."
After the first day, Alexander put one of only six limits on the scale. That 9-1 bag put him in fifth place, and he said he thought he had stumbled onto a hot area.
"I saw some fish following my jig up," he said. "And we saw some 3- to 4-pounders in some shallow grass."
The next day, he started there and struck out.
"I didn't catch a fish," Alexander said.
At 10 a.m., Alexander finally popped his first bass.
"That was my first bite," he said. "It was a 5 ½-pounder, so it really settled me down."
He could swing only one more keeper over the gunnel before it was time to head to the landing, but that 6 pounds, 13 ounces allowed Alexander to move up one spot.
To seal the victory, Alexander changed areas completely, staying in Occoneechee Creek, which is located adjacent to the landing.
"I had been looking at it all week, and saw that the water didn't get muddy (after the tropical storm)," he said. "I went right in there and caught every one of my fish there today."
His five-fish limit of 11-13 brought his total up to 27 pounds, 11 ounces, edging out second-day leader Eddie Fore by only 9 ounces.
While finding waters holding fish was important, Alexander said the bass were far from concentrated. "I told my other team members before this started that whoever throws to the most targets is going to win," he explained.
He took that to heart, leaving a wake behind as he fished.
"When I hit the trolling motor, except when I was positioning the boat on a dock, it was on high," Alexander said. "I covered 20 miles on my trolling motor every day."
Alexander's overall win also earned him a trip to the B.A.S.S. Federation Nation National Championship to be held in November at Kansas' Milford Lake.
Joining him at the championship will be the other five state-team winners: Jerry Sersen of Maryland, New Jersey's Chris Smith, Pennsylvania's Ken Baumgardner, Virginia's Fore and David Halcomb of West Virginia.
Those anglers will be vying for one Mid-Atlantic Division berth into next spring's Bassmaster Classic in Louisiana.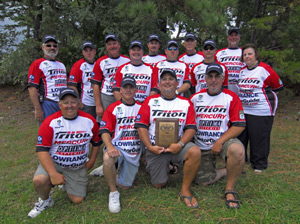 Andy Crawford
Home-state Virginia scored a $30,000 Alliance Program boat package by outdistancing the other five state chapters in the BASS Federation Nation Mid-Atlantic Divisional.
In addition to the overall and state competitions, the six competing state chapters also were accumulating team totals. At stake was a fully rigged Alliance boat package valued at $30,000. Virginia easily took the top position, racking up 198 pounds, 4 ounces to outdistance the closest competitor of Pennsylvania by almost 25 pounds.
That accomplishment was made possible because the team members communicated with each other, team captain Jeff Franklin said.
"Every night, we shared with each other," Franklin said. "Those that were catching fish shared with those who weren't.
"It was a great team effort."
Top Virginia finisher Fore said he had a strategy to balance his run for the team victory with his desire to overcome the efforts of other teams.
"I went to my strong suit, and figured I could weigh in 9 to 11 pounds a day," Fore said. "That way, I felt like I'm in position to win the team but I'm still putting fish in the boat to help my team."