WHEELING, W. Va. — Virginia's Jeff Freeman had a 2-pound lead going into the final day of B.A.S.S. Federation Nation Mid-Atlantic Divisional, and he felt a limit was all he needed to clinch a wire-to-wire victory.
He got some help from the weather, with fog rolling in for a good early morning bite.
"We caught a limit on top really, really quick," Freeman said.
After the fog broke, he was forced to move a bit deeper but was able to pull together a 6-pound, 5-ounce limit for a three-day total of 18-3.
That pushed him 3 pounds, 7 ounces ahead of Pennsylvania's Tim Dolon, who moved from third to second with a total of 14-12.
Don Denault of Delaware finished third with 13-4, while West Virginia's Rick Hammer wrapped up in fourth with 12-12 and West Virginia's Steve Marks tallied up 11-4 to finish in fifth.
"A downed tree with grass on the end of it, you could just about call your shot on that," Freeman said.
The submerged structure came in the form of humps providing current breaks in which bass would hold.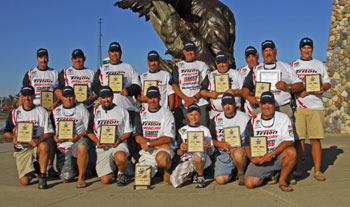 Andy CrawfordVirginia earned the top team award. (Front, from left) M. Winn, J. Slamon, J. Lugar, J. Freeman, N. Bodsford, R. Farriss, E. Fore and M. Bryant, and (back, from left) B. Copley, R. Rice, T. Jones, M. Metz, M. Cooper, S. Roberts, K. Lackey and C. Pike.
His key lure was a drop-shot rigged with a 6-inch Roboworm above a 1/8- or 3/16-ounce sinker.
"I would throw up current so the lure would hit the hump," Freeman said. "If they didn't hit it on the (initial) fall, I would have to jiggle it.
"When I would jiggle it, the weight would come off the bottom and just work its way down current."
A secondary tool was a ghost minnow Lucky Craft Gunfish, but it was more of a location lure.
"I would throw it over humps, and if I had a fish swirl on it I could throw (the drop shot) and catch that fish," "Freeman said.
Freeman not only sealed the tournament's win, he earned a berth in the B.A.S.S. Federation Nation National Championship slated for October on Florida's Harris Chain of Lakes.
Joining Freeman will be the top anglers from the other five state teams in the division. Those anglers moving to the championship are Delaware's Denault, Maryland's Brett Quader (8-7), New Jersey's Scott Weiland (10-2), Pennsylvania's Dolon and West Virginia's Hamer.
In the team competition, in which a $30,000 Skeeter/Yamaha boat package was on the line for the team accruing the most three-day weight, Virginia eased into first with a total of 81-15.
Pennsylvania finished in second with 77-2, New Jersey ended in third with 75-7 and event host West Virginia wrapped up in fourth with 73-14. Delaware's 71-2 put that team in fifth, with Maryland rounding out the field with 58-1.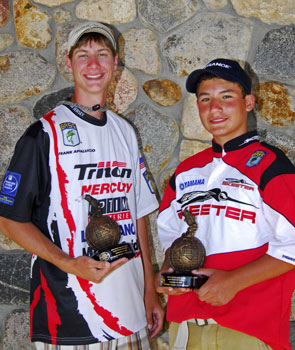 Andy CrawfordFrank Appaluccio (NJ) (left) not only won the older age division in the Jr. Bassmaster competition, he weighed in a heavier stringer than any adult competing in the Divisional. Joining Appaluccio at the Jr. World Championship will be John Duarte (MD).
In the Junior Bassmaster divisional competition, New Jersey's Frank Appaluccio took the 15- to 18-year-old competition by weighing in one of only four limits in the day's competition.
Surprisingly, Appaluccio's 9-pound, 12-ounce stringer also ranked as the heaviest one-day weight of the tournament (including the adults) and pushed him into seventh place in the overall individual competition.
"It's an honor," Appaluccio said. "I didn't think I'd get the biggest bag; I thought I might get a limit of 12-inchers."
John Duarte of Maryland, who won the older CastingKids title yesterday, earned the Junior Bassmaster divisional title in the 11- to 14-year-old competition.
Appaluccio and Duarte will fish the Junior World Championship to be held in Florida in conjunction with the adult Federation Nation championship in October.