Practice for the fifth stop of the 2023 St. Croix Bassmaster Open schedule has officially concluded and Opens anglers are ready to take on the behemoth that is Lake Eufaula here in central Oklahoma. Competition begins tomorrow morning here and if you aren't an Okie, there is a good chance you won't know a whole lot about this week's playing field.
We caught up with longtime Opens pro and Bassmaster Classic qualifier Teb Jones, former Opens co-angler turned first-year boater Frank Williams, and Elite Series pro Darold Gleason to get an idea of what anglers experienced throughout practice this week and what fans should expect from Lake Eufaula over the next three days.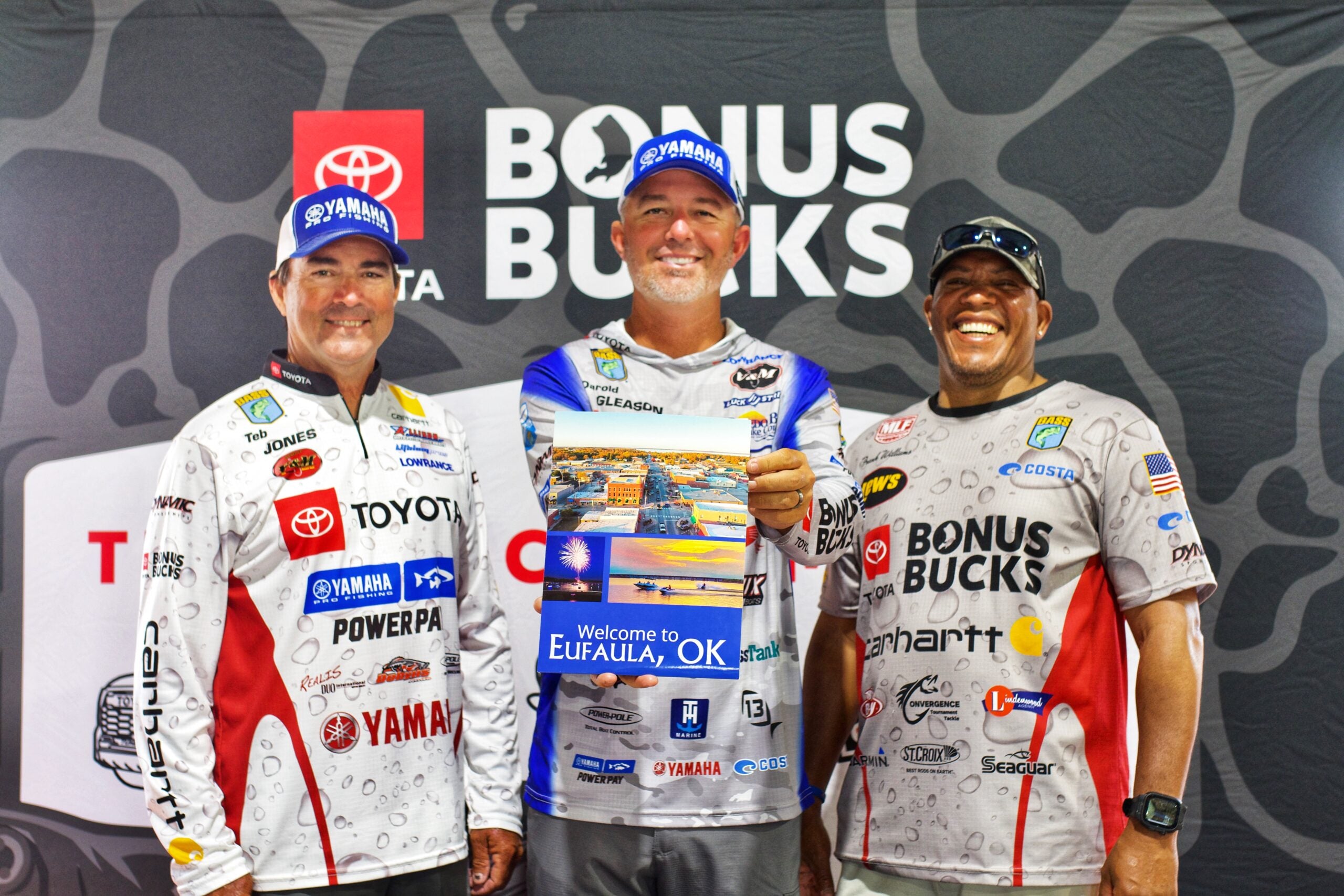 Q – Lake Eufaula is massive. It spans over 105,000 surface acres with over 800 miles of shoreline. When practicing for a tournament on a giant, relatively unknown fishery like this, do you pick an area and lock in, or do you sample multiple sections of the lake?
Teb Jones – "I fished a regional tournament here back in 2014. I went back to those same areas and tried to expand on what little I already knew about this place. So, I guess I locked in this time around."
Darold Gleason – "Whether it's an Elite Series event or an Open, my strategy is to sample until I have success and then hunker down in that area."
Frank Williams – "Years ago a buddy of mine told me it's better to spend 90% of your time learning 10% of a lake than spending 10% of your time in different areas trying to learn 90% of a lake. That has helped me ten-fold over the years. I typically try to lock in on an area."
Q – Usually Lake Eufaula is infamous for dirty water, in terms of visibility / clarity, what is the dirtiest water you've seen this week and what is the cleanest?
Teb Jones – "I've seen everything from two-inches of clarity to over two feet. And the clarity has definitely changed for the dirtier throughout practice."
Darold Gleason – "Honestly, I've ran from the dirty water all week. Anytime I saw less than six inches of visibility I left the area. The cleanest I've seen is around two feet, which is a great summertime clarity in my opinion."
Frank Williams – "Gosh, I think there was almost four feet of visibility by the dam on Saturday (first day of practice), but everything has gotten dirtier as the week has gone on. Less than six inches is the dirtiest water I've seen."
Q – Name two techniques you expect to play a big role for Bassmaster Open competitors this week?
Teb Jones – "I'm going to say a topwater of some kind and a shakey head."
Darold Gleason – "Topwater and a squarebill crankbait with both be big players."
Frank Williams – "Even with the dirty water I've gotta say a shakey head and a drop shot."
Q – Based on your experiences so far if you had to give Lake Eufaula a nickname, what would it be?
Teb Jones – "Lake fast and loud – referencing the boats I saw out here this weekend."
Darold Gleason – "Based on the weekend activities I witnessed, I'm calling this glorious pond 'Jorts (jean shorts) and cold pops. Seems like a good place to have a big time on a Saturday."
Frank Williams – "Garholio… I've seen a lot of gar with both my eyes and electronics during practice. I'm talking an impressive amount of trash fish."