DECATUR, Ala. — Through a series of flipping and pitching casts from a hidden cove, Tommy Biffle of Wagoner, Okla., accumulated 50 pounds, 13 ounces on his way to victory at the Evan Williams Bourbon Dixie Duel on Wheeler Lake. Biffle edged Casey Ashley of Donalds, S.C., who amassed 46-4 for second place during the third stop of the 2009 Bassmaster Elite Series.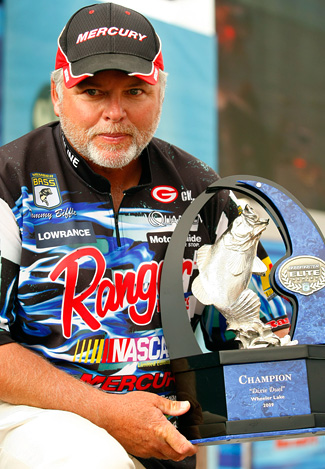 James Overstreet
Tommy Biffle, who began fishing with BASS in 1985, had too big of a lead Sunday.
With the victory, Biffle earns $100,000 and valuable points in the Toyota Tundra Bassmaster Angler of the Year standings, which awards the top 36 anglers qualifying berths in the 2010 Bassmaster Classic.
Biffle found a secluded spot on Wheeler Lake without any other boat traffic and remained committed to it through the weather-shortened event. Friday was canceled due to unsafe river conditions and the river levels increased nearly 2 feet since the first competition day on Thursday. Biffle, who bagged 14-13 on Sunday's final day, said he was fishing in about 6 inches of water on the first day and the water was stained for the remainder of the event.
"I was more concerned that the river bottom was going to drop and my area would be dry and that was my biggest fear," said Biffle, 51. "With the quality of the maps and GPS detail now you can find places that you could never find before. You know this is right up my alley as I don't like to have others near. I was fortunate no one came in there."
The area was large enough for others to join, and he was confident in being able to boat at least 15 pounds daily. The former race boat driver said he caught at least 50 fish daily throughout the event. He missed a couple big bites Sunday, however remained committed to using his pattern of a black and blue jig and a lizard. He was fishing around a lot of structure that included bushes.
"I was able to skip an area if I missed a fish and come back to it later in the day, so it was a key to success," he said. "The perfect condition would have been sunny all day and without the water dropping about 8 inches overnight, bigger bags would have been caught."
His last BASS victory was 2006 Bassmaster Elite Series event on New York's Oneida Lake, the inaugural season for the Elite Series. Biffle feels that the water temperature affected the bigger fish today. On Saturday, Biffle boated 19-14, the largest of the tournament.
"When I caught them really good yesterday the temperature was up about 68 or 69 degrees, today the highest it got was 64," he said.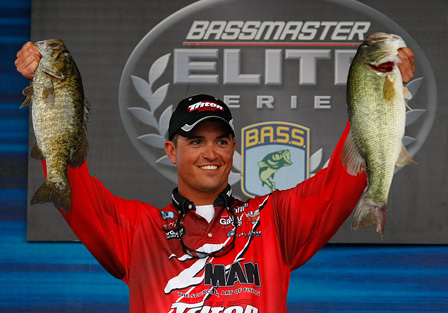 James Overstreet
Casey Ashley (2nd, 46-4)
Ashley made the biggest upward move of the day moving from 15th to second with a Sunday five-fish limit of 19-11, which was the Sunday's heaviest bag. He was using two different sized jerk baits and a jig throughout the event. It paid off for Ashley, who fell short of capturing his second Bassmaster Elite Series title.
The third-year Elite angler was fishing a variety of edges and bluffs in 6 to 12 feet of water. He was able to get a limit by 8:30 a.m. CT Sunday.
"I was never really able to improve myself until I switched to a jig and caught a 6 pounder," said Ashley, 25. "I would not have done anything different. I could not tell you the name of where I was fishing today but it was shallow and had some unique structure including grass."
Ashley was the first pro to weigh-in today and had the privilege of sitting in the Toyota Tundra Hot Seat to see if he would be bumped from the lead position.
"It got interesting towards the end of the weigh-in," said Ashley. "There were a lot of heavy hitters towards the end who I thought would have caught them today."
Rounding out the top five are Takahiro Omori of Emory, Texas, in third with 45-10; Brent Chapman of Lake Quivira, Kan., in fourth with 45-4; and 2003 Bassmaster Classic Champion Mike Iaconelli of Runnemede, N.J., in fifth with 45-3.
Fishing fans can catch all of the on-the-water action from the Evan Williams Bourbon Dixie Duel on The Bassmasters, which airs Saturday, April 11, at 9 a.m. ET on ESPN2.
Photos | Standings | Live coverage | Archive