DECATUR, Ala. — Three-time BASS event winner Tommy Biffle of Wagoner, Okla., fishing in a remote cove of Wheeler Lake catapulted to the lead of the Evan Williams Bourbon Dixie Duel with a two-day total of 36 pounds. Biffle has more than a 2-pound advantage over Takahiro Omori of Emory, Texas, who remains in second with 33-9.
Friday's competition of the Bassmaster Elite Series' third stop was canceled due to unsafe river conditions. Biffle, who was sixth after Thursday, was pleased with the increased water level of Wheeler Lake that has swelled about 2 feet since Thursday.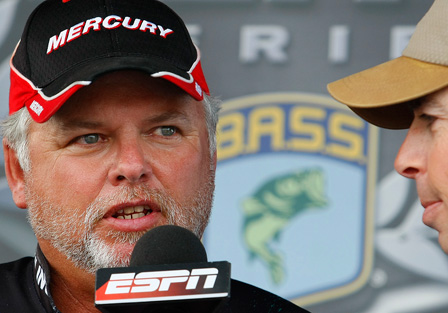 James Overstreet
Tommy Biffle leads the Evan Williams Bourbon Dixie Duel with 36 pounds.
The former race boat driver lost several larger fish from his location that he says is fairly close to the launch location. Biffle would not disclose specifics about the remote spot or his tournament strategy. He weighed in the biggest bag of the tournament so far, tipping the scales at 19-14 on Saturday.
"I had a little bit of bad luck when I broke a big one off and lost a 5-pounder when he was coming over the side of the boat," said Biffle, 51. "The big one was down under a log, and he was pulling hard and I was and my line just snapped."
He was successful in upgrading his catch throughout the day and estimates he landed about 30 bass. Fishing in bluebird skies and adjusting to the rise of the river, Biffle hopes for similar conditions on Sunday.
"I hope they don't adjust the water levels overnight," he said. "Out of all of the years we have been coming here I have been hoping for a big stringer. I plan on fishing from this same spot until at least noon tomorrow."
Omori, winner of the 2004 Bassmaster Classic, remained consistent in boating 16-1 Saturday, a little less than Thursday's 17-8 total. The six-time BASS event winner will continue to deploy his strategy of moving to various spots and finding a shallow bite. Omori was only able to fish for several hours as his boat broke down and fellow competitor Jared Lintner of Arroyo Grande, Calif., hauled Omori in for the weigh-in.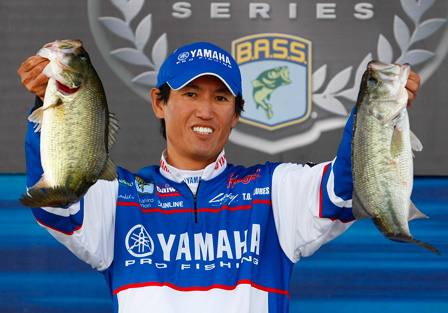 James Overstreet
Takahiro Omori (Second, 33-9)
"I only caught six keepers today that were the right size," he said. "I was going to check another place but I hit something really hard that my lower end unit went out and that was the end of my day."
Bradley Hallman of Norman, Okla., made a big move into the third position with a two-day total of 30-14. His bag consisted of a couple 5-pounders that propelled him from Thursday's 28th position. Hallman ran over 70 miles to boat his day two catch of 16-1 and is fishing structure for most of his fish.
"I was fishing with about 25 other boats around me today," said Hallman. "I did not go there the first day as the bites were not there for me in practice. I will probably go back there tomorrow. I fished about four or five different places nearby and my pattern is holding up."
Rounding out the top five are Mark Tucker of Saint Louis, Mo., in fourth with 30-0, and 2003 Bassmaster Classic Champion Mike Iaconelli of Runnemede, N.J., in fifth with 29-13. Iaconelli was third after the first day of competition.
Also, BASS announced prior to the Saturday weigh-in that the field will be cut to the top 50 for Sunday's competition due to Friday's cancelation. Weather forecasts for Monday predict high winds, and tournament officials will announce how the tournament will conclude prior to Sunday's launch at 7:15 a.m. The tournament will finish either Sunday with the top 50 fishing, or Monday with the top 12, only if the weather forecast is favorable.
Within the cutline was 2008 Bassmaster Classic champion Alton Jones (16); 2009 Elite Series winners Mark Menendez (12th) and Jason Williamson (27th); 2009 Bassmaster Classic champion Skeet Reese (45th); and four-time Toyota Tundra Bassmaster Angler of the Year Kevin VanDam (49th).
Photos | Standings | Live coverage | Archive