In professional bass fishing, "home lake advantage" can quickly transform into the "home lake curse." As nice as it is to know a fishery well, having too much history on a body of water can cause you to get caught up fishing memories rather than fishing the conditions in front of you.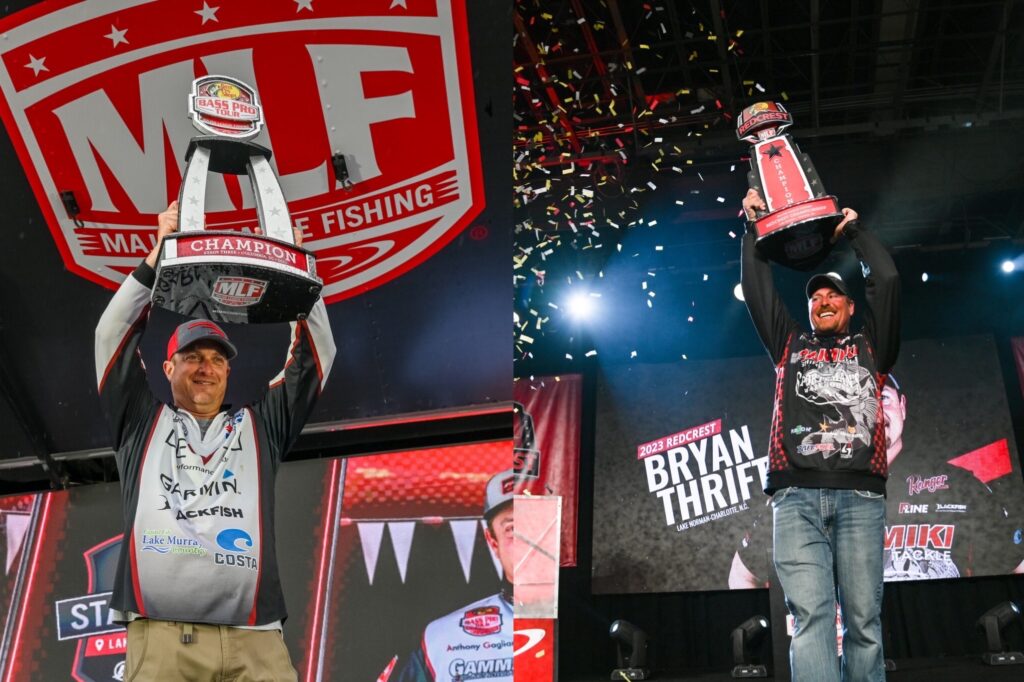 Then there's the pressure. It's hard enough to compete with thousands of dollars on the line. When you add in the eyes on you and the expectations of being the local favorite, the stress multiplies.
That's part of what makes the recent success of Major League Fishing (MLF) Bass Pro Tour anglers Bryan Thrift and Anthony Gagliardi so remarkable. Members of the Blackfish Gear pro team, these Carolina pros continued their incredible track records on their home fisheries to start this season.
In March, Thrift won REDCREST 2023, the MLF championship event, on North Carolina's Lake Norman – his favorite local fishery. He's now won three major multi-day tournaments there. Gagliardi followed up a few weeks later by winning MLF Bass Pro Tour Stage Three on Lake Murray, home waters for the Prosperity, S.C., pro. It's also his third major win at home, where he's now earned more than $830,000 just in FLW and MLF events.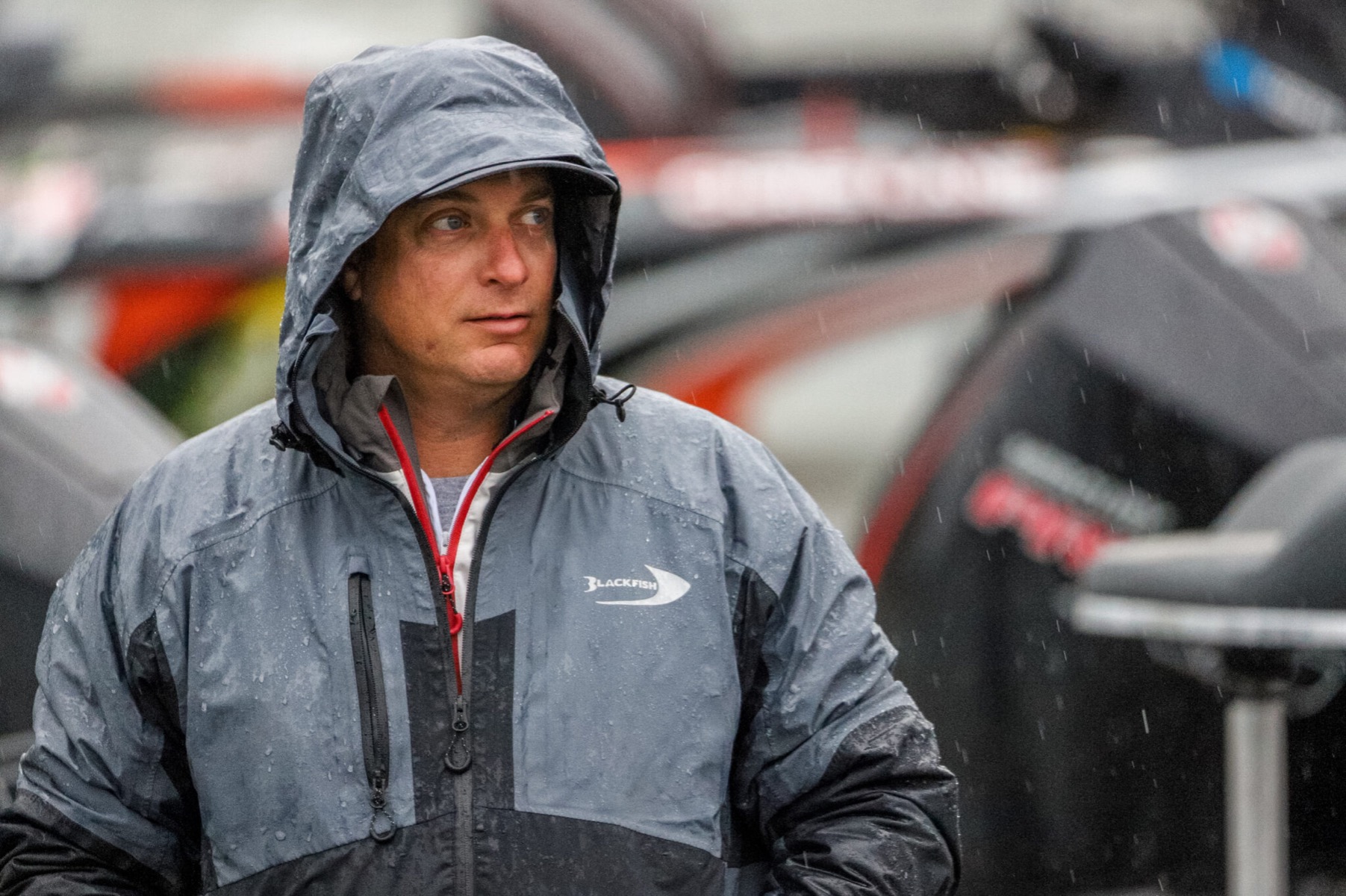 PHOTO: MLF/Phoenix Moore
Breaking the Home Lake Curse
So what's the pressure like being the local favorite?
"I don't know how many times people said to me, 'Hey, I bet you sure are ready to get to Murray,'" Gagliardi said about the weeks leading up to Stage Three. "They just assume that you're from there and you're probably going to win that one. The more you hear that, the more it starts to play games with your mind."
"I definitely put a lot more pressure on myself," added Thrift, "because I felt like if I didn't do well, not only was I going to let myself down, but I was going to let all my fans down."
For both pros, dealing with the pressure came down to doing everything they could to take their personal history out of the equation.
"The first day of practice I devoted to looking for a school of fish – something where I could catch that quick limit," Thrift said. "The second day of practice, I devoted to fishing the lake like I'd never seen it before to try to find a pattern that was currently going on instead of running specific spots I already knew. That's what I feel like helped me win that event. You've got to go out there and not necessarily disconnect from history, but approach the lake with an open mind."
Gagliardi's approach was similar.
"I tried to keep it the same as any tournament. I really did," he said. "I tried as much as I could to treat it like a place I've never been to in a lot of ways."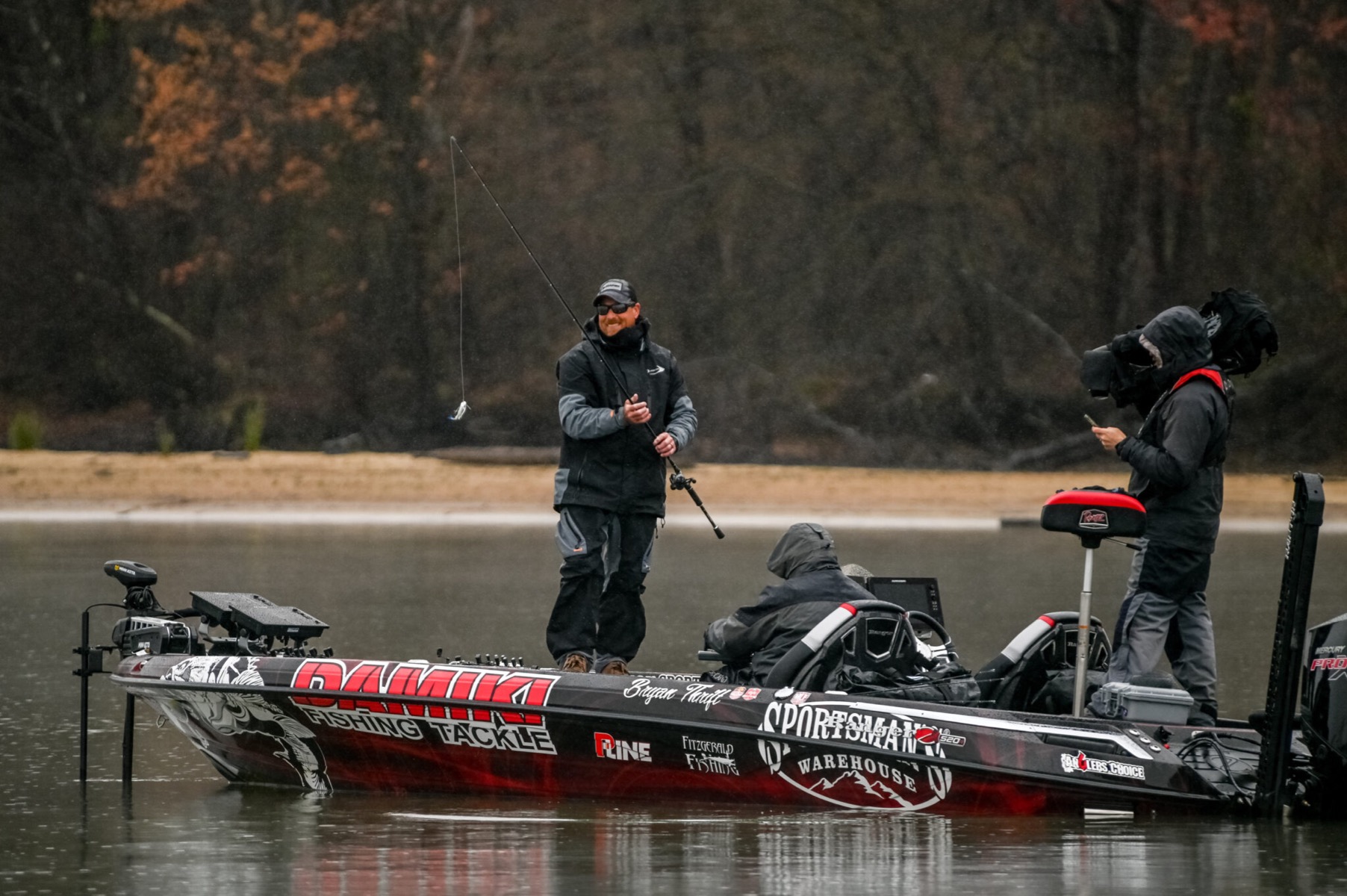 PHOTO: MLF/Garrick Dixon
Big-Picture Preparation
At the pro level, tournament prep extends well beyond just finding fish during practice. You must be prepared for every circumstance – like the wild weather swings that can occur over a six-day MLF tournament. That's what led Thrift and Gagliardi to Blackfish. Each had the chance to check out the gear last season, and they chose to align with Blackfish in 2023 because of its performance.
"Everything we use is a tool in some form or fashion, and I can use whatever tool I want," Gagliardi said. "I don't want to use something that I'm not comfortable with, and I'm only going to use something that's going to help me."
Gagliardi recalled a chilly takeoff at MLF Bass Pro Tour Stage Two at Douglas Reservoir in Tennessee as a good example of why he chose Blackfish. He was comfortable and ready to go in his Blackfish StormSkin Gale gear, while a lot of his competitors were cramming multiple layers under a rain jacket to cut the wind and stay warm.
"Once you do all that you can't even make a back cast," he said. "As long as it's not raining, I just wear StormSkin. It's so different than the stuff I'm used to. I have so much more freedom of movement."
Thrift's intro to Blackfish came through travel partner Luke Clausen, who's also on the Blackfish pro team. Clausen bragged so much about his Blackfish Gear setup that Thrift wanted to experience it for himself.
"I ended up borrowing a StormSkin suit from him last year, and it was the most comfortable, warmest suit I ever wore. And I didn't want to give it back," he recalled.
Thrift is one of the most active, hardest-fishing anglers in the game. He squeezes more casts into a given day of fishing than just about anyone.
"It's an active sport," he said. "You're constantly picking up the trolling motor, letting it down, running around the boat, trying to utilize your time as efficiently as possible. If you can be more efficient than the other guy, you can make more casts, and that should result in more fish, and you can make more money. Having clothing that allows you to move more comfortably and freely is a big plus in this game. That's something Blackfish has done really well."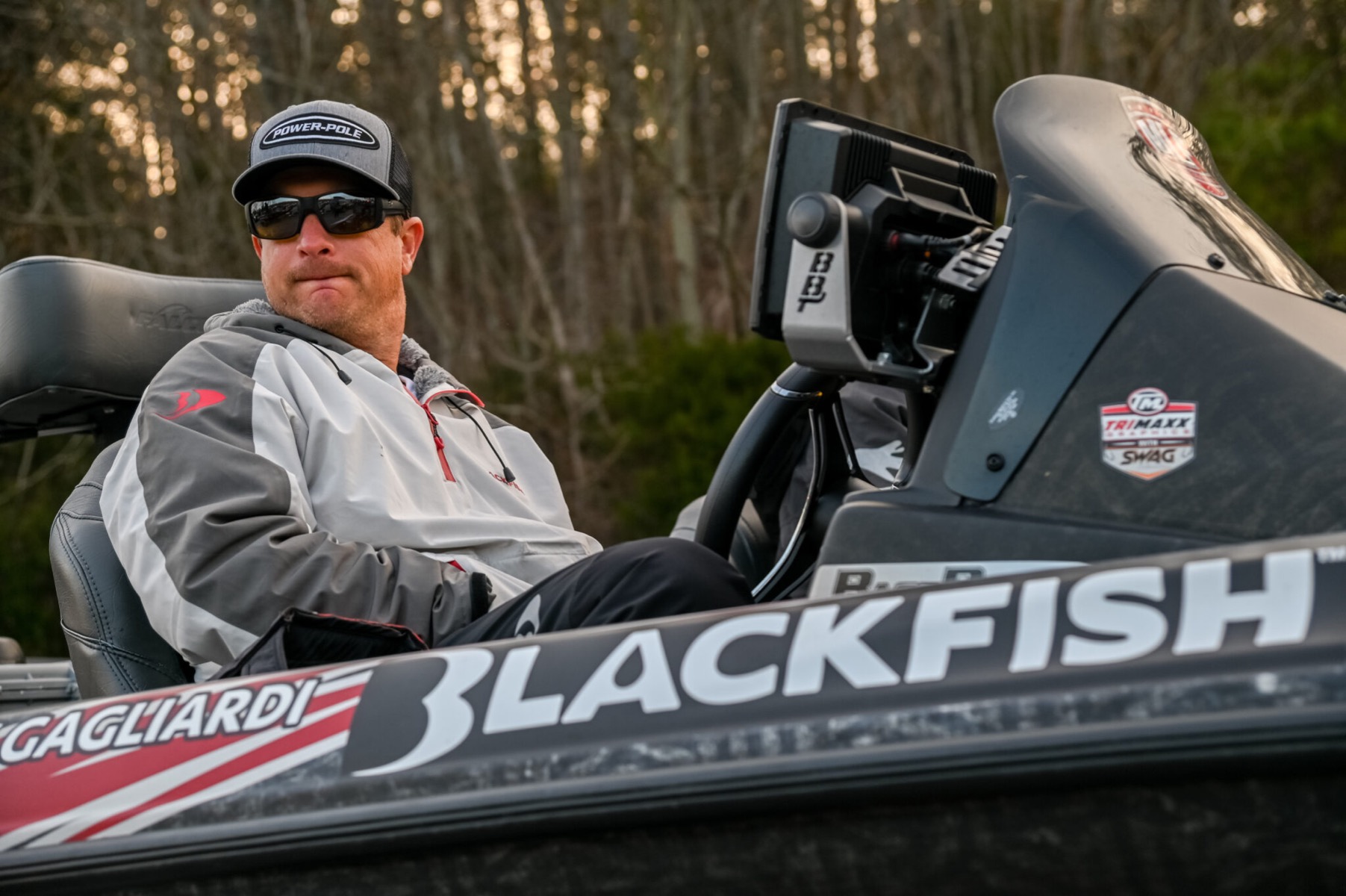 PHOTO: MLF/Garrick Dixon
Putting it All to Work
Being ready for the conditions has paid off so far this season.
"At the REDCREST event, we ran the gamut from 70 degrees and sunny to 25, 30 degrees and raining," Thrift said. "I think I wore three different Blackfish suits in that tournament alone."
For both Gagliardi and Thrift, the StormSkin Gale lineup has been a favorite throughout cold and breezy early-season tournaments – even in a drizzle. Gagliardi has also logged a few thousand casts in his Blackfish Soft-Shell gear on days when the temps are a little milder. When the drizzle turns to a harder rain, they switch to an Aspire rainsuit or the Endure suit when more warmth is needed.
"Just going out there, knowing I've got the best gear I can have to perform to my highest ability, I'm not going to worry about being out there shivering cold or getting wet," said Thrift. "I know I'm going to be comfortable on the water, and at that point all I have to do is do my job and catch fish."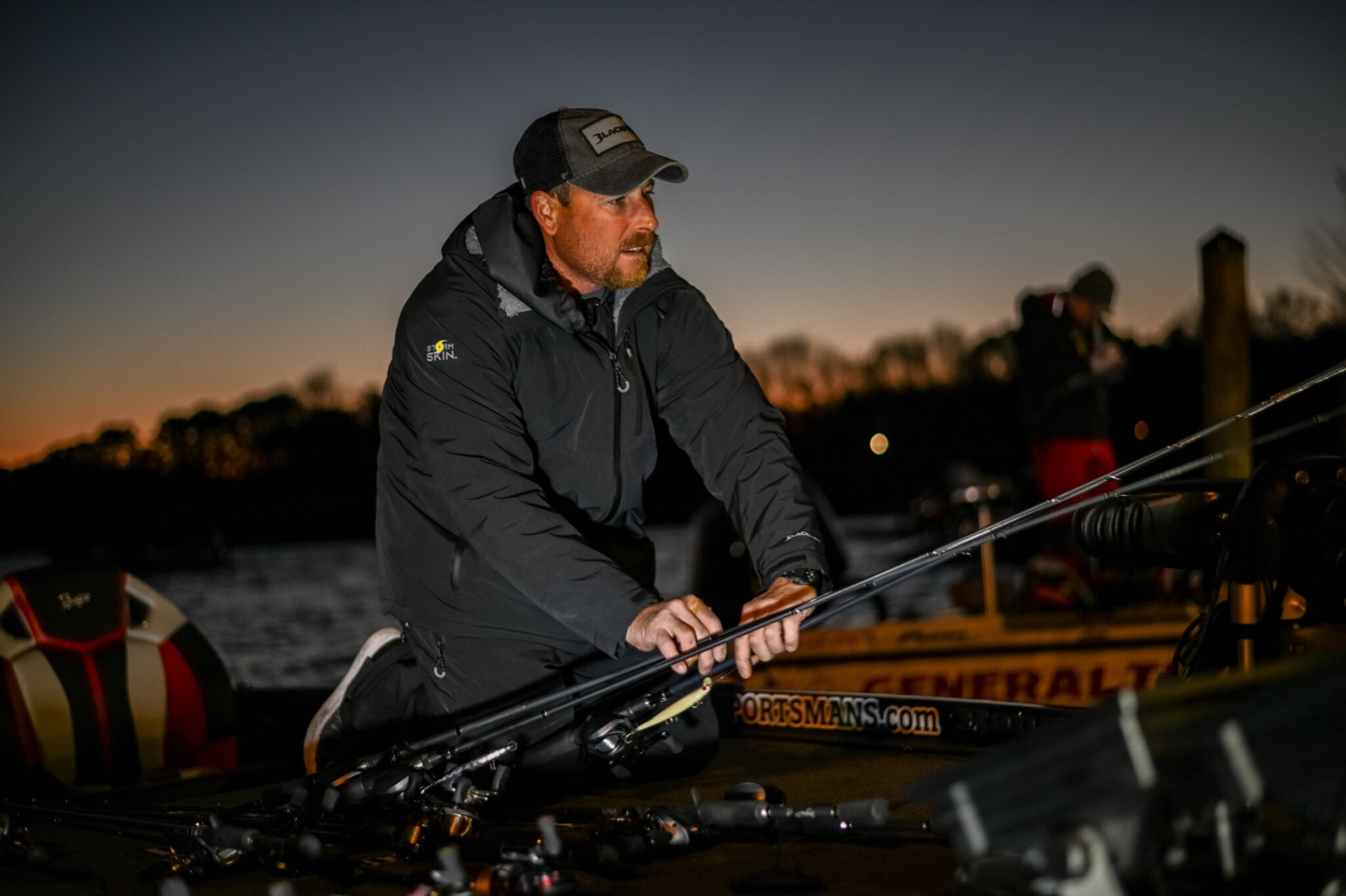 PHOTO: MLF/Garrick Dixon
Always Ready to Win
Clearly, Thrift and Gagliardi both excel at "doing their jobs." And now they've both had time to reflect on their latest achievements.
"It's probably one of the best feelings in the world when it comes to a tournament – to be able to win in your backyard," said Thrift.
"I see the significance of it for sure," Gagliardi added. "It's pretty incredible."
See the full Blackfish line up here.
Help us reach 15000 subs!   
 / @bass365  
You can follow us here 👇👇👇👇👇👇👇👇👇👇
Instagram https://www.instagram.com/bass_365/
Facebook https://www.facebook.com/365bass/
Keep up to date with everything going on in the fishing world http://bass365.com/
Download the BASS 365 LIVE app for free!
https://apps.apple.com/us/app/bass-36…