By John Neporadny
Bassmaster Senior Writer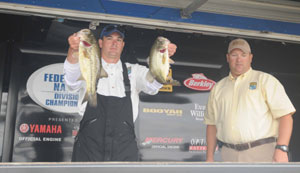 Southern Divisional leader Conrad Bolt shows off two of the biggest bass from his 15-pound limit that he put together today at Lake Gaston.
Roanoke Rapids, N.C. — Conrad Bolt has been playing a waiting game this week that could make him a winner at Lake Gaston.
Yesterday's leader in the BASS Federation Nation Southern Divisional presented by Yamaha Outboards and Skeeter Boats retained the lead today by catching a 15-pound limit. "The deep bite turned on for me today," said Bolt, a 28-year-old machinist from Seneca, S.C. "I don't know with the weather coming in tomorrow (thunderstorms with winds gusting up to 40 mph) if I will be able to hold on this spot or what."
Last Sunday, Bolt relied on his electronics to find big bass suspended over depths of 40 to 50 feet. "I have been waiting for them to move up for the last three or four days and they finally moved up out of the river channel," he said.
The Foot Hills Bassmasters club member also caught some of his fish shallow. "I've got two or three things working," he said. "I was moving around making a big circle fishing shallow and deep and just mixing it up." The South Carolina angler estimated he fished four or five areas and caught his keepers on three different lures.
Team and individual honors are at stake in this two-part event. BASS Federation Nations from seven states are battling for the top prize of the tournament, a $30,000 Skeeter bass boat/Yamaha outboard rig. Host state North Carolina is the leading team with an accumulative weight of 179 pounds, 13 ounces, while Georgia is in second place with 64-8.
The Southern Divisional anglers also have a chance to advance to the BASS Federation Nation Championship since each state team's top finisher earns a berth to the premier event for amateur bass anglers. Competitors from the 12-man South Carolina squad have to overtake tournament leader Bolt to qualify for the championship. Other state leaders are Kenneth Pannell, Alabama; David Boyd, Florida; Mike Morris, Georgia; Richard Smith, Kentucky; Chuck Murray, North Carolina; and Ben Parker, Tennessee.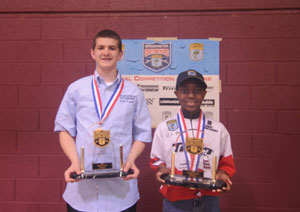 John Neporadny Jr.
Winning the Southern Divisional CastingKids contest to qualify for the national finals were Jared Raymer (left) and Christopher "CJ" Guest.
The Southern Divisional CastingKids contest was also held today to qualify two youngsters for the national finals. Christopher "CJ" Guest of Shelby, N.C., recorded a score of 140 to win the 7- to 10-year-olds age division, while Jared Raymer, Brandenburg, Ky., also scored a 140 to top the 11-14 age group.
Winners in the individual and team competitions will be determined tomorrow when the final weigh-in for the Southern Divisional begins at 3 p.m. EDT at the Morningstar Marina.