It's doubtful anglers shopping at D & R Sports Center in Kalamazoo, Michigan back in 1979 recognized the 11-year-old kid stocking shelves would grow up to be the world's greatest bass angler, but this coming weekend he'll be back in the family store doing seminars at their much celebrated annual spring consumer show.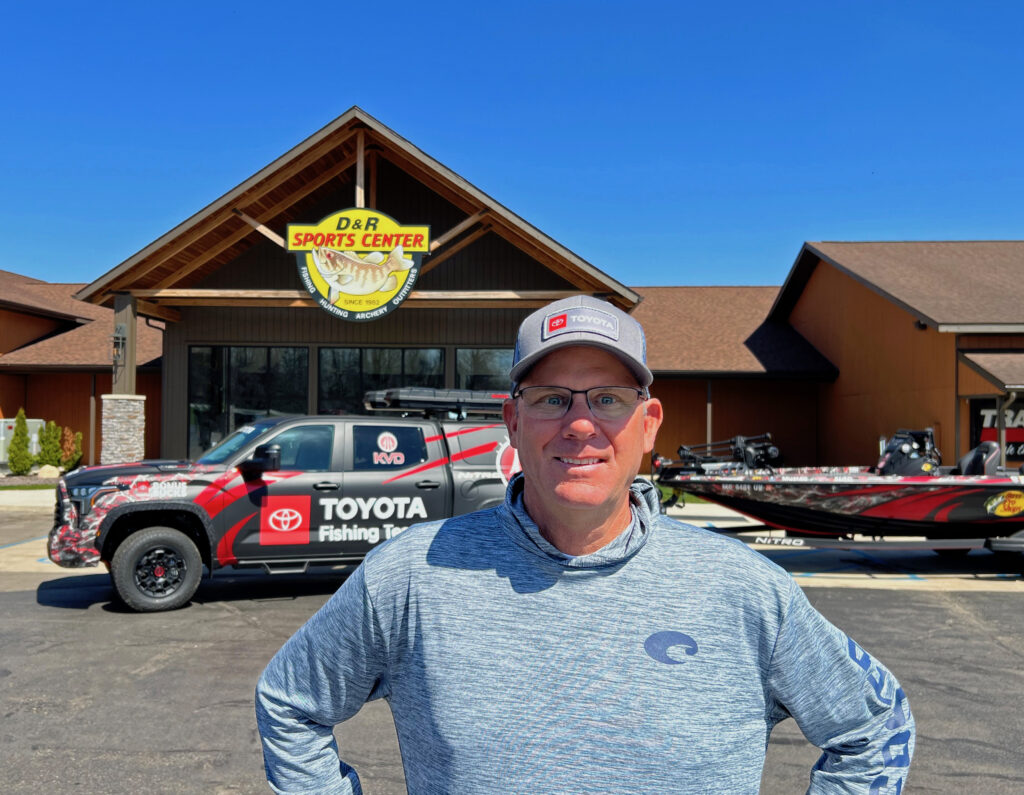 "I think it's fair to say the annual D & R spring fishing show that's taking place this weekend is as much a part of our family's year as Thanksgiving, the 4th of July, and other holidays," smiles Kevin VanDam, whose older brother Randy owns the store.
"This show is where I met all my heroes like Bill Dance, Larry Nixon, Tommy Martin and countless others when I was a teenager. And this year it's extra special because it's the first one we've had in three years since Covid hit," reflects VanDam.
Bringing top pros in for the celebration has always been a high priority, and this year is no exception. Along with KVD, consumer guests can also learn from Josh Bertrand, Jonathon VanDam, Cory Johnston, Chris Noffsinger and Mark Zona.
Much of D & R's success and longevity is built on treating customers like family, plus the product expertise they share with them is always a top priority too. So, this coming weekend the 4-time Bassmaster Classic Champion is especially excited to team-up with special guest Justin Freeman, a leading product designer for Humminbird, to share in-depth wisdom on how to better understand and utilize MEGA Live sonar.
"Justin will be awesome at explaining how the MEGA Live technology actually works, and of course I'll do my best to explain how it benefits me on the water, but if somebody wants to talk to me about something more simple like a KVD 1.5 crankbait, you can bet I'm always happy to talk shallow water cranking too," says the Team Toyota angler.
D & R Sports Center is also one of the very top fishing boat dealerships in America, and Kevin was one of the very first sales managers in their marine department when Randy added boats to the family business in 1987.
"I was about 20 years old when Randy added boats to D & R, and he made me a sales manager. But then about two years later my pro career took-off and I was gone way too much to keep working at D & R fulltime," he explains.
"This store has always been a treasured part of my life, and I know this weekend at D & R will be super special too," promises VanDam.
Pretty cool perspective from that kid who was hanging lures on their retail pegs at age 11 more than four decades ago.
Get all of your tackle here.
Help us reach 15000 subs!   
 / @bass365  
You can follow us here 👇👇👇👇👇👇👇👇👇👇
Instagram https://www.instagram.com/bass_365/
Facebook https://www.facebook.com/365bass/
Keep up to date with everything going on in the fishing world http://bass365.com/
Download the BASS 365 LIVE app for free!
https://apps.apple.com/us/app/bass-36…