OSAGE BEACH, Mo. – The final day of the Tackle Warehouse Invitationals on Lake of the Ozarks came down to the wire, with the top three pros in a virtual tie, unofficially. In the end, John Cox pulled it out, weighing 17 pounds, 9 ounces to defend his lead, totaling 55-14 and earning $82,800 and a trip to REDCREST.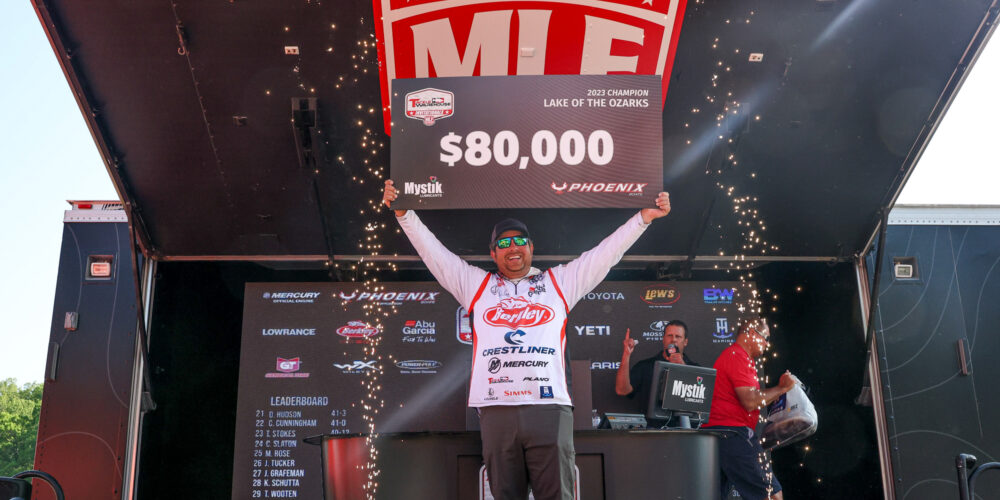 Cox ended up edging out longtime friend and tournament partner Keith Carson – a year apart in age, they grew up two streets from each other in DeBary, Florida. Carson turned in a four-fish effort on Day 1, but charged hard the rest of the way, adding 20-12 on Day 2 and 19-2 on Day 3. Without a doubt, a fifth keeper bass of any size on the first day would have earned Carson the win.
"I felt stuff in that weigh-in that I've never felt at any of the other weigh-ins," Cox said. "I wanted Keith to win; because he's my buddy, I want him to do well. It's bittersweet, but, it felt good to win, and to get to go to REDCREST. That's huge, that's unreal; when I heard that, I was like 'Please let me win.' Every time I miss one of those, it's terrible. I watched it at Norman, and I was heartbroken I wasn't there."
Cox and Carson take a team approach to practice, with the multi-tour pro Cox often getting in a little late. This time, Cox only practiced for about a day and a half, and to hear him tell it, that was mostly wasted time.
"I honestly went down to the area for about three hours and I was overwhelmed," he said. "There were so many boats, so many locals, so many of our guys. I pulled out, I figured it was going to rain for two days. I went back up the river, I was going to find some dirty water fish, and I got one bite. Then the sun came out. Keith pretty much showed me where he was fishing, and I went to the other side and just hung out."
Fishing down in the clear water near the dam, Carson pretty much hung out on the north side of the lake, while Cox roamed the pockets on the south side. It ended up working fantasticaly for both of them, with Carson pocketing $50,000 for second and the duo taking home over $130,000 all told.
Cox played to his strengths
As you'd expect, the duo were both sight fishing, finding bedding bass and fry guarders with their eyes each day of the event. Often tucked oddly behind docks or under cables, Cox finesses basically everything with his signature Abu Garcia Pro Series rod, an Abu Garcia Zenon spinning reel, Berkely FireLine and a 10-pound-test Berkley Trilene 100% Fluorocarbon leader. For baits, he rolled with either a wacky-rigged Berkely PowerBait MaxScent The General or a Berkley PowerBait Jerk Shad.
One of the differences for Cox may have been that he was fishing for less pressured bass.
"I don't think there were that many where I was at," he said. "What Keith was saying he was seeing, there were a lot more fish. I think a lot of the other guys might have been fishing over there. Where I was fishing, they were few and far between, it kind of opened it up to where I had a lot of it to myself. We were talking in practice about making something out of nothing. That's what I did, I just tried to run into five you can catch."
Still, even as a good sight fisherman, Cox couldn't really dial it in.
"I tried to figure a pattern, but every time I thought I figured a pattern, it didn't play out anywhere else," he said. "I didn't catch more than one fish in a creek until today."
Luckily, Cox caught exactly what he needed to catch. But, if you think this settled the matter of who is better at sight fishing, Cox has the answer.
"Keith is, for sure," he said. "When we fished team tournaments, he was always right there on the shoulder, walking me through it. So, he's watched every fish I've caught. He figures them out before I do, I just set the hook. He's really good."
Carson has won multiple big events before, but his only win with MLF is as a co-angler, back in the FLW Tour event on the Red River that saved Cox's pro fishing career. Though neither of them needs saving anymore, seeing the two triumph together doesn't get old.
Top 10 pros
1. John Cox – 55 – 14 (15) – $82,800
2. Keith Carson – 54 – 13 (14) – $50,000
3. Marshall Robinson – 53 – 13 (15) – $20,000
4. Drew Gill – 53 – 13 (15) – $18,000
5. Ron Nelson – 52 – 7 (15) – $17,000
6. Andy Newcomb – 49 – 15 (15) – $16,000
7. Andrew Nordbye – 49 – 10 (15) – $15,000
8. Shaw Grigsby – 46 – 9 (15) – $14,000
9. Martin Villa – 46 – 2 (15) – $13,000
10. Matthew Stefan – 45 – 5 (15) – $12,000