2007 champ leads Fralick, Roumbanis after Day One of Bassmaster Classic
By Sam Eifling
Bassmaster.com
BOSSIER CITY, La. — Boyd, oh, Boyd. Again.
Boyd Duckett, the Elite Series angler who won the Bassmaster Classic in his first appearance two years ago, weighed in the only 20-plus-pound stringer on Day One of this, the 39th Classic.
Immediately behind him in the standings is the unlikely Jami Fralick, a fellow Elite Series pro who had to fish the Opens in order to qualify for this, his second Classic. Fralick, whose 19 pounds, 3 ounces is, in his words, "one 5-pound bite" behind Duckett's 20-3, has never won a BASS tournament but milked an old favorite Red River fishing hole for all five of his fish.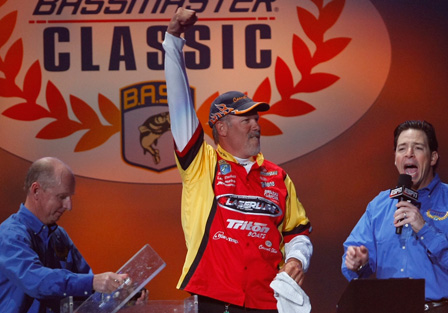 James Overstreet
Boyd Duckett (First, 20-3)
In close pursuit behind Fralick is Fred Roumbanis, with 18-4, and Aaron Martens, with 18-1.
With two days left to fish, the leaderboard is far from set. The most certain surprise to come out of Day One: Kevin VanDam, the two-time Classic champ and the reigning Toyota Tundra Bassmaster Angler of the Year, took himself out of contention with a 4-4 four-fish stringer that left him in a dismal 45th place, one slot ahead of Kim Bain-Moore, the first woman to fish in a Classic.
"You've got to catch them every single day," said VanDam, the first angler to weigh fish in the CenturyTel Arena. "I love to fish fast. I have to slow down."
Anglers had predicted as much. The snakey, timber-infested, stump-lined, oxbowed Red River defies speedy browsing. Terry Fitzpatrick, the Federation Nation Northern Division champion whose 18-0 bag vaulted him to a surprising fifth place, called the tournament "the toughest I've fished, physically," wrought with poling, pushing, yanking and cajoling their boats through obstacles and shallows to reach the backwaters that so many anglers targeted.
Other big names faltered for one reason or another. Greg Hackney, the only angler fishing his homestate Louisiana, pulled up with 12-9, good for 25th place. Gary Klein, in his 27th Classic, weighed in two fish that went 2-13.
Other notable results include river expert Scott Rook (6th, 17-11) and Red River fan Kelly Jordon (11th, 15-10). In all, 16 anglers sit within 5 pounds of the lead.
Duckett, of Demopolis, Ala., said he fished in traffic on Day One, among both other anglers and spectators. He and other anglers praised the etiquette of spectator boaters as exemplary — but noted that their very presence affects fish.
"Back in these stump fields, all this banging and knocking around hurts," he said. "So we're going to have to make some changes tomorrow."
Duckett said he's pitching a square-bill Laserlure crankbait at stumps. He predicted the eventual winner would land one big fish — Martens' 7-1 was the biggest on Day One — and would make adjustments the quickest.
"I lost one big fish today," Duckett said. "I hate that. Welcome to bass fishing."
He noted that his mother did an odd thing this week. From her home in Austin, Texas, she overnighted him a charm "that she found at Wal-Mart, or somewhere," along with a note saying it would bring him luck.
Duckett wore it on his belt on Day One. "Real good odds it'll be on again tomorrow," he said.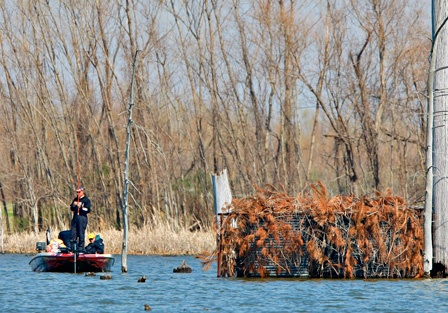 James Overstreet
Boyd Duckett fishes alongside a duck blind.
Already a BASS millionaire after just two years on the Elite Series, Duckett excels in big-money tournaments. A win on the Red River would give him three wins worth $1.25 million since the beginning of 2007.
In contrast, Fralick, of Martin, S.D., has placed second at nearly every level of BASS competition shy of the Elite Series — without ever winning a tournament.
He said he pulled all his fish from a familiar pocket in Pool 4. He shared it with five or six boats in a 2000 Central Open on the Red River, and in the half-dozen tournament he fished here in the years since, he returned to the pocket only to find it choked with hyacinths.
During practice last Saturday, he swung by the old spot. To his astonishment and delight, the hyacinths were gone — but the fish were still there.
"It always seems like on the Red River there are places where the fish want to be," Fralick said. "And that's where they're going to be. That's the way it's always fished. You find a place that has them and there are a lot of fish in that area. You have to practice fish through a lot of no-good water to find those few key areas."
Typically, he said, he fishes until the last possible moment, but left his hole in the downriver pool a shade early, satisfied with his catch. Lucky for him he did, because he ran into electrical problems on the way back that tripped a governor on his motor. Instead of running at 70 mph, he couldn't push it much past 30. Fellow pro Brian Snowden saw him and slowed to escort him to the lock; he made it into the lock with "about three minutes" to spare, he said, then swapped out boats at a marina to make the rest of the run.
For once, second place doesn't look too bad.
"It'd be a lot more pressure if you're leading," he said. "I'm in a good position, a pound out of first. All's I want is to go into Sunday with a chance."
Though Roumbanis and Martens make their homes in Oklahoma and Alabama, respectively, both grew up fishing the California Delta, and said the similarities between that fishery and the Red River helped them fish at the right pace.
Roumbanis' success followed mechanical troubles of his own. Unlike to most anglers, he ran upriver first thing in the morning, caught two quick fish, went to a second spot and in short order crippled his trolling motor by smashing into a submerged stump.
The shaft had bent. He pulled it up and jumped on it to straighten it as much as he could. But controlling the boat became a chore. "It almost threw me in the water about 15 times," he said at a press conference during which he munched a hamburger.
For the next seven hours, he said, he was fishing at "25 percent." Still he caught fish from every direction, on almost everything he threw. The only gaffe was missing a fish he estimated at 6 to 8 pounds. "She outran me toward the boat," he said. "I couldn't reel fast enough."
He said intends to pursue the fish further.
2009 Classic archive | Photo galleries | Classic blog | Live coverage | Standings