CHARLOTTE, N.C. (March 11, 2023) – With one day left in competition, local favorite Bryan Thrift of Shelby, North Carolina, maintained his lead on Day 4 of the Major League Fishing (MLF) REDCREST 2023 presented by Shore Lunch at Lake Norman , the Bass Pro Tour championship. Thrift caught five bass Saturday totaling 15 pounds, 6 ounces, and his weight now sits at 10 bass for 33-2, giving him a 1-pound, 9-ounce cushion over second place as the event heads into the fifth and final day.
The field is now trimmed to just the top 10, and competition resumes Sunday. The five-day event, hosted by the Charlotte Regional Visitors Authority, Visit Lake Norman and the Mecklenburg County Park & Recreation Department, features anglers competing to become pro bass fishing's newest world champion, and a top cash prize of $300,000.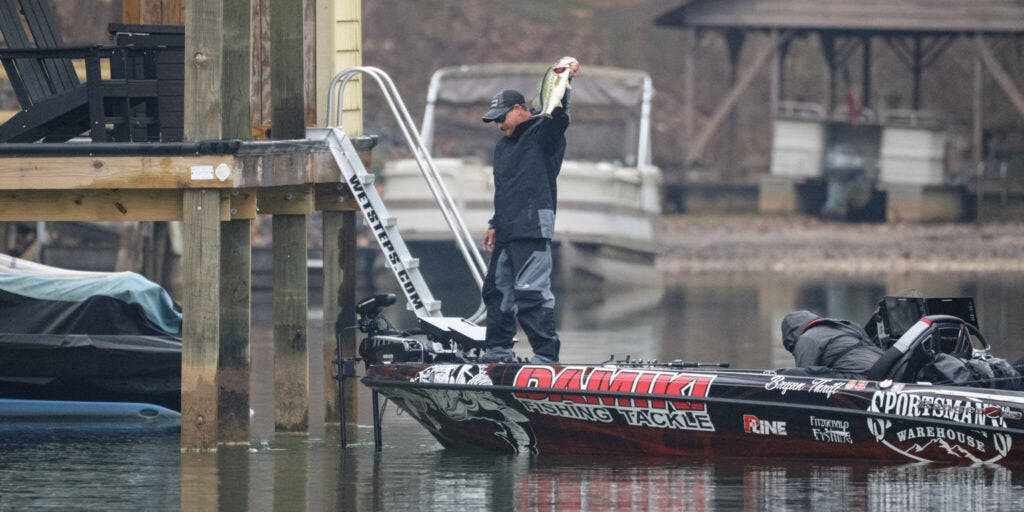 "It was a lot tougher for me today," Thrift said in his post-game interview. "I got into a new area and was able to get a limit of 2½ pounders. That gave me a decent limit where I knew I'd be within striking distance if I wasn't still in the lead, so I was able to slow down and pick that big swimbait up and luckily caught another big one. I only got two bites on the swimbait, today.
"Tomorrow I'm going to have to do the same thing – I've got to get three or four bites from that swimbait if I'm going to have a chance to win this tournament. I'm going to put it in my hand for a large portion of the day and we'll see what happens," Thrift went on to say.
Texas pro Alton Jones, Jr., had a great day on Lake Norman, boating a 17-pound limit to vault into second place, just 1 pound, 9 ounces, behind Thrift.
"I caught all of my five-bass limit today on a wacky rig with a 7-foot, medium Kistler Z-Bone rod," said Jones. "It's been a lot of fun this week catching the mixed bags – some largemouth and some spots. But we've got some weather coming tomorrow, and we'll see what happens.
"All I wanted was a chance, and we've got a really good one at that," Jones continued. "Tomorrow it's going to be all about who can get those two 4-pound bites. Somebody is going to do it in the top 10, whether it's me, Thrift, or someone from further back in the pack. All in all, it was a super blessed day today and I can't wait to get out there tomorrow."
The top 10 pros that made the cut and will advance to the final day of competition on Lake Norman:
1st:          Bryan Thrift, Shelby, N.C., 10 bass, 33-2
2nd:         Alton Jones, Jr., Waco, Texas, 10 bass, 31-9
3rd:         Matt Lee, Cullman, Ala., 10 bass, 29-0
4th:         Jacob Wheeler, Harrison, Tenn., five bass, 28-14
5th:         Edwin Evers, Talala, Okla., 10 bass, 27-2
6th:         Randy Howell, Guntersville, Ala., 10 bass, 25-9
7th:         Dustin Connell, Clanton, Ala., 10 bass, 25-7
8th:         Adrian Avena, Vineland, N.J., 10 bass, 25-1
9th:         Casey Ashley, Donalds, S.C., 10 bass, 24-9
10th:       Ott DeFoe, Blaine, Tenn., 10 bass, 24-2
Finishing in 11th through 15th place are:
11th:       Cody Meyer, Star, Idaho, 10 bass, 23-15, $10,000
12th:       Jesse Wiggins, Addison, Ala., 10 bass, 23-13, $10,000
13th:       Dakota Ebare, Brookeland, Texas, 10 bass, 22-14, $10,000
14th:       Jonathon VanDam, Kalamazoo, Mich., eight bass, 22-7, $10,000
15th:       Anthony Gagliardi, Prosperity, S.C., 10 bass, 19-8, $10,000
A complete list of results can be found at MajorLeagueFishing.com.
Overall, there were 151 scorable bass weighing 327 pounds, 15 ounces caught by the 15 pros Saturday.
Pro Matt Lee of Cullman, Alabama, won the $1,000 Berkley Big Bass Award Saturday with a chunky 5-pound, 10-ounce largemouth that he caught on a wacky rig during Period 3. Berkley awards $1,000 to the angler that weighs the biggest bass each day, and a $1,000 bonus to the angler who weighs the largest bass of the tournament.
All 40 Anglers competed on Days 1 (Wednesday) and 2 (Thursday) of the event. After two days of competition, the field was cut to just the top 20 based on two-day total (10 bass) cumulative weight. Weights were zeroed, and the top 20 anglers competed on Day 3 (Friday). The field was trimmed to 15 anglers on Day 4 (Saturday), then now only the final 10 anglers will compete on Day 5 (Sunday). The winner is determined by the heaviest three-day total (15 bass) cumulative weight with the winner earning the top prize of $300,000 and the REDCREST 2023 trophy.
The General Tire Take Off Ceremony Presented by X2 Power will begin at 7:15 a.m. on Championship Sunday, at Blythe Landing Park, located at 15901 N.C. 73 HY, in Huntersville, North Carolina. Anglers will depart at 8 a.m. on Sunday. Fans are welcome to attend all launch events and also encouraged to follow the event online throughout the day on the MLF NOW!® live stream and SCORETRACKER® coverage at MajorLeagueFishing.com.
In conjunction with the event, the FREE, family-friendly General Tire Outdoor Sports Expo Presented by Shore Lunch will also take place Sunday from 11 a.m. to 7 p.m. at The Park Expo and Conference Center, located at 800 Briar Creek Road, in Charlotte. Fishing and outdoor enthusiasts will have the opportunity to visit numerous booths and vendors, showcasing the latest and greatest in fishing, boating and the outdoors. The biggest names in the outdoor industry will be on hand, including the professional anglers that compete on the Bass Pro Tour and fishing legends like Jimmy Houston, Roland Martin and Hank Parker.
Throughout the day there will be giveaways and prizes, including signed MLF angler jerseys, rods and reels, gift cards, and more. On Sunday one lucky attendee will walk away with a brand new 2023 Toyota Tundra SR5 Crew Max. Fans must be present to win the Toyota Tundra drawing. For more information on the General Tire Outdoor Sports Expo Presented by Shore Lunch, visit REDCRESTExpo.com.
The 2022 Bass Pro Tour featured a field of 80 of the top professional anglers in the world competing across seven regular-season tournaments around the country. The top 40 anglers in the Angler of the Year (AOY) standings after the seven events qualified to compete in REDCREST 2023 Presented by Shore Lunch.
The MLF NOW!® broadcast team of Chad McKee, Marty Stone and J.T. Kenney will break down the extended action from 8:15 a.m. to 5 p.m. on Championship Sunday. MLF NOW!®  will be live streamed on MajorLeagueFishing.com and the MyOutdoorTV (MOTV) app.
Television coverage of REDCREST 2023 Presented by Shore Lunch will be showcased across two, two-hour episodes, premiering at 7 a.m. ET, on Saturday, July 1 and July 8 on Discovery Channel. Starting in July 2023, MLF episodes premiere each Saturday morning on Discovery Channel, with re-airings on Outdoor Channel.
Proud sponsors of the 2023 MLF Bass Pro Tour include: 13 Fishing, Abu Garcia, Ark Fishing, ATG + Wrangler, B&W Trailer Hitches, Bally Bet, Bass Cat Boats, Bass Pro Shops, Berkley, Black Rifle Coffee, Daiwa, Epic Baits, Favorite Fishing, Ferguson, Fox Rent A Car, General Tire, Grundéns, Humminbird, Lowrance, Minn Kota, Mercury, Mossy Oak, Onyx, Power-Pole, Rapala, Star tron, T-H Marine, Toro, Toyota, U.S. Air Force, Yellowstone Bourbon, Yo-Zuri and Zoom Baits.
For complete details and updated information on Major League Fishing and the Bass Pro Tour, visit MajorLeagueFishing.com. For regular updates, photos, tournament news and more, follow MLF's social media outlets at Facebook, Twitter,  Instagram, and  YouTube.
About Major League Fishing
Major League Fishing (MLF) is the world's largest tournament-fishing organization, producing more than 250 events annually at some of the most prestigious fisheries in the world, while broadcasting to America's living rooms on CBS, the Discovery Channel, the Outdoor Channel, CBS Sports Network, the World Fishing Network and on-demand on MyOutdoorTV (MOTV). Headquartered in Benton, Kentucky, the MLF roster of bass anglers includes the world's top pros and more than 30,000 competitors in all 50 states and 13 countries. Since its founding in 2011, MLF has advanced the sport of competitive fishing through its premier television broadcasts and livestreams and is dedicated to improving the quality of life for bass through research, education, fisheries enhancement and fish care.
Major League Fishing – WE ARE Bass Fishing™