HOT SPRINGS, Ark. — This February, Kim Bain will join the ranks of Annika Sorenstam and Danica Patrick as a female competing against the men on her sport's biggest stage.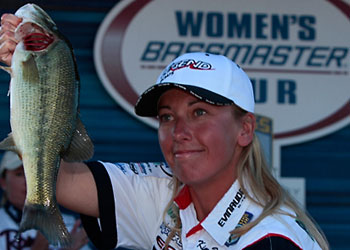 Larry Towell
Kim Bain reaches into the live well and produces a limit, holding the biggest bass high for the fans.
The sport, in this instance, is bass fishing.
Bain, 28, won the Women's Bassmaster Tour Championship presented by Academy Sports + Outdoors on Saturday, along the way securing the Toyota Tundra WBT Angler of the Year title, which comes with a spot in the Bassmaster Classic. It's the first time a woman will fish the Classic in its 38-year history — a fact not universally embraced.
Outside the $500,000 awarded to the Classic champion, Bain will be representing the WBT and bass-fishing women everywhere.
"A lot of the ladies want me to understand it's a real honor to be fishing the event," Bain said. "Hopefully I can do us all proud."
This might be Bain's first time in the Classic, but it certainly won't be her first time at the Classic. She worked the Classic as a television analyst from 2004 through 2006, and her husband, Andre Moore, proposed to her at the 2005 Classic in Pittsburgh. She knows plenty about the Classic.
In fact, she left her home in Brisbane, Australia, when she was 19 to bass fish in America for this very moment.
"I had a big dream as a kid, which was to fish the Bassmaster Classic — and here I am," Bain said. "For anybody out there, in whatever sport or industry they're in, if they set a goal as a child and then there comes a day that you achieve that, it's a pretty spectacular moment."
She also knows a little something about fishing against men. She spent the first part of 2008 fishing a predominantly male professional fishing tour, and met Moore on the tournament circuit.
"Those guys are almost like my big brothers," Bain said. "I don't think it matters to me whether they are guys or girls. I'll just show up and say, 'Hey guys, what's up? Let's hang out.'"
Moore, who fished the Classic twice, said he's not worried Bain will be overwhelmed. He's more worried about the men who finish behind her in the standings.
"She'll be fine; she's used to it," Moore said. "This is what she's been trying to do all her life. She might not win, but she's going to make a few of those men feel" bad.
The bigger picture
Bain came into the WBT Championship with a slim lead in the Angler of the Year standings, with two anglers easily within reach of the title and the Classic.
Larry Towell
Kim Bain wons the 2008 WBT Championship and the Toyota Tundra Angler of the Year title, earning a berth in the Bassmaster Classic this February.
Now, all the focus is on her, and everyone is watching to see how she'll handle it.
"She's obviously very talented and she's good with the public," said Pam Martin-Wells, who won the WBT Championship in 2007. "It's going to be real hard to concentrate, because there's going to be an overwhelming amount of media attention on her, and she's going to have to keep her head on straight. That's going to be her biggest challenge."
There will be 51 anglers in this year's Classic: 36 from the top BASS circuit (the Elite Series); six from the BASS Opens, in which both pros and amateurs compete, including women; six from the BASS Federation Nation (amateurs); one from what's called the Weekend Series (amateur) and Bain.
When BASS announced before the WBT season that the Angler of the Year would go to the Classic, most of the women on tour were thrilled, seeing it as an opportunity to draw support for a tour that started just three years ago. But at least one, Lucy Mize, was against the idea.
"I would have felt better about it if [women anglers] would have fished the Opens and proven that they could have done it against the men," Mize said. "Kim has had an extraordinary year and I'm definitely not trying to take anything away from her. This was my opinion way before they announced it. It's just the way that I feel."
Mize, whose husband, Jimmy Mize, fishes on the Elite Series, said she's afraid the women will receive too much publicity at the Classic, taking away from the 36 pros who earned their way in against the highest level of competition. Mize is trying to earn her own spot on the Elite Series through the Opens and has a shot of doing so next weekend in the final Central Open.
"I talked to a lot of guys and I know how they feel," said Mize, who admitted she would have accepted the spot had she won AOY. "The fish don't know whether you're a man or a woman — that's a proven fact.
"There are a lot of women out there that can fish, but they just don't know that they can compete."
But the general sense among WBT pros for the next three months will be the excitement of anticipation. And all eyes will be on Bain.
"The first step was getting a woman into the Classic," said Diane Smith, a non-professional WBT angler who has been fishing longer than Bain has been alive. "Now we just need a woman to win it."
Standings | Photo galleries | Archive
Visit Bassmaster.com for full coverage of the Women's Bassmaster Tour Championship from Lake Hamilton, Ark., Oct. 23-25, 2008. Daily weigh-ins with live streaming video and real-time leaderboards start at 4:00 p.m. ET.