Bassmaster Elite Series pros will face their biggest challenge of the 2023 season thus far when competition kicks-off Thursday at the Whataburger Elite Series tournament on Lay Lake, Alabama.
The 12,000-surface acre Coosa River impoundment simply isn't a hawg factory like Okeechobee, Seminole, Murray, or Santee, and with water levels falling slightly, the challenge gets even bigger.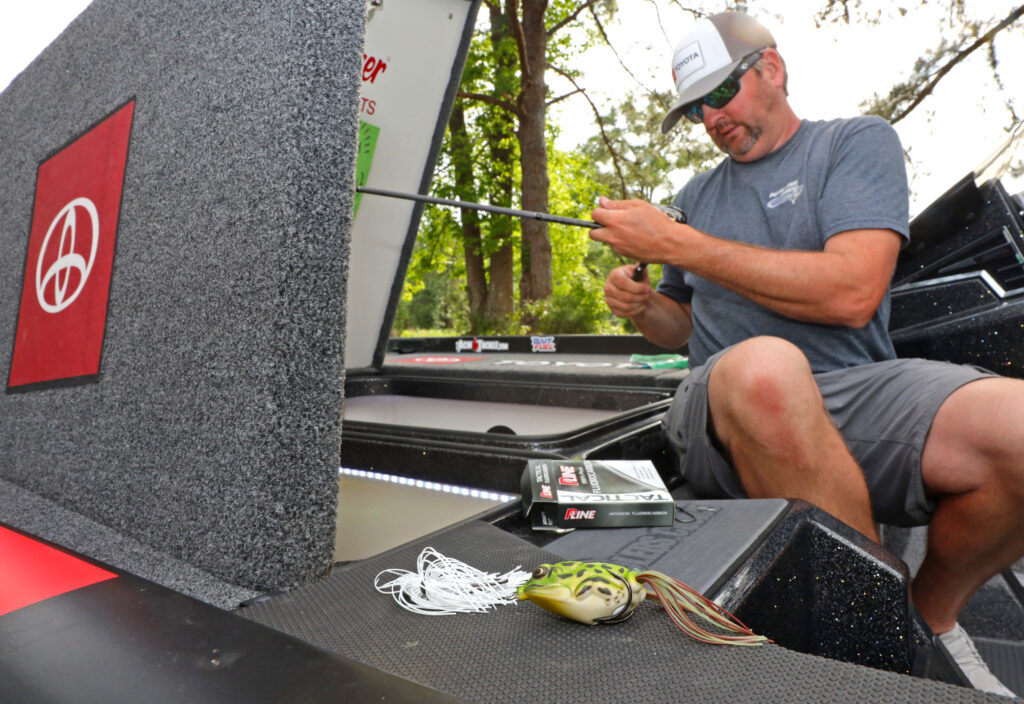 Team Toyota's Matt Arey says with so much focus on the shallow emergent water willow vegetation along the shoreline, a couple inches in decreased water levels at Lay Lake is comparable to the water dropping a foot in two days on other bass fisheries, but topwater frogs and swim jigs still remain the major players.
"There's a shad spawn happening here, and that's going to be a major factor in this tournament, so the famous swim jig in the water willow pattern on Lay is still a big deal even though the water has fallen 6-inches during practice," explains Arey.
He alternates between a 5/16-ounce and a 3/8-ounce white swim jig depending on the depth of the water around the water willow vegetation, and the frog becomes a strong one-two punch combination in situations where the vegetation is a little less thick.
"I'm going to guess 11 or 12 pounds a day on Thursday and Friday will get you into the cut, and if you can average 14 pounds a day here, you'll most certainly make it to Sunday's Top 10," predicts Arey.
So, while the first four events have been full of Triple Meat Whataburgers, this week at Lay might be filled with several sacks of Justaburgers from the kid's menu, and sometimes tight weight events such as this are the most dramatic and fun to watch.
Get all of your tackle here.
Help us reach 15000 subs!   
 / @bass365  
You can follow us here 👇👇👇👇👇👇👇👇👇👇
Instagram https://www.instagram.com/bass_365/
Facebook https://www.facebook.com/365bass/
Keep up to date with everything going on in the fishing world http://bass365.com/
Download the BASS 365 LIVE app for free!
https://apps.apple.com/us/app/bass-36…