Jerry McKinnis rides along with Hackney on his final day of Classic practice
By Jerry McKinnis
Special to Bassmaster.com
SHREVEPORT, La. — On the last practice day, at every Bassmaster Classic, one observer is allowed to go out and spend the day with one of the competitors. You can't fish, just watch.
I decided to give it a try and was paired with Greg Hackney. I'm going to repeat some of the more interesting things Hackney had to say about his profession as he put together his game plan for the Red River.
You should know that Hackney and I have known each other for some time and have been involved in several bass fishing projects before. Preparing for the Classic, however, is a different beast.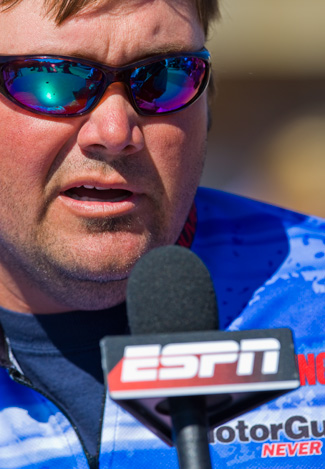 James Overstreet
Most pundits agree Greg Hackney is the favorite to win the 2009 Bassmaster Classic. Hackney spent media day talking about his pre-tournament practice, and the pressure to win.
Here's how it went for Hackney.
We left the dock as boat 25 at 8:30 a.m. ET. The BASS officials run this final day of practice just as the competition days will be run. We have a check in time of 4:30 p.m. ET.
Take-off is from Pool 5, about 6- to 8-miles below Shreveport.
The Red River is much lower and clearer than it normally could be at this time of year.
It is 15 minutes to the lock, where we'll move south into Pool 4. The locking process takes about 20 minutes.
As we sat there, Hackney talked about being raised fishing the Arkansas River and having the experience with locking up and down that river for years. Locking was so common place for him that working through the logistics and scheduling his days fishing around the locks of the Red River is not a problem.
When he became a bona-fide professional bass fisherman though, that changed. Fishing rivers and having success depended on being on time for one, two or even three locks. That drove him crazy and hurt his performance.
The good news is he seems to have whipped that and got back to being a true river rat.
We fished our way south in Pool 4. I'm going to tell you as much as I can about his technique without revealing anything that might hurt his chances.
He had one small sweet spot that we weren't about to get close to and another that he was still searching around. He fished a shallow crankbait — a homemade version that went a little deeper — a lipless crankbait, and a spinnerbait. Obviously, these lures covered water rapidly and we fished all kinds of backwaters.
Then we would slow down and Greg would flip a jig into shallow brush and laydowns, a specialty of his.
Greg talked about how he always tries to fish "easy and simple" during any tournament practice. How he would never pound a bank or an area, and if he could get a few bites in practice handling it that way, then when he came back during the actual event, he could be "pleasantly surprised" at what was there when he needed it.
We covered lots of water for the next four hours, before he had to head back, and I have to say that 98 percent of the time, we had zero bites — nothing. But folks, always remember that these guys gain knowledge from not catching anything as well.
Now about that 2 percent.
When we did catch something — well, really we didn't catch anything during that period either, but for about 10 minutes of the day, he put a strange little technique into play, one that he had come across in an early practice day, and one that he was really counting on.
At this time, all I want to say is, it worked, and it makes Greg Hackney a contender.
I would imagine that anyone who reads the stories on this site would know this, but these Classic anglers are really smart and go out on Day One with a plan. None of them really "just go fishing."
During my day with Hackney, I enjoyed watching him run from one spot to another, changing from one lure to the next, all the time jibber-jabbering with me on subjects from college football, to the jets flying overhead.
He didn't fool me though. I could hear the wheels turning in his head, as his game plan was coming together.
Winning the Bassmaster Classic changes you life forever — Greg Hackney wants some of that.
Click here to pick a fantasy team for the Bassmaster Classic.