Alabama's Martens overcomes adversity to take fifth BASS victory
By Doug Grassian
Bassmaster.com
LAKE GUNTERSVILLE, Ala. — Despite nearly relinquishing a 6-pound plus margin, Aaron Martens of Leeds, Ala., held on Sunday to score his fifth BASS victory — his first outside of the state of the California — at the Marine Formula STA-BIL Southern Challenge on Lake Guntersville.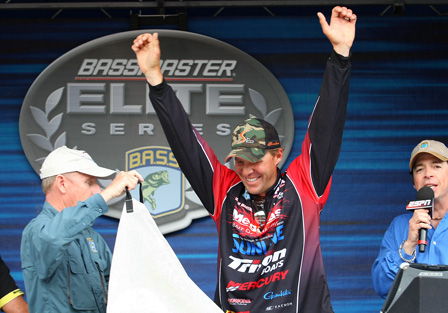 James Overstreet
Aaron Martens (1st, 107-8)
The 36-year-old West Coast product, who totaled 107 pounds, 8 ounces, nearly let victory slip away to hard-charging Skeet Reese, but in the end, his versatility brought home the $100,000 top prize.
The day started inauspiciously enough for Martens as his first spot — roughly a 10-foot area — was filled by a local boat. The 2005 Toyota Tundra Bassmaster Angler of the Year ran to his next spot, only to encounter the same boat, which Martens said intentionally stirred up his area to make it virtually unfishable.
To boot, Martens struggled through the morning and wasn't connecting with the same class of fish he had the first three days of competition. But Martens had developed two distinctly different patterns. His best, a Lucky Craft RC 2.5 deep-diving crankbait, was paired with a worm and provided Martens the one-two punch necessary to win a Bassmaster Elite Series event.
"I was tense all day. It was horrible," said Martens, who has accumulated nearly $1.5 million in BASS career earnings. "I had to work really hard today. But this feels really good."
With the victory, Martens climbed to fourth in the 2009 Toyota Tundra Bassmaster Angler of the Year standings and is within striking distance of points leader Kevin VanDam of Kalamazoo, Mich.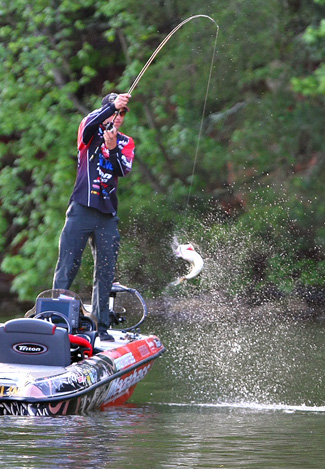 James Overstreet
Aaron Martens, hauling in a fish, had to deal with another angler on his spots.
VanDam, in a relative struggle, finished 20th at Guntersville and left the door open for Reese, Alton Jones and Martens. The full standings can be found below and with just three regular-season events remaining, the race is shaping up to be epic.
Plagued all week by local traffic, Martens was forced to dig deep and thankfully he located 30 productive spots during his three-day practice period. He said he was only able to hit half of those and of those half, he only visited eight or so each day.
The best spots, he said, were ones that contained grass and shellbeds. In those spots, he would retrieve the crankbait in a unique fashion, very erratically and similar to the way you would retrieve a jerkbait. He felt his retrieve was key to enticing the bigger bass.
Each of the first three days, Martens had been able to fill his limit, upgrade relatively quickly and then spend some of the day trying to locate new water. This, he said, helped him to remain consistent while other anglers hammered on singular spots and saw their weights fall off dramatically.
"You just had to keep moving and keep looking," Martens said. "I have never seen anything like this lake this week. I have seen other lakes that have bigger fish but nowhere else can you find this many spots that hold that many quality fish. It was just amazing."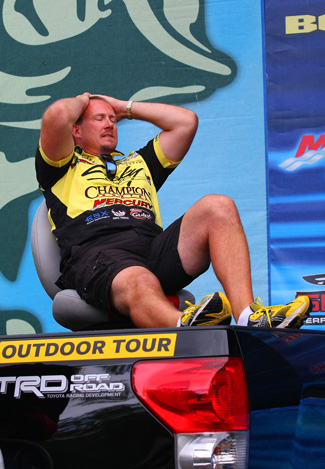 James Overstreet
Reese dodges a bullet as Marty Stone fails to knock him out and he shows some emotion as the final angler, Aaron Martens, waits in the wings.
A relative afterthought after the first day, Reese moved up the leaderboard each day, eventually causing Martens to sweat. Like Martens, Reese worked a Lucky Craft RC 2.5 crankbait and capped off his week with an impressive 27-pound, 11 ounce, limit Sunday.
While Reese felt he cost himself with a few missed fish early in the tournament, he wasn't sure if those fish would have made the difference. Saturday was the turning point for Reese when he identified an ultra-productive stretch that he relied upon for the final two days.
Sunday was frustrating for Reese in a different sense than most. He was landing 5-pounders galore but couldn't find the bigger bite that would have put him over the top.
"Aaron and the rest of them left the door open a little bit," said Reese, the 2007 Toyota Tundra Bassmaster Angler of the Year. "But it was pretty hard to overcome that deficit in the end. Overall, I'm very pleased."
Moving up nine spots to third was Kevin Wirth of Crestwood, Ky., with 102 pounds, 3 ounces. In fourth was Mike Iaconelli of Runnemed e, N.J., with 101 pounds, 1 ounce. Slipping to fifth from second was Marty Stone of Fayetteville, N.C., with 99 pounds, 5 ounces.
Stone is one of many anglers battling to qualify for the 2010 Bassmaster Classic via the Toyota Tundra Bassmaster Angler of the Year standings. The top 36 will earn berths in the Feb. 19-21 Classic on Lay Lake and Birmingham, Ala.
Also determined at the end of the regular season will be the top 12 competitors, who will qualify for the inaugural Bassmaster Elite Series Postseason. This past week, BASS announced the details with the Postseason being played out on Lake Jordan (Sept. 12-13) and the Alabama River (Sept. 17-18).
The real star of the tournament was by most accounts Guntersville. Anglers, in droves, praised the famed fishery and the final numbers were impressive. Elite anglers caught nearly 1,300 fish and more than 5,300 pounds over the course of four days.
A BASS favorite, Guntersville has been the site of more than 20 previous BASS events, including the 1976 Bassmaster Classic, won by Elite Series pro Rick Clunn of Ava, Mo.
Up next in the Elite Series is the June 3-6 SpongeTech Tennessee Triumph on Kentucky Lake out of Paris, Tenn.
Fishing fans can catch all of the on-the-water action from the Southern Challenge on The Bassmasters, which airs Saturday, May 16, at 9 a.m. ET on ESPN2. The daily weigh-ins for all regular-season Elite events and the two postseason events will air live on ESPN360.com, ESPN's broadband sports network, while a wealth of unique content will also be available at Bassmaster.com.