FORT MADISON, Iowa — It has never been more apparent that the Bassmaster Elite Series is a game of adjustments than it was Thursday at the Genuity River Rumble.
Spoiled by the big-bass factories of Lake Guntersville and Kentucky Lake in the previous two tournaments, Elite anglers were hit with a dose of reality Thursday on the Mississippi River as many were forced to dig deep in their tackle boxes to grind out a limit. And many were unable to manage a limit on Day One.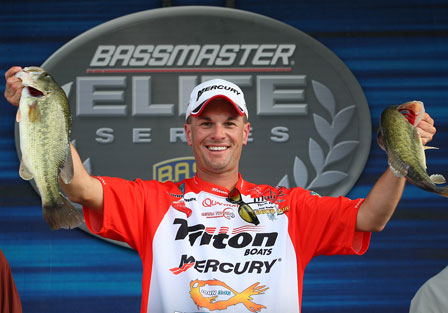 James Overstreet
Randy Howell (1st, 16-4)
Nonetheless, the mighty Mississippi holds a good population of bass, and those who made the right choices were able to capitalize. Turning around a practice that was alarmingly unproductive, Randy Howell laid claim to the lead with a 16-pound, 9-ounce limit, enough for an advantage of nearly 2 pounds over Takahiro Omori (14-9) of Emory, Texas.
Elite rookie Matt Herren of Trussville, Ala. (14-9) was third, with fellow rookie Billy McCaghren of Mayflower, Ark., and Elite veteran Tommy Biffle of Wagoner, Okla., tied for fourth with 13-1.
Howell, who said he landed zero keepers during a deflating three-day practice, keyed in on a small patch of 10 bushes, which yielded all of his weighed fish. His limit included a 4-pound, 5-ounce bass, which was tied for the largest of the day. Like most in the field, Howell was flipping into shallow pockets of water.
"I don't consider this type of fishing to be a strength, so taking the lead is a big confidence boost," said Howell, 35. "I don't think I have ever caught fish this shallow. It's just mind-blowing."
Howell said he caught fish in water as skinny as 6 inches. While his area proved productive, several other competitors were near or on his money spot and boat traffic remains an issue on the Mississippi with just a few, concentrated productive areas.
A solid tournament here would be doubly rewarding for Howell. He is chasing a $100,000 top prize, and, perhaps most importantly, he and all other Elite Series pros have their eye on positioning in the 2009 Toyota Tundra Bassmaster Angler of the Year standings.
Howell, a one-time BASS winner who came into this tournament ninth in the AOY standings, is in good shape to double up and qualify for the 2010 Bassmaster Classic, set for Feb. 19-21 on Lay Lake out of Birmingham, Ala., and the inaugural 2009 Bassmaster Elite Series postseason.
The inaugural Toyota Trucks Championship Week is set for Sept. 10-18 and will be played out on two productive Alabama fisheries. The first of the two postseason tournaments will take place on Lake Jordan out of Wetumpka; the finale, the Evan Williams Bourbon Trophy Triumph, is slated for the Alabama River from Montgomery. Only the top 12 anglers in the AOY standings will advance.
Howell started hot Thursday, landing three keepers by 8 a.m. His next keeper came at 11 a.m., and he didn't land another bite until his fifth keeper was safely in the boat at 2:10 p.m. He used the rest of the day to poke around his productive area looking for clues to where the biggest bass were hiding.
"I came in hoping to just catch one fish and register some points," said Howell, an eight-time Bassmaster Classic qualifier. "Now, I'm in a very good position. It was just a grind out there — and there is a bit more luck that comes into play here, but this spot is definitely going to be a factor."
Omori, who was fishing in the same backwater as Howell, also managed to turn around a sub-standard practice. He caught only five keepers on Day One by flipping to shallow water. His limit was buoyed by a 3-5 bass.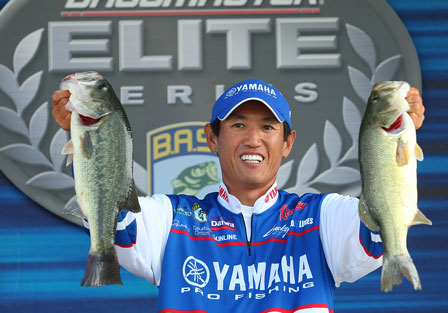 James Overstreet
Takahiro Omori (2nd, 14-10)
In 36th in the Toyota Tundra Bassmaster Angler of the Year standings heading into this event, Omori, a six-time BASS winner and the 2004 Bassmaster Classic champion, is looking to put himself in position to qualify for his seventh Bassmaster Classic. With only the top 36 qualifying, a solid tournament here would do wonders for his chances.
"My practice stunk and things are definitely not easy out there," said Omori, 38. "I also lost a 3-pounder, but all in all I'm optimistic."
Biffle, who won a 1995 BASS event on the Mississippi, is an angler to be watched at the Genuity River Rumble. An accomplished river fisherman, Biffle has already scored one Elite victory this year.
Also Thursday, Jerry Van Sickle of Oelwein, Iowa, who served as Elite angler Derek Remitz's Marshal, suffered injuries as the result of a boating accident and was treated at a local hospital. Van Sickle was alert and remained at the hospital for evaluation.
During the 2008 season, the Elite Series had to cancel the River Rumble in Fort Madison because of flooding that affected nearly a dozen states. The river last was host to a Bassmaster Tour event in 2006, when Elite angler Darrin Schwenkbeck won a Bassmaster Northern Tour competition with a three-day total of 42 pounds, 12 ounces.
The Genuity River Rumble includes a top prize of $100,000 and awards valuable points in the 2009 Toyota Tundra Bassmaster Angler of the Year title race. With 1,593 points heading into this week's event, Kevin VanDam of Kalamazoo, Mich., leads the AOY standings.
Trailing him are 2009 Bassmaster Classic champion and 2007 AOY Skeet Reese of Auburn, Calif., in second with 1,578 points, and 2008 Classic champion Alton Jones of Waco, Texas, in third with 1,477 points. Full standings can be found on Bassmaster.com
Fans are encouraged to attend the Genuity River Rumble's daily launches (7 a.m. ET) and weigh-ins (5 p.m. ET) through Sunday at Riverview Park, 902 4th St., Fort Madison. After Day Two Friday, the field will be cut to the top 50 anglers for Day Three. Only the top 12 will go on to compete in Day Four.
Fishing fans can catch all of the on-the-water action from the River Rumble on The Bassmasters, which airs Saturday, June 20, at 9 a.m. ET on ESPN2. The daily weigh-ins for all regular-season Elite events and the two postseason events will air live on ESPN360.com, ESPN's broadband sports network, while a wealth of unique content will also be available at Bassmaster.com.
Photos | Standings | Live coverage | Archive