By Steve Wright
BUFFALO, N.Y. — Mike Iaconelli's goal this week was simply to make the top 50 at the Bassmaster Elite Series Empire Chase presented by Farmer's Insurance. He knew that would be enough to solidify his place among the qualifiers for the 2009 Bassmaster Classic and allow him to fish worry-free in the final event of the season next week at New York's Oneida Lake.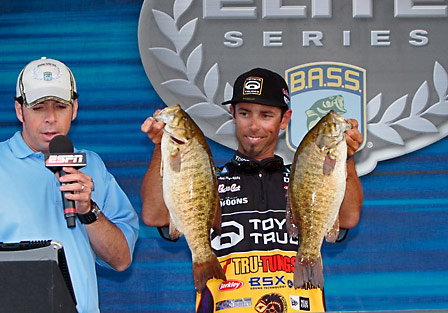 Larry Towell
Michael Iaconelli (First, 44-5)
Iaconelli was the last of the 106 Elite Series anglers to weigh-in Friday. When his five-bass limit of 22 pounds, 15 ounces gave him the lead in the tournament, the 36-year-old Runnemede, N.J., angler left the stage with much bigger goals than when he started the week.
"It's going to be a race," said Iaconelli, who has a two-day total of 44-5. "I'm excited."
Yes, the Empire Chase is definitely going to be a race. The winds calmed somewhat Friday, but for the second straight day, Lake Erie showed why it's considered among the best smallmouth bass fisheries in the world — wind or no wind.
Iaconelli was among a group of seven anglers who caught 20-plus pounds of smallmouth bass for the second day in a row. Five of them are bunched at the top of the leaderboard — within 1 pound, 10 ounces of the lead.
Day One leader Matt Reed is second with 43-6, 15 ounces behind Iaconelli. Defending Empire Chase champion Edwin Evers is third with 42-14, 1-7 off the lead. Defending Empire Chase runnerup Kotaro Kiriyama is fourth, only 1 ounce behind Evers. Aaron Martens is fifth with 42-11, only 3 ounces behind Evers.
"Honestly, that was my mindset coming in, to make the top 50," Iaconelli said. "This is turning out a lot better than I expected."
Iaconelli didn't take Purolator Big Bass honors Friday. Elton Luce Jr. did that with a 5-13, the big fish of the tournament so far. But Iaconelli did have two smallmouths pushing the 6-pound mark: a 5-11 and a 5-9.
"For somebody that doesn't fish, it's hard to explain the adrenaline rush you get from landing a bass that's almost 6 pounds on 6-pound-test line," Iaconelli said.
On the other hand, you don't have to know much about fishing to understand the disappointment Martens felt when he lost a smallmouth in the 7-pound range right at the boat Friday. Not only would it have given him the tournament lead, it would have been the smallmouth of a lifetime for most anglers.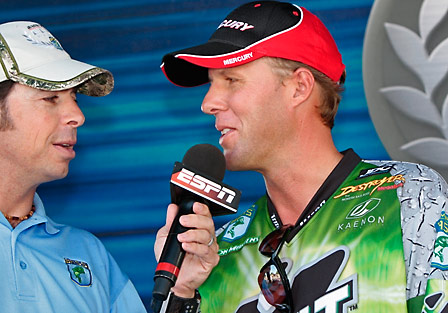 Larry Towell
Aaron Martens (Fifth, 42-11)
"I had a behemoth," said Martens, who was using 7-pound-test line. "I fought it forever. I pulled it right up to the boat and the hook popped out. That kind of ruined my day.
"I had a 5-9 yesterday. This fish dwarfed that one."
Martens said he hooked the fish while drop-shotting a Roboworm in 60 feet of water.
After the deep-water, drop-shotting success Evers, Kiriyama, Martens and other Elite Series contenders had here last year, that's by far the dominant technique of this tournament. And most of the anglers are using various Berkley Gulp lures.
Luce caught his 5-13 on a green pumpkin Berkley Gulp 3-inch Fry.
"That line of Berkley Gulp products imitates what smallmouth feed on, like leeches and gobies," Luce said. "And once they bite it, they'll hold on to it. That's what I like about it."
Iaconelli is using both Berkley and Tru-Tungsten soft lures to imitate the smallmouth forage in the 30- to 35-foot depths where he's concentrating.
"I can almost guarantee you that 90 percent of what they're eating is gobies," said Iaconelli, of the non-native, bottom-dwelling fish that resemble a sculpin.
Gobies were first discovered in the St. Clair River in 1990. Native to Eurasia, they are believed to have made the voyage to America in the ballasts of cargo ships. While they are considered an invasive species and feed on the eggs of other gamefish, there's no doubt that smallmouth bass love to eat them.
In the tournament-within-a-tournament going on here this week, Kevin VanDam showed he's not dead yet in the Toyota Tundra Bassmaster Angler of the Year race. The Kalamazoo, Mich., native entered this event with a 16-point lead over Todd Faircloth of Jasper, Texas.
But on Day One, Faircloth caught 20-1 for eighth place, and KVD was in 32nd place with 16-11. VanDam narrowed the gap Friday with 19-15 to move into 14th place, while Faircloth remained in eighth with his second-straight 20-pound day.
"The Angler of the Year race is on my mind; I'm not going to say it's not," Faircloth said. "I'm in a real good position. But I've got some heavy hitters around me in that race.
"Having a legitimate shot of winning it going into the last tournament is all that you can hope for."
Faircloth will definitely have that. In fact, he'll have the lead going into next week's season-ender at Oneida, unless VanDam can close the gap this weekend.
No matter what happens, it's now a three-man race at best. Mike McClelland, who entered the week 115 points behind VanDam, moved up from 49th place Thursday to 30th on Friday with a two-day total of 33-4.
But defending champion Skeet Reese eliminated himself from the AOY race with a 59th place finish here, and Dean Rojas, who was fifth in the AOY standings, didn't make the top 50 cut for the first time this season, finishing 97th.
Visit Bassmaster.com for full coverage of the Elite Series Empire Chase with weigh-in host Keith Alan, July 31-Aug. 3, 2008. Thursday, Friday and Saturday, daily weigh-ins with live streaming video and real-time leaderboards start at 5:00 p.m. ET. On Saturday, catch "Bassmaster University" at 4:15 p.m. ET before the weigh-in. Then on Sunday, get "Hooked Up" with hosts Tommy Sanders and Mark Zona at 1 p.m. and 4:20 p.m. ET, with the final day weigh-in and real-time leaderboard content starting at 5:00 p.m. ET.