DEL RIO, Texas — Sometimes it's just practice. Mike Iaconelli of Runnemede, N.J., was able to shake off a "terrible practice" and catch the biggest fish he has ever boated in competition, a 12-pound, 13-ounce behemoth, on his way to the top position with a 27-pound, 9-ounce total at the 2009 Bassmaster Elite Series season-opener, the OPTIMA Batteries Battle on the Border on Lake Amistad.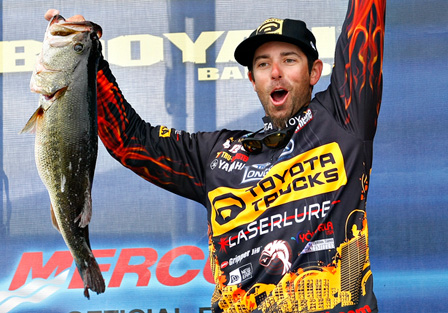 James Overstreet
Michael Iaconelli (First, 27-9)
Battling cold and windy conditions, the field of 100 anglers eventually figured out spacious Amistad on Day One as eight anglers weighed more than 20 pounds. Iaconelli carried the day, however, by capitalizing on some opportune bites. Behind Iaconelli was two-time Toyota Tundra Bassmaster Angler of the Year Gary Klein of Weatherford, Texas, with 25 pounds, 4 ounces.
"I was so excited when I hooked up with that fish," Iaconelli said of the 12-13. "It was a long fight, about six or seven minutes, and I could feel my heart beating through my chest. I was so exhausted when I finally got it in the boat, I actually threw up. It was absolutely crazy. We fish our whole lives just to catch a fish like that. I will treasure this memory."
Fishing fans can catch all of the on-the-water action from the March 12-15 OPTIMA Batteries Battle on the Border on The Bassmasters, which airs Saturday, March 28, at 9 a.m. ET on ESPN2. The daily weigh-ins for this and the other seven regular-season Elite events and two postseason events will appear live on ESPN360.com, ESPN's broadband sports network, while a wealth of unique content will also be available at Bassmaster.com.
Iaconelli, who revealed no details of his productive pattern, has accumulated plenty of positive memories on Amistad. He has finished in the top 20 in each of the three Elite Series events on the big-bass factory, highlighted by a second-place showing in 2007. Furthermore, Iaconelli caught the biggest fish of his life on Amistad, a 14-1 brute.
He also has momentum on his side this week as the 2003 Classic champion has been on a roll of late. In his last three BASS events he has scored top-five finishes, including a near miss at the 2009 Bassmaster Classic in February, when he was bested by Skeet Reese by less than 1 pound.
"My mind-set coming in was just to make a check and accumulate some Angler of the Year points," said Iaconelli, 36. "Sometimes, you can throw everything out the window and just follow your gut. I did that today and fished the moment. What a day!"
Like Iaconelli, Klein targeted bigger bites and found a groove Thursday. The 51-year-old was moving around quite a bit, focusing on post-spawn fish in deep water and using a jig.
With a wealth of experience on Amistad, Klein stayed away from his most productive spots in practice, opting to visit them the first day of the tournament. That decision paid off and Klein was able to find the right bites with little boat traffic.
For a moment, Klein thought his day was going to be special. He hooked up with what he thought was a heavyweight bass and was convinced early in the fight that he had a monster. But the veteran soon realized it was a catfish he had on the end of the line. He said the momentary lapse in judgment was his only letdown of the day.
"I know this lake pretty well and I just decided to fish my strength," Klein said. "I'm not catching a lot of fish but I feel that the fish I am targeting will be there regardless of the conditions."
Rounding out the top five were 2008 Bassmaster Classic champion Alton Jones, in third with 24-0; Matt Reed of Madisonville, Texas, in fourth with 23-2; and John Murray of Phoenix, in fifth with 22-1.
Past Elite Series champions on Amistad finished Day One with mixed results Thursday, with 2008 winner Todd Faircloth in 21st; 2007 winner Derek Remitz was 81st and 2006 champion Ish Monroe in 34th.
Four-time Angler of the Year Kevin VanDam was 11th while the reigning Classic champ Reese was 12th.
The Amistad event marked the debut of the Bassmaster Elite Series Marshals program. Marshals, who took the place of co-anglers, will help enforce tournament rules and ensure the integrity of the highest level of professional fishing. With the introduction of the Marshals program, the Elite Series becomes the only exclusive pro fishing league in the world. Despite the conditions, the Marshal program was at capacity.