MONETA, Va. — Looking to turn around a mediocre season, Kelly Jordon of Mineola, Texas, stuck to what he knows best and sight-fished his way to the Day One lead at the Advance Auto Parts Blue Ridge Brawl on picturesque Smith Mountain Lake.
Jordon, a four-time BASS winner, amassed 20 pounds, 9 ounces — enough to hold off another sight-fishing specialist, Dean Rojas of Lake Havasu City, Ariz., by more than 2 pounds.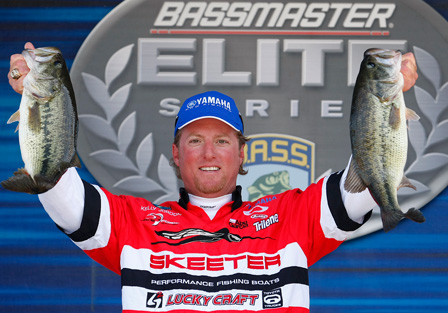 James Overstreet
Kelly Jordon (First, 20-9)
A perennial Bassmaster Classic qualifier, Jordon is working to shake off a slow start to his 2009 season. He is 47th in the Toyota Tundra Bassmaster Angler of the Year standings, but a solid finish at Smith Mountain would put him in prime position to qualify for his eighth Bassmaster Classic.
With three events in the books, the competition for the Toyota Tundra Bassmaster Angler of the Year and its $200,000 top prize is heating up. Heading into the tournament, Alton Jones of Waco, Texas, held a slight margin over Stephen Browning of Hot Springs, Ark. Both faltered Thursday — Jones is in 86th and Browning is 96th — and the door is wide open.
At the end of the regular season, the top 36 will advance to the 2010 Bassmaster Classic, set for Feb. 19-21 on Lay Lake out of Birmingham, Ala.
"This certainly helps," Jordon said. "I had a pretty solid practice so I expected to do well. It should be interesting the next couple of days. If the fish move up on the beds like they should, it will be wide open."
Fishing fans can catch all of the on-the-water action from the Blue Ridge Brawl on The Bassmasters, which airs Saturday, May 9, at 9 a.m. ET on ESPN2. The daily weigh-ins for all regular-season Elite events and the two postseason events will air live on ESPN360.com, ESPN's broadband sports network, while a wealth of unique content will also be available at Bassmaster.com.
Predicting that a 30-pound bag was possible, Jordon was confident that he could continue to pile on the pounds. What he wasn't sure of was which day would be best for the sight-fishing bite. He also was unsure of how recreational boat traffic — a virtual certainty on Smith Mountain — would affect the sight bite.
"It could get magical here in the next couple of days," said Jordon. "I just can't wait to get back out there."
Meanwhile, Rojas, despite a draw for a late launch Thursday morning, caught all of his 18 pounds, 7 ounces, by 9 a.m. He was in areas that were void of other competitors and felt his seclusion was important. He used the rest of his competition day to look around and essentially practice for the remaining three days.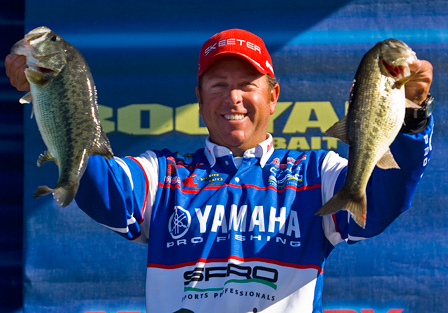 James Overstreet
Dean Rojas (Second, 18-7)
He has located several areas that are holding bedding bass and feels that another solid limit is well within his grasp Friday. Like Jordon, he felt that the spacious fishery could really turn on, but he was unsure of exactly when.
Rojas, 37, fished flawlessly and while he could have upgraded his weight — perhaps within Jordon's range — he made the decision to search for new water. He played it close to the vest on specifics of his pattern.
"Things are in motion right now and the lake is changing every day," said Rojas, who has eclipsed $1 million in BASS career earnings. "Friday should be good, but I just don't know what is in store for Saturday and Sunday."
In third was Matthew Sphar of Pavilion, N.Y., with 17-13. In fourth was Elite rookie Matt Herren of Trussville, Ala., (17-11) and fifth was Derek Remitz of Grant, Ala. (16-15).
A deep, clear fishery, Smith Mountain showed its true colors as a productive bass fishery Thursday as 90 anglers boated five-fish limits.
The scenic 20,600-acre lake nestled in the Blue Ridge Mountains has been featured in four previous BASS events, the last of which was the 2007 Bassmaster Elite Series event won by then-rookie Casey Ashley of Donalds, S.C. Ashley made history as the youngest pro — he was 23 at the time — to win an Elite Series event.
The Blue Ridge Brawl includes a top prize of $100,000 and awards valuable points in the 2009 Toyota Tundra Bassmaster Angler of the Year race. The top 12 pros in the AOY standings at the end of the regular season will advance to the two-event postseason, during which the Angler of the Year will be determined.
Fans are encouraged to attend the Blue Ridge Brawl's daily launches (7:15 a.m. ET) and weigh-ins (4 p.m.) through Sunday at Parkway Marina, 16918 Smith Mountain Lake Parkway, Huddleston, Va.
After Day Two's competition Friday, the field will be cut to the top 50 anglers for Day Three. Only the top 12 will go on to compete on Day Four.