Losing the Classic by less than a pound stings Iaconelli
By Kyle Carter
Bassmaster.com
BOSSIER CITY, La. — Mike Iaconelli 's first reaction to his 20 pounds, 3 ounces was shock. He thought it would be more.
"I thought I had over 21 pounds, I really did," he said.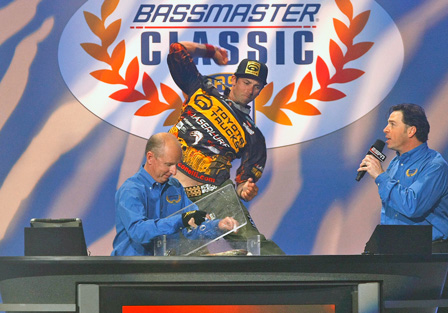 James Overstreet
Michael Iaconelli (Second, 54-2)
The shock only lasted a brief moment. Then he went Ike, jumping and pumping his fist. But at that point, he thought the Classic was gone.
"I really didn't know what Skeet [Reese] had, but we're all sitting in line there, so we get a feel for it," Iaconelli said. "I honestly thought Skeet had about 18 pounds. In my mind, I had that built up. I had already, in advance, mentally talked myself into 'second place is okay.'"
There were eight people that weighed in between Iaconelli and Reese, and Iaconelli was on stage in the hot seat for five of them, thinking that Reese had him by a couple pounds.
Reese needed 16-2 to win, he only got 16-12. It was at that moment that Iaconelli realized just how close it was, and it hurt.
After shaking Reese's hand and disappearing down the stairs, Iaconelli started dealing with what had just happened.
"Right before I came into this press conference, right after Skeet came in and beat me out by less than a pound, I went and sat on the bathroom floor for about 15 or 20 minutes," Iaconelli said. "It's pretty hard to come that close and not win."
Until that moment, the Classic was going almost exactly as he drew it up. After weighing in 15-5 on Friday, Iaconelli said he had a plan.
"I'd really like to be near, but not in the lead going into the final day," he said after Day One. "Make no mistake, I'd take a 25-pound bag, but I'd also take 18 pounds, then get a big bag in the final."
He caught 18-10 on Day Two, but it didn't put him quite as high as he would have liked. Instead of the fifth he had hoped for, he sat in 10th going into the final day. It was 10 ounces too far behind.
"It's hard to be that far back in the standings and win the Classic," he said. "It's almost impossible. I knew the potential was there but these guys are too good, they're not going to slip up."
But he almost pulled it off because of a bass he caught 1 minute before he had to start heading back. It was his biggest fish of the day — one that he estimated at 6 pounds.
It was eerily similar to a fish he caught in 2003 that helped him steal the Classic from Gary Klein.
"Anytime you catch a fish like that in the last minute, it's a thrill," Iaconelli said. "That's why I fish, for that feeling."
But even after Iaconelli caught the bass, and made it to the lock with seconds to spare, he said he didn't feel like the Classic was his.
"The Classic I won in 2003, I was two and a half hours from the ramp when I caught my last fish, and I knew I had won that tournament," Iaconelli said. "Driving back today, I didn't have that same feeling."
2009 Classic archive | Photo galleries | Classic blog | Live coverage | Standings