Here that? That's not a mosquito or a cicada. That's a huge percentage of the Bassmaster Elite Series field slinging buzzbaits in an effort to garner an above average sized bite from a Sabine River bass, and Team Toyota's Brandon Lester is one of them.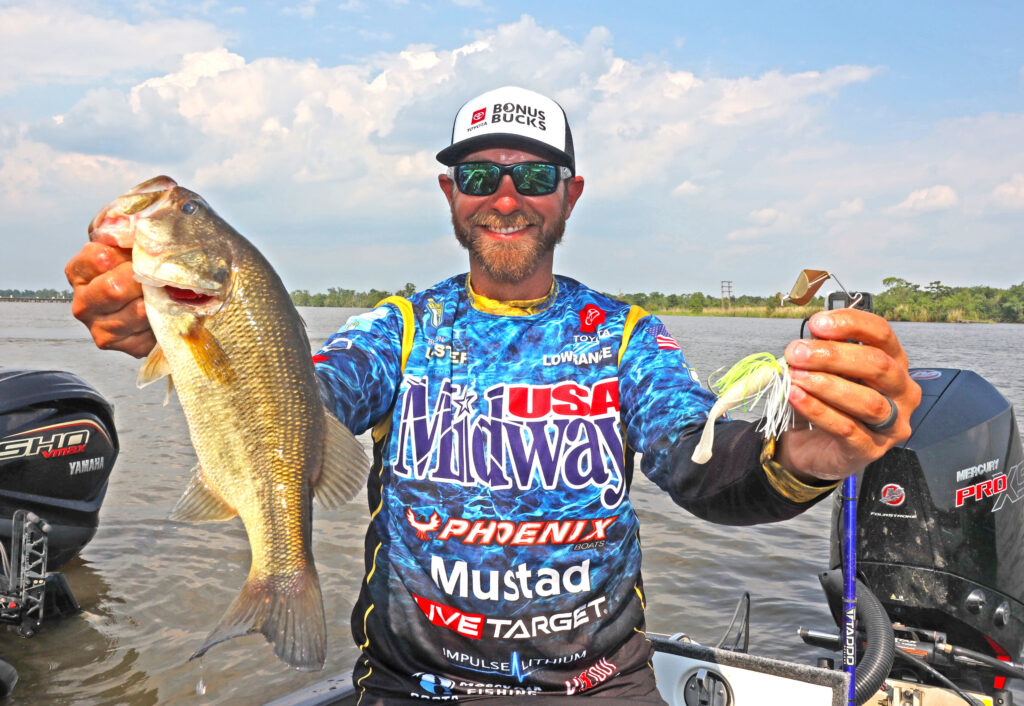 "I learned early in my pro career that anytime we competed at a venue with the word 'river' in it, you'd better have a buzzbait tied on," grins Lester.
"I don't care if it's the James River, Potomac River, Tennessee River or Sabine River, especially during the hot weather post-spawn events, you'd better be throwing a buzzbait," emphasizes the highly likeable Tennessee pro.
He estimates he caught a dozen non-keeper largemouth on a buzzbait during Day 1 of the Folds of Honor Bassmaster Elite on the Sabine River, but just never got lucky enough to score a big one. However, that won't stop him from throwing it again on Friday.
"I feel like a buzzbait gets you a bigger-than-average bite, and that's so critical here, so I'll definitely continue to throw it," he says.
As far as the specifics of what he'll throw, gold blades are for sure his favorite, and a 5/16-ounce garners more playing time than any other size. He'll mix in a chrome blade if he knows they're feeding heavily on shad, and he always adds a soft plastic trailer beneath the skirt.
"There's so many people throwing buzzbaits with just a soft plastic craw or toad these days, that I feel the traditional skirt actually makes your bait look a little different, but I always add a plastic trailer, and no trailer hook," says Lester.
Hopefully, his slightly different looking offering gets the attention of a bigger than average Sabine largemouth Friday, because one thing's for certain, he'll need to stand out in a crowd amid the swarm of topwater buzzers being thrown in order to separate himself from the pack and make a major leap in the standings.