Wells claims fourth tournament, second at Neely Henry Lake
By Deb Johnson
Bassmaster.com
GADSDEN, Ala. — Fighting a relentless current cast after cast, Pam Martin-Wells of Bainbridge, Ga., landed her fourth BASS win — her second on Neely Henry — by just 7 ounces in the Academy Sports + Outdoors Women's Bassmaster Tour season opener on Neely Henry Lake.
"It was simple persistence," Martin-Wells said.
Her 38-pound, 10-ounce total bested Tammy Richardson of Amity, Ark., who recovered after a slow first day to finish second with 38-3.
Martin-Wells won $1,000 and a Skeeter/Yamaha boat rig valued at $55,000.
The Coosa River impoundment's current picked up speed this week as water was pulled through the Neely Henry dam to handle three days of heavy rain.
"Even though I have a very good and strong trolling motor, the current was stronger, so the whole time I had my foot on it, I was straining from daylight to takeout every day," Martin-Wells said. "If I caught a fish, or broke off, or had to cull, by the time I got through, I was half a mile from where I had been fishing, so I had to crank up the big motor to get back to my fish."
Martin-Wells won the WBT's 2008 event on Neely Henry as well as the inaugural WBT Championship in 2007 on another Coosa impoundment, Lake Mitchell. Her vast experience on Coosa waters led her to try just about every lure in her tacklebox this week: tubes, worms, crankbaits, spinnerbaits and even a drop-shot rig, something she rarely turns to.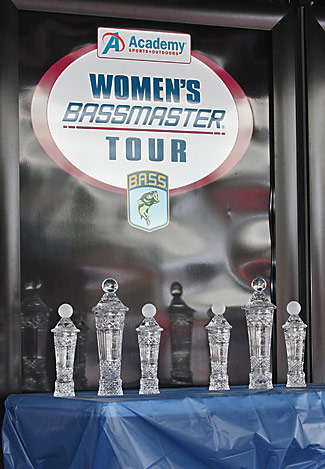 Larry Towell
The trophies for the Academy Sports + Outdoors Women's Bassmaster Tour sit on the table just prior to the final weigh-in at the tour's first event of 2009.
Martin-Wells went into Saturday's final round with a 2-pound, 10-ounce advantage over Richardson. Richardson did her best to catch up, weighing Saturday's biggest bag of 15-4, but was short of trumping the pro from Georgia.
"I keep thinking back to Day One and the mistakes I made," Richardson said. "My biggest problem was making the right adjustments when my fish moved."
"Yesterday I moved out deeper and put a deep-diving crankbait on, and I also Carolina-rigged," she said. That tactic yielded 15-11, the biggest bag of Day Two. "Today, I started out doing the same thing and didn't get anything. I ended up going back shallow and that's how I got my fish today."
"This river has been good to me, but it's got me a time or two, too," said Richardson, whose four WBT wins include two on Neely Henry, but also a 61st place finish there. "It can be so good, and when you're on them, you're on them. Then, it changes overnight, and the fish are just gone."
The Gadsden area missed the severe weather that affected much of Alabama Saturday morning. By early afternoon, the sun began to wink through the clouds above Neely Henry, a welcome sight to Emily Shaffer of Mount Juliet, Tenn., the Day One leader finished third with 33-5.
"I needed the sun, and that's when I got my best fish from what I call my sweet spot," she said. "What worked for me was a Lucky Craft Pointer, Bomber Fat Free Shad and pearl Zoom Fluke, Carolina-rigged. I noticed the fish were eating shad, so I got out the fluke, and that's what many of my fish came on yesterday and today."
Martin-Wells' win put her in front in the 2009 Toyota Tundra Women's Bassmaster Tour Angler of the Year points race. The pros are racking up points to qualify for the Oct. 16-18 Academy Sports + Outdoors WBT Championship on the Red River out of Shreveport-Bossier City, La. One pro will emerge from the championship as the 2009 AOY and earn a berth in the 2010 Classic, set for Feb. 19-21 on Lay Lake outside of Birmingham, Ala.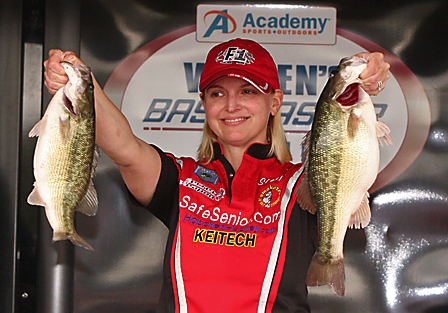 Larry Towell
Stacy Zhelesnik (First, 27-14) co-angler
As the 2008 AOY, Kim Bain-Moore of Alabaster, Ala., qualified for the 2009 Classic last month. She was the first woman to compete in a Classic. She was at Neely Henry this week, finishing 13th with 25-9.
"I just had fun fishing today," she said. "Certainly I'll be trying to make the Classic again, but I'd be more than happy to be able to share that experience with another lady."
Co-angler Stacy Zhelesnik of Hoboken, N.Y., logged her first WBT victory with a 27-pound, 14-ounce total. The victory was extra sweet after Zhelesnik finished just 7 ounces out of first in the co-angler division on the same fishery last season. She said she will make good use of the $25,000 Triton/Mercury rig and $500 she won because she's making plans to turn pro.
"My major challenge this week was to find a consistent pattern," she said. "I mainly was junk fishing in practice. I knew I had to narrow it down to a pattern that wasn't going to be affected by the changing water level. I finally got my swimbait bite to turn on, a 3.8-inch Keitech swimbait."
Zhelesnik shot past Day One and Day Two co-angler leader Donna Newberry of Van Buren, Ark., who slipped to second place with a 26-8 total. Third was Terri Bittner of McKinleyville, Calif., with 25-5.
The next stop for the WBT will be West Monroe, La., for an April 23-25 competition on the Ouachita River.