RUSSELLVILLE, Ark. — Kevin VanDam made a decision on the first day of the Toyota Trucks Diamond Drive on Lake Dardanelle that might have cost him the victory.
The day had already been shortened by a three-hour fog delay, and he was catching multiple limits of the same size fish. With what he thought would be three more days of fishing left, VanDam made the decision to leave and conserve, finishing with 15 pounds, 6 ounces.
When Saturday was canceled due to weather — or maybe even if it wasn't — VanDam figured he should have stuck around and looked for a kicker fish.
"I didn't want to waste them and catch a bunch of them trying to catch one big one, and I probably should have," VanDam said after the weigh-in on Sunday. "I don't know that I would have ever caught a big one, but in hindsight, you've always got to catch what you can catch on a given day."
In the two full days he had left, he caught 18-6 and 19-8. By the time all the fish hit the scales Sunday, it was 2-4 short of champion Mark Menendez's 55-7.
Looking at the forecast, he had planned on a cold weather bite in practice, and it paid off, giving him a bag 2 pounds heavier than the next largest. But he figured it wouldn't be enough.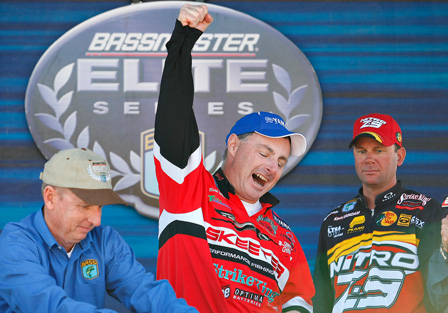 James Overstreet
Mark Menendez (First, 55-7)
"I knew being 5 pounds back, it was going to be tough to make it up in one day," VanDam said. "He was in a hole and had a spot to himself, and I was fighting with a lot of other guys in one area. It was just a lot to overcome."
Chris Lane, who had the second biggest final-day bag and his biggest of the tournament on Sunday at 17-11, said he thinks it was the right decision to cancel Saturday, and it's too hard to speculate what eight more hours would have done to his chances at a win.
"I think the fish were continuing to move into my area, but it would have been miserable for everyone yesterday," he said. "I don't know that it would have helped or hurt me."
Lane's regrets came on the two full days of fishing. He left his best spot in the middle of the day on Friday and found out later that Denny Brauer caught 15 pounds there in the afternoon. He also had to make a tough decision on Sunday, which turned out to be the right one.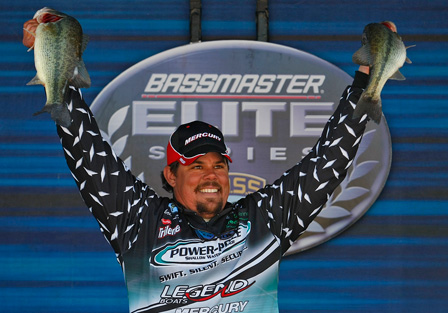 James Overstreet
Chris Lane (Third, 48-1)
"I left about 20 minutes early today because I thought I might have a chance at this thing, and I left them biting," said Lane, who most likely wouldn't have made up the 7 pounds he finished behind Menendez. "That's one of those things where you just have to make the right decision. If you're a multi-millionaire, stay there until the last second and run it back, but if not, you get the points and the money that you can."
Both Lane and VanDam had to jump in their truck Sunday afternoon and think through all their decisions from the weekend on the seven hour drive to Decatur, Ala., where they start practice on Monday for the Dixie Duel on Lake Wheeler.
The drive will put VanDam between two lakes that have served him up "could-have-beens" and have had him second guessing. He said he made a haunting spot-saving decision on Wheeler last season and finished 8 ounces behind champion Jeremy Starks.
"I've come to the conclusion that you've got to bust them when you can," he said. "I made the same decision on Wheeler last year and it cost me.
"It's never any fun to lose, but I guess that's just the way it goes."
Photo Galleries | Standings | Archive | Live coverage