RUSSELLVILLE, Ark. — After narrowly missing out on qualifying for the Bassmaster Classic in the past two years, Mark Menendez of Paducah, Ky., recognized that this season he would have to change things up and take more risks. So, this week at the Toyota Trucks Diamond Drive, Menendez gambled and dusted off his aluminum boat — one of only four anglers in the field of 100 to do so — in order to fish an extremely productive but difficult-to-access area of Lake Dardanelle.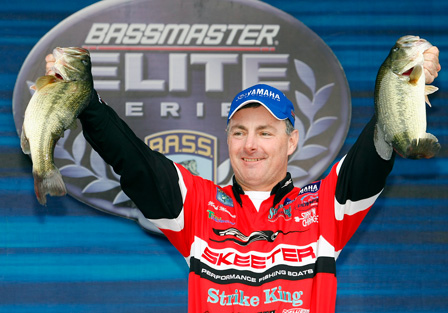 James Overstreet
Mark Menendez (1st, 39-4)
The gamble has paid off thus far to the tune of 39 pounds, 4 ounces, as Menendez holds a slim 13-ounce advantage Friday over his closest competitor, Cliff Pace of Petal, Miss., who had 38-7 after Day Two.
Menendez's gamble has been doubly risky, in fact: It has taken him one hour each way to reach his spot and return to the daily weigh-in, and he has cashed in on just more than five hours of total fishing time over two days.
While others were shuffled around the leaderboard Friday, Menendez was able to upgrade from his Thursday catch and boat 21 pounds, 8 ounces. His stretch of area, nearly 1/4 of a mile, is muddied and will continue to take on mud, but Menendez was most worried about the descending temperatures and the increased wind gusts forecasted for Saturday.
"I'm 100 percent committed to this area," said Menendez, 44. "It's a risk but I realized you have to take some risks to make it to the top. Still, nothing is a guarantee and you have to be smart out there when you are running an aluminum boat."
Menendez is taking advantage of an aggressive spawning bite in his stretch. He is fishing deliberately and methodically, throwing a variety of Strike King baits to the shallows. While one other competitor joined him in his area Friday, he felt he would be alone the next two days, allowing him to expand on his area.
After a fast start Thursday, Menendez was derailed due to mechanical problems before he got started Friday. But a minor problem was fixed quickly by the service crew and Menendez was able to round out his limit at 9:30 a.m., capitalizing on the early bite he missed Thursday, when the Day One launch was delayed due to fog. "The weather will really dictate how the rest of this tournament plays out," Menendez said. "I'm going to stick to my guns and hope for the best. It really is old-school fishing."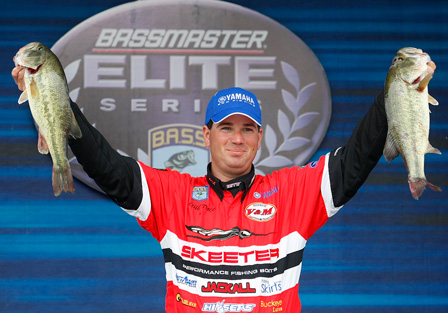 James Overstreet
Cliff Pace (2nd, 38-7)
It seemed that Menendez would have a sizable advantage over the field until Pace — one of the final competitors to weigh in — brought 21-12 to the scales, putting him within striking distance of Menendez. While Menendez has his area largely to himself, Pace is fishing in a crowd.
Pace believes his presentation method is the key to his success. He had a terrible practice and is sticking with the only area that he has developed. This being his first time on Dardanelle, Pace, a two-time BASS event winner, didn't catch his limit Friday until 12:30 p.m.
He said he was worried about competitor boat traffic, but he feels he has identified the winning spot and hopes the traffic doesn't hurt his chances.
"I'm absolutely committed to the area because I just don't have anything else," said Pace, 28. "I'll just have to see how they bite tommorrow."
Lurking in third place is four-time Toyota Tundra Bassmaster Angler of the Year, Kevin VanDam, with 33-12. Once again, VanDam is making an impressive early run in the Angler of the Year points, eyeing a consecutive solid finish to open the Elite Series season.
Like Pace, VanDam is fishing in a crowd, but he feels the subtle differences he is making to his presentation is enticing the right bites. He said Friday he is concerned about the impending cold front and might need to significantly alter his plan of attack Saturday.
In fourth is of Trussville, Ala., with 32-8. Alton Jones, with 32-3, is fifth. Like VanDam, Jones is wasting no time establishing himself as a contender for the Angler of the Year title and its $200,000 top prize. After a second-place finish at the Elite opener on Texas' Lake Amistad, Jones has followed up with a solid performance on Dardanelle thus far.
The field was cut to the top 50 for Saturday's action. Safely within the cutline was 2009 Bassmaster Classic champion Skeet Reese (11th), defending 2007 Dardanelle champ and 2007 Bassmaster Classic champ Boyd Duckett (38th) and Mike McClelland of Bella Vista, Ark. (46th). Day 1 leader Brent Chapman of Lake Quivira, Kan., slipped to 27th after a disappointing day.
Photo Galleries | Standings | Archive | Live coverage