A few Elite pros share their priceless baits and how they became famous
By David Jones
Bassmaster.com
As things evolve and new developments are made, old technology falls to the wayside. You don't see many folks using Ambassadeur DeLux reels or steel True Temper Raider rods, but old lures are somewhat of an anomaly. People everywhere, including Bassmaster Elite Series pros, still use lures from the past with astonishing success.
Rod and reel technology has gotten infinitely better than even ten years ago, but for one reason or another old lures hold a special place in many angler's hearts, and for good reason — they still work. That's not to say that you can't catch fish on antiquated rods or reels, it is just that lures are a common throwback to current trends in our sport.
Florida pro Shaw Grigsby has a well-kept secret he turns to when modern baits don't produce. His ace in the hole is a wooden Spence Scout. The Scout was produced by Spence Lure Co, the company that is now Strike King. It is a wooden bait that resembles the more popular Arbogast Hula Popper, but it has a metal lip and two treble hooks with a skirt on the rear one. It has action similar to today's wake baits.
"I've been using it since I was a kid. It's the wood that makes the difference. It has a great action," Grigsby says. "It goes over wood cover like nothing else, and there's really nothing like it out today. I'm probably going to throw it at the Bassmaster Classic (on the Red River) come February. That tournament will be won in shallow water."
Shaw is not alone in his affinity for antiquated baits. Missouri pro Mark Tucker still uses a Gilmore Jumper prop bait his father gave him.
"It's probably 40 or 50 years old, and I probably shouldn't be using it because it's the only one I have," he says. "I use it with 17-pound mono so I don't lose it. I've also got to be particular where I throw it in the country because pike and muskie will absolutely slam this thing."
Tucker likens the Jumper to the better-known Smithwick Devil's Horse, and says it is a good spawn and postspawn bait. He will also use a loop knot when attaching the Jumper to his line to get the best action out of it. This allows the Jumper to swing free like it's on a snap.
"The action on it is so incredible, it gets ferocious strikes. No matter what you do to it, it will always turn sideways. It's impossible not to walk it. Today's have a different diameter and just don't seem to work as well."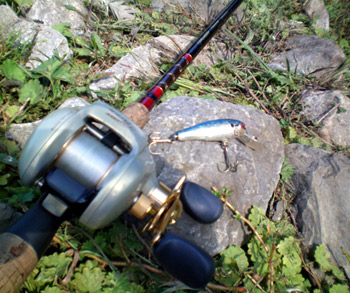 Mark Menendez still favors his Bagley Mighty Minnow.
Tucker credits the Jumper with his 27th place finish at Old Hickory, but Mark Menendez has a single lure that he credits with over $20,000 of his earnings, a Bagley Mighty Minnow.
"I've had it since high school, and it only comes out during tournaments. Not in practice, not for fun, it's strictly a game day lure," Menendez says, "I'd swim over the river and through the woods all the way to grandma's house to get that thing back."
The Mighty Minnow is a wooden 2 1/4-inch foil-covered, shad-looking crankbait that runs two to five feet deep and has incredible vibration. He says he buys them whenever he comes across them, so he has about 50 of them, but none have been as productive as his original one.
"It doesn't have much foil left on it, but boy does it vibrate. It's like a spinnerbait with two treble hooks. It's deadly around breaklines and grass, but I never throw it too close."
For some reason lures hold more nostalgia to anglers than any other piece of fishing equipment. Perhaps memories of pulling fish after fish into the boat leave such a lasting impression that we begin to see these little gems as indispensable. While the rod and reel that helped land that 10-pounder may well be sold or lost one day, and the line thrown away long before, that spinnerbait hanging out of the fish's mouth instantly becomes priceless.