'Keeping it simple' on Louisiana's Ouachita River
By Deb Johnson
Bassmaster.com
WEST MONROE, La. — First-day leader Janet Parker of Little Elm, Texas, packed almost 4 more pounds onto her lead Friday at the Academy Sports + Outdoors Women's Bassmaster Tour tournament on the Ouachita River. After two days of competition, Parker has boated 21 pounds, 0 ounces.
Her nearest challenger was Sheri Glasgow of Muskogee, Okla., who ended Friday with a two-day total of 16-6, boosting her from sixth to second place.
Parker is looking for her first WBT win. Glasgow, the 2007 Toyota Tundra Women's Bassmaster Tour Angler of the Year, is aiming for a second WBT event title.
Both Parker and Glasgow had limits, as did Patti Campbell of Waxahachie, Texas, who moved up from 21st into third place on the strength of a 10-3 day for a two-day mark of 14-5.
Proving how tough the Ouachita River is fishing this week for the WBT field, Laura Gober of Pendergrass, Ga., and Karen Savik of Minneapolis, Minn., did not bring in limits, yet they placed fourth and fifth, respectively. Gober had 14-0 and Savik had 11-15 after two days.
The consistent Parker said she duplicated her first-day pattern and technique, again "keeping it simple," but declined to reveal the details. She did tell of her encounter with an unusually acrobatic largemouth.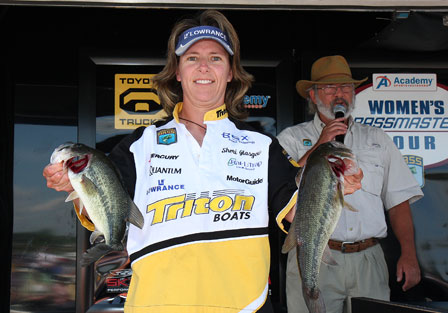 Larry Towell
Sheri Glasgow (Second, 16-6)
"I didn't catch as many fish today as yesterday — I only culled up once — and I lost about a 3-pounder," Parker said. "I set the hook at the boat, I swung it into the boat, it hit the back deck, the hook came out, and it just bounced out of the boat."
Parker said she is confident her fish will hold for another day, and that she won't have to share her spots. "My fish are located in a good area that would be easily overlooked," she said.
The field was cut to the top 20 for Saturday's final day of competition. Pros are vying for a top prize of a $55,000 Triton/Mercury rig. They're also earning points in the race for a berth in the 2010 Bassmaster Classic set for Feb. 19-21 on Lay Lake out of Birmingham, Ala.
With a solid second-place standing, Glasgow said she's been relying on one custom lure, and her supply is running low.
"I have one little bait that's working for me really well that a buddy back home makes," Glasgow said. "I broke one today, and I'm down to my last two. I was fishing a little conservatively today to make sure I have those two for tomorrow.
"I think the wind is helping what I'm doing," she said. "When it's windy like this, the bait does well."
Campbell, who used an aluminum rig Thursday, said she went back to using her big bass rig, but returned to her first-day spot and "milked it for all it's worth."
"I have a lot of other spots I can go to," she said. "I just got bigger bites today, using one lure all day long."
Campbell and the other pros are fishing this week to add to their 2009 points totals. After four regular-season events, the top 20 in the points standings will qualify for the Oct. 16-18 Academy Sports + Outdoors WBT Championship on the Red River out of Shreveport-Bossier City, La. From the championship one angler will emerge as the Toyota Tundra Women's Bassmaster Tour Angler of the Year. She'll win a Toyota Tundra and the Classic berth.
As winner of the season opener on Alabama's Neely Henry Lake, Pam Martin-Wells of Bainbridge, Ga., led the points race going into the Ouachita competition. She's in sixth place with 11-12 going into the final day at the second stop of the WBT.
In the co-angler division, Linda Owens of Brandon, Miss., shot from 14th to first place with a two-day total of 10-4. Gail Wood of Russellville, Ark., maintained at second place with 9-5. First-day leader Terri Bittner of McKinleyville, Calif., slipped to third with 7-14.
Photos | Standings | Live coverage