by John Neporadny
Bassmaster Senior Writer
Day One Southern Divisional Results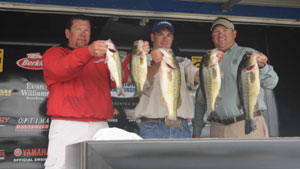 Conrad Bolt relied on multiple patterns to catch a tournament-leading limit today at the BASS Federation Nation Southern Divisional.
Roanoke Rapids, N.C. — Trying some lures that he normally doesn't throw helped Conrad Bolt take the lead today at Lake Gaston in the BASS Federation Nation Southern Divisional presented by Yamaha Outboards and Skeeter Boats.
"I just go with the flow and try to make something work," said Bolt, a 28-year-old machinist from Seneca, S.C. "Today I caught fish on four different baits on four different pieces of structure. It was just one of those days when everything went right." The Foot Hills Bassmasters club member made all the right moves today en route to a five-fish limit weighing 18 pounds, 11 ounces that gave him the lead in the individual standings.
"In practice it just seemed like there wasn't a pattern," said Bolt, who is fishing in his first divisional. "I figured out a little bit of something Monday and it was just a slow bite. I went to my co-angler's fish today and caught one big one off of his spot and two more small ones. Then I went to doing what I thought I might get 10 pounds off of and caught two more big ones."
Bolt caught most of his fish in the 2- to 10-foot depth range. "I think they are trying to move up but as much water that is going in and out of this lake, it seems to be keeping the fish from moving up," said Bolt.
The divisional is a two-in-one event that pits competitors from seven states vying for individual and team honors. The top finisher on each of the 12-man state teams qualify for a berth to amateur bass fishing's ultimate event, the B.A.S.S. Federation Nation Championship. Their daily catches are also added to their team's score with the seven Federation Nations competing for divisional bragging rights and the grand prize of a Skeeter bass boat/Yamaha outboard rig valued at $30,000.
Alabama tops the team standings with 94 pounds, 15 ounces while host state North Carolina is in the runner-up spot with 81-15. Tournament leader Bolt tops his South Carolina squad and the six other state leaders include Chuck Murray, North Carolina; Ben Parker, Tennessee; Richard Smith, Kentucky; Chris Neely, Georgia; Jerry Kelley, Florida; and Kenneth Pannell, Alabama.
The three-day event concludes on Friday when the Southern Divisional state champions and the top team of the tournament will be determined.
Daily launches and weigh-ins are being held at the Morningstar Marina. Weigh-ins begin at 3 p.m. EDT each day.