Tennessee's Emily Shaffer ushers in 2009 season of the Women's Bassmaster Tour
GADSDEN, Ala. — The simple act of switching to a crankbait is all it took for Emily Shaffer of Mount Juliet, Tenn., to take the Day One lead by almost 2 pounds Thursday in the season opener of the Academy Sports + Outdoors Women's Bassmaster Tour on Neely Henry Lake.
Shaffer's 14-pound, 8-ounce bag of spotted bass pushed her ahead of Kim Stapp of Ringgold, Ga., who weighed in 12-10 to put her in second place on the leaderboard.
"If it had not been for my partner, I would not have changed baits as quickly as I did," Shaffer said, speaking about her co-angler. "I kept seeing baitfish under me, and she started throwing a crankbait, and then she caught one. I said, 'That's it.' My gut had been telling me to throw a crankbait, but I was fighting it.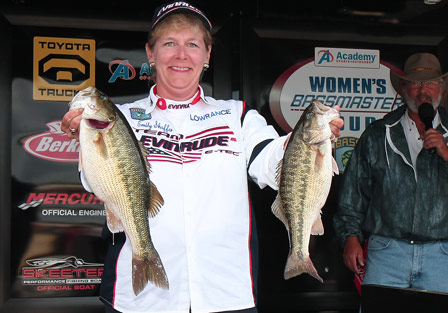 Larry Towell
Emily Schaffer (First, 14-8)
"Then I tied one on, started catching fish, and had a great day."
Stapp was just ounces ahead of Gina Jones of Alexandria, Ala., who had 12-8 in her first WBT entry.
The field squeezed up even more tightly from there. Sharing fourth place with 12-4 were Penny Berryman of Hot Springs, Ark.; Cheryl LaLumandier of St. Charles, Mo.; and defending champion Pam Martin-Wells of Bainbridge, Ga.; who won in 2008 on Neely Henry by an almost 9-pound margin.
The six led the pro field vying for a first-place prize of $1,000 cash and a Skeeter/Yamaha boat rig valued at $55,000.
The start of the fourth WBT season was delayed as tournament officials held anglers back for about an hour Thursday morning until lightning, gusty winds and pelting rain subsided at about 7:30 a.m. CT.
And then the day really got tough.
Many of the pros' challenges stemmed from Neely Henry's dropping water levels and fast current. Alabama Power had drawn down the lake in anticipation of the incoming upstream feeds from heavy rains. Already at winter pool, Neely Henry suddenly was a different fishery from what the anglers saw during practice.
Shaffer, who is looking for her first BASS win, said she didn't let the water level throw her. She stuck to the area she'd planned to fish at the southern end of Neely Henry; her only adjustment was the bait.
Stapp also credited her successful day to confidence in her strategy. "I had a game plan and stuck to it," she said. "I caught nine keepers, so I was culling. The one kicker fish of about 4-8, a largemouth, bumped me up."
Foresight to develop a deep-water pattern didn't hurt either.
"I had some shallow stuff I couldn't get to because of the water level, but I also had some deep enough that the water fluctuation didn't make a difference," she said.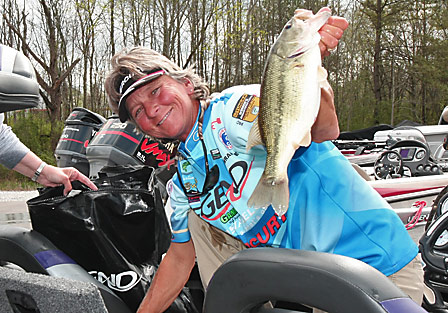 Larry Towell
Pam Martin-Wells is all smiles as she bags her fish before being shuttled to the stage where she would weigh in 12 pounds 4 ounces in a three way tie for fourth place.
Kim Bain-Moore of Alabaster, Ala., fishing her first BASS event since she made history last month as the first woman to compete in a Bassmaster Classic, settled into 14th place after the first day with 9-11.
"I was really looking forward to Neely Henry," she said. "The Classic was a tremendous experience, but I'm certainly glad to be back with all my buddies on the WBT."
In the co-angler division, Donna Newberry of Van Buren, Ark., brought in 12-2 to take the lead in the contest for $500 cash and a Triton/Mercury rig valued at $25,000. Behind her were Nancy Stumpe of Palatka, Fla., with 10-14 and Lesli Lively of Grapeland, Texas, with 9-9.