Texas' Bryan Schmidt wins Federation Nation Championship
JUNCTION CITY, Kan. — Bryan Schmidt of Olney, Texas, won the 2008 BASS Federation Nation Championship Saturday with a two-day total of 9 pounds, 12 ounces, to outlast a field of 55 amateur anglers and earning a coveted berth in the 2009 Bassmaster Classic, Feb. 20-22 on the Red River out of Shreveport-Bossier City, La.
"It's a dream come true for me," Schmidt said. "When I joined the Federation it was something I enjoyed doing, but I never thought something like this would happen especially being from Texas. I was happy just to compete at three Divisionals. I am just grateful to compete at my first Nationals. I got it done."
Not only did Schmidt earn a position at the Classic through the Central Division, he won a Skeeter/Yamaha boat package valued at more than $64,000 and an invitation to the 2009 Bassmaster Elite Series. Schmidt was one of six anglers to be awarded a Classic berth.
The overall tournament conditions were less than ideal as the Championship was shortened to a two-day event because of unsafe weather conditions on Wednesday and Friday. Friday tournament officials postponed the tournament to conclude Saturday. Also, Tuesday's official practice was also cancelled. The majority of the anglers commented that this was the hardest tournament to fish in their careers.
Schmidt, a planner for Air Tractor Inc., totaled 9 pounds, 12 ounces, after bringing two bass to the scales Saturday weighing 7 pounds, 14 ounces, to catapult him to the title over Parker, who finished with 6 pounds, 10 ounces.
Schmidt relied upon a white or chartreuse Lucky Craft Titanium Terminator spinnerbait, even after the water temperature dropped 5 degrees since Thursday.
"I noticed the water temperature dropped so I was fishing slow," Schmidt said. "I did not have a bite and thought I should change it up around 11 this morning, so I went back to the spinnerbait."
Parker, who dressed as 1983 Bassmaster Classic Champion Larry Nixon at the age of six, claimed the Eastern Division title with a 2-pound, 9-ounce bass Saturday. This will be Parker's first Classic appearance.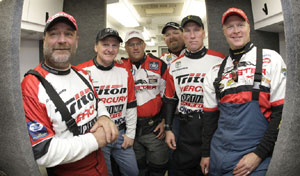 Gary Tramontina
Classic bound (L to R) Ken Baumgardner, Jay Evans, Bryan Schmidt, Waine Pittman, Terry Fitzpatrick and Scott Parker
"I was just elated that I caught a fish today at 1:15," Parker said. "I've been close to the Classic before. In 2006 on the Harris Chain I lost a fish the second day that cost me the Classic, and you just can't lose fish in these tournaments is what it comes down to. This is something I have been dreaming about since I was 6."
The other four division winners and Classic qualifiers were Ken Baumgardner of Monongahela, Penn., with 6 pounds, 2 ounces (Mid-Atlantic); Terry Fitzpatrick of Waukon, Iowa, with 5 pounds, 13 ounces (Northern); Waine Pittman of Villa Rica, Ga., with 1 pound, 15 ounces (Southern); and Jay Evans of Corvallis, Mont., with 6 pounds, 9 ounces (Western).
Hometown favorite Matt King of Olathe, who lead after day one with 5-4, was unable to bring any fish to the scales Saturday as Schmidt edged him out for the Classic berth in the Central Division.
Also, the 2008 Junior Bassmaster World Championship and Bassmaster CastingKids National Championships concluded earlier Saturday, in Junction City.
Sponsors of the Federation Nation include Toyota Tundra, Purolator, Skeeter, Yamaha, Triton Boats, Mercury Marine, Berkley, MotorGuide, Lowrance Electronics, Advance Auto Parts, Evan Williams Bourbon, Longhorn and Ramada Worldwide.
Local sponsorsof the Federation Nation Championship include Junction City and Geary County, Kan.
Angler                   Hometown                        D No./lbs-oz  Total $$$

1.  Bryan Schmidt          Olney, Texas (TX)                C  3   9-12  $69,810.00
2.  Scott Parker           Londonderry, N.H. (NH)           E  2   6-10  $11,000.00
3.  Jay Evans              Corvallis, Mont. (MT)            W  3   6-09   $5,000.00
4.  Ken Baumgardner        Monongahela, Pa. (PA)            M  3   6-02   $2,500.00
5.  Terry Fitzpatrick      Waukon, Iowa (IA)                N  3   5-13   $2,000.00
6.  Matt King              Olathe, Kan. (KS)                C  2   5-04   $2,500.00
7.  Dave Gerhardt          Durango, Colo. (CO)              W  2   5-02   $1,500.00
8.  Greg Alexander         Hebron, Md. (DE)                 M  2   4-12   $1,500.00
9.  Franco Vallejos        Albuquerque, N.M. (NM)           W  3   4-01   $1,000.00
10. Shane Oltjenbruns      Neligh, Neb. (SD)                N  2   4-00   $1,000.00
10. Joe Matt               Syracuse, N.Y. (NY)              E  2   4-00   $1,000.00
12. Simone Bruccoleri      Montelupo, Italy (ITA)           N  2   3-13     $900.00
13. Leo Bevelaqua          Wyoming, R.I. (RI)               E  1   2-12     $750.00
13. Jeff Guerrette         Glendale, Ariz. (AZ)             W  1   2-12     $750.00
15. David Halcomb          Elkview, W.Va. (WV)              M  1   2-02     $600.00
16. Tim Myers              Las Vegas, Nev. (NV)             W  1   2-01     $500.00
17. Waine Pittman          Villa  Rica, Ga. (GA)            S  1   1-15     $500.00
18. Rick Culver            Taylor, Utah (UT)                W  1   1-14     $500.00
18. Brian Maloney          Osage Beach, Mo. (MO)            C  1   1-14     $500.00
20. Jamie Laiche           Gonzales, La. (LA)               C  1   1-13     $500.00
21. Brian Hensley          Edwardsburg, Mich. (IN)          N  1   1-12     $500.00
22. Jim Kelly              Lincoln, Neb. (NE)               C  1   1-11     $500.00
23. Edward Fore            Concord, Va. (VA)                M  1   1-10     $500.00
23. Bubba O'Neill          Evanston, Wyo. (WY)              W  1   1-10     $500.00
25. Chris Barnett          Harrogate, Tenn. (TN)            S  0   0-00     $500.00
25. Mike Baskett           Salem, Ore. (OR)                 W  0   0-00     $500.00
25. Rick Billings          Rochester, Minn. (MN)            N  0   0-00     $500.00
25. Glen Bruce             Saco, Maine (ME)                 E  0   0-00     $500.00
25. Larry Cahan            East Palatka, Fla. (FL)          S  0   0-00     $500.00
25. Victor Calvillo        Lagos De Moreno, Mexico (MEX)    C  0   0-00     $500.00
25. Robert Degraffenreid   Oklahoma Cty, Okla. (OK)         C  0   0-00     $500.00
25. Mike Desforges         Burlington, Canada (ON)          E  0   0-00     $500.00
25. Matthew Desimone       E Berlin, Conn. (CT)             E  0   0-00     $500.00
25. Brady Farrell          Fort Atkinson, Wisc. (WI)        N  0   0-00     $500.00
25. Eric Femiak            Taunton, Mass. (MA)              E  0   0-00     $500.00
25. Jeff Freeman           Max Meadows, Va. (VA)            M  0   0-00     $500.00
25. Roy Galbraith          Winfield, Ala. (AL)              S  0   0-00     $500.00
25. Jeff Hager             Alexis, N.C. (NC)                S  0   0-00     $500.00
25. Mark Hensiek           England, Ark. (AR)               C  0   0-00     $500.00
25. Teb Jones              Hattiesburg, Miss. (MS)          C  0   0-00     $500.00
25. Gerry Jooste           Harare, Zimbabwe (ZWE)           M  0   0-00     $500.00
25. Kent Miller            Byron, Mich. (MI)                N  0   0-00     $500.00
25. Katsunori Mitsuhashi   Atsugishi Kanagawaken, Japan (JPNW  0   0-00     $500.00
25. Dean Morris            Tavares, Fla. (FL)               S  0   0-00     $500.00
25. Jim O'Malley           Elmhurst, Ill. (IL)              N  0   0-00     $500.00
25. Brandon Palaniuk       Hayden, Idaho (ID)               W  0   0-00     $500.00
25. Bradley Roy            Lancaster, Ky. (KY)              S  0   0-00     $500.00
25. Jerry SERSEN           Joppa, Md. (MD)                  M  0   0-00     $500.00
25. Skip Sjobeck           Randolph Ctr, Vt. (VT)           E  0   0-00     $500.00
25. Chris Smith            Absecon, N.J. (NJ)               M  0   0-00     $500.00
25. William Smith          Moncks Corner, S.C. (SC)         S  0   0-00     $500.00
25. Justy Varkevisser      Johannesburg, Samoa (RSA)        S  0   0-00     $500.00
25. Brad Wall              Clarksville, Ohio (OH)           N  0   0-00     $500.00
25. Les Whitley            Kennewick, Wash. (WA)            W  0   0-00     $500.00
25. Pat Wilson             Penngrove, Calif. (CA)           W  0   0-00     $500.00