Once a Classic bridesmaid, Reese overtakes Iaconelli for first Classic crown
By Sam Eifling
Bassmaster.com
BOSSIER CITY, La. — For Skeet, this one was sweet.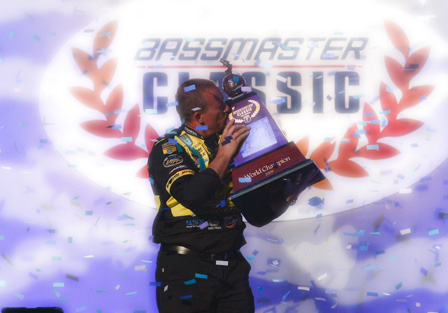 James Overstreet
Skeet Reese (First, 54-13)
Two years after losing the Bassmaster Classic by 6 ounces on a last-hour big fish, Skeet Reese outslugged 2003 Classic champion Mike Iaconelli by 11 ounces to fill the only glaring hole in his bass fishing resume.
"To be able to do it — I didn't know if it was going to be possible," Reese told a capacity crowd of 9,300 at the CenturyTel Center.
With the win, he will reap a $500,000 payday (less, of course, the 6 percent tax the state of Louisiana will immediately impose). And he cast himself as only the 11th BASS angler ever to earn both the Classic and a Toyota Tundra Bassmaster Angler of the Year title in a career.
The 39-year-old Auburn, Calif., pro knew it would go down to the wire. Iaconelli whacked 20 pounds, 3 ounces to rise from 10th on the final morning to first, with 54-2 over the three-day tournament.
Needing 16-2, Reese figured his bag was perhaps 16 pounds. When the scale read 16-12, he leapt in the air, pumped his fists and hugged Iaconelli.
"It's hard to be that far back in the standings and win the Classic," Iaconelli said. "It's almost impossible. I knew the potential was there but these guys are too good. They're not going to slip up."
Day Two leader Jami Fralick's weigh-in was almost a formality. Needing 16-5 to complete his Cinderella run, he brought a 10-9 limit across the stage, falling to eighth.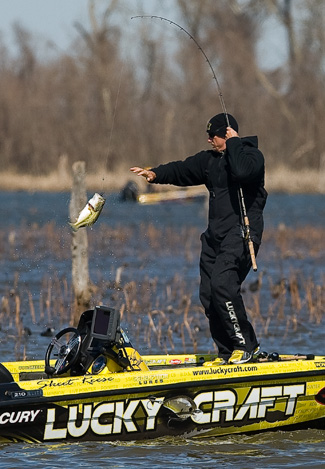 "It just wasn't my time, I guess," said Fralick, the 33-year-old from Martin, S.D., whose bite abandoned him on a stretch of water that he shared with third-place Brian Snowden.
The Classic win caps a stellar run since Reese lost that 2007 Classic to Boyd Duckett, who finished 12th in this Classic after leading on Day One. Reese won his first Elite Series event that summer on the way to his first AOY title, and in 2008 finished fourth in the points.
Before this win, he had won three BASS events and finished the runner-up in seven. Until the final moments, he was mentally weighing fish, hoping not to be the bridesmaid yet again.
"There was a math war back there," he said.
That battle began with Reese figuring he needed 18 pounds to win. At launch he sped to the nearby water that he had scouted only lightly in practice. While most anglers, Iaconelli included, committed to exploring backwater pockets where they could pound on fish, Reese fished an relatively simple tournament on the Red River. He didn't run far, didn't push his boat up some godforsaken ditch, and though he fished near Duckett and others, he didn't much jostle with crowds.
"When you look at a map," he said of his preparation, "it's pretty self-explanatory."
Reese focused on a 200-yard stretch of bank outside of the Goose Pond area, where he fished pad stems with a 3/8-ounce Lucky Craft Redemption spinnerbait and a new Berkeley Crazy Legs Chigger Craw.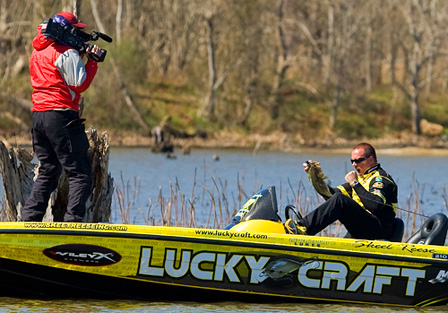 At around 1 p.m. he caught a key fish from a stump along a bank he was scouring: a 4-plus-pounder that allowed him to cull a 2-pounder. He hollered with joy. He felt a sense of potential.
Then he didn't catch another fish for the final two hours he spent on the water, and doubts began to gnaw at him.
"I was an absolute mess," he said.
It was Kenyon Hill who first motored up to Reese after he reached the dock: Iaconelli had 23 pounds, having upgraded in the final moments with a reputedly 6-pound fish. Hope bled out of Reese.
Reigning Classic champ Alton Jones idled up and asked Reese what he had. Reese said 15 pounds, but that Ike had 23. Jones consoled him, saying that Ike is prone to overestimating his weights.
Boyd Duckett pulled up to the dock across from Reese and asked how he did — after all, Duckett had heard his celebratory howl earlier. Reese was still coming to grips with 23 pounds and a 6-pound last-hour kicker fish.
"Two Classics I get beat by a big fish late," Reese said to the guy who beat him with a big fish late in the 2007 Classic.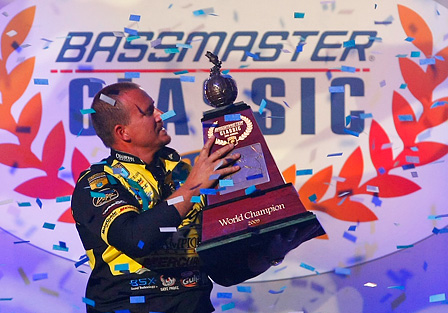 "Wouldn't that be something?" Duckett asked. He was reclined on the deck of his boat, legs crossed at the ankles, sneakers leaning against the dock. "Well, no matter what, you fished a great Classic."
When the anglers actually checked their fish backstage with BASS, an official's estimate pushed them closer: 16-4 for Reese, 18-10 for Iaconelli. Seeing Iaconelli's bag actually weigh in at a full pound-and-a-half heavier than that put Reese back on edge.
When his bag finally was weighed, Reese said, "I knew it was game over." He leapt on his tiptoes, pumped his fists, clutched the trophy and came within a good hard nudge of openly weeping.
After a victory lap around the arena floor, Reese later told reporters, he snuck away to the bathroom and repeated to himself: "I just won the Bassmaster Classic. I just won the Bassmaster Classic. I just won the Bassmaster Classic."
Then he told everyone at the post-tournament news conference that drinks at the hotel bar were on him, and they were all invited. At press time, that promise had yet to be verified.