Two-man shootout comes down to 8 ounces
By Steve Wright ESPNOutdoors.com
DECATUR, Ala. — As Jeremy Starks took his fish out of his boat livewell at the Southern Challenge final day weigh-in Sunday, he whispered to emcee Keith Alan he was so nervous he was about to pass out.
"You can't imagine what I felt like up there in that boat, getting ready to weigh in," Starks said later. "I knew it was going to come down to ounces and I was that nervous."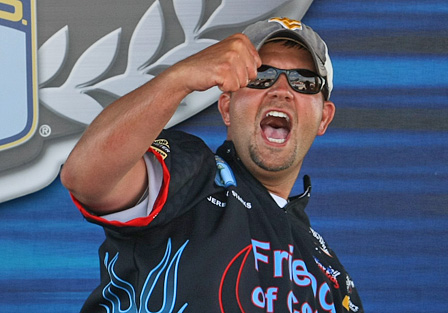 James Overstreet
Jeremy Sparks reacts as he learns he's won the Southern Challenge.
With VanDam's four-day total of 78 pounds, 2 ounces already on the leaderboard, the third-year pro from Charleston, W.Va., knew he needed a five-bass limit weighing at least 21-8 to win. When the weigh-in scales hit 21-15, Starks had officially beaten VanDam by a mere 8 ounces to win the Bassmaster Elite Series Southern Challenge presented by Advance Auto Parts.
"If you're going to beat somebody, he's the best," the 35-year-old Starks said of VanDam, who is often referred to as the Tiger Woods of bass fishing. "Kevin VanDam is absolutely the best bass fisherman ever.
"Watching Kevin before I got into professional bass fishing, he was my hero. To come here and beat him is unbelievable."
The idea of that happening seemed highly unlikely entering this event at Wheeler Lake, the seventh stop on the 11-tournament Elite Series. Starks was languishing in 96th place in Toyota Tundra Bassmaster Angler of the Year points; VanDam, as usual, was near the top, in fourth.
Earlier this year VanDam, a three-time BASS Angler of the Year and two-time Bassmaster Classic champion, won his third Elite Series title in the two-plus seasons of the tour; Starks best finish ever in a BASS event was ninth place.
And, most important, VanDam held a 1-pound, 7-ounce lead going into Sunday's 12-man finale, which had boiled down to a two-man shootout between the two. Nobody else mounted a challenge Sunday, as two-day leader Terry Scroggins took third place with 67-1, more than 11 pounds behind the two leaders.
Starks almost doubled his BASS career earnings with the $100,000 win Sunday. But as both pros explained their day on the water, it was clear that this tournament could have gone either way up to the final minutes of competition.
Starks caught a limit early in the morning, but then went three hours without a bite in the Decatur Flats hole he'd been protecting more than fishing all week. He estimated he'd made only a couple dozen casts into the main mussel shell bed where the bass were holding through the first three tournament days.
Rather than leave the hole open to another angler, Starks even endured a food poisoning-related four-hour vomiting session on Thursday to maintain his territory.
"Those fish sat down and wouldn't eat," Starks said of the three-hour lull. "All of the sudden, it was 4-pounder after 4-pounder. It was just unbelievable.
"I had one fish I really needed to get rid of. I culled a 3-pounder for a (4-7, his big bass of the day) at probably two o'clock."
Check-in time for the 12 finalists was 3:50 p.m. ET Sunday.
VanDam, known for his skill with a crankbait, said he lost six fish Sunday, any of which would have made up that 8-ounce deficit.
"I saw most of them," said the Kalamazoo, Mich., native. "They just jumped and threw it."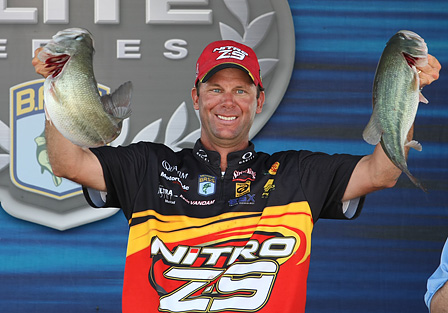 James Overstreet
Kevin VanDam, second, 78-2.
VanDam has worked hard to put together a rod-reel-line combination that gives him the best chance to land a fish on a crankbait, infamous for providing plentiful strikes — but a high percentage of failures-to-land.
"I hadn't lost any quality fish until today," VanDam said. "But you're going to lose some fish cranking. That's just the bottom line. Some days it's going to be like that."
Those failures couldn't have come on a worse day for the ultra-competitive VanDam.
"It's fun," VanDam said of the two-man final-day shootout he had with Starks. "I'm disappointed, but I wish I was in that position every week."
It seems like he usually is. VanDam's second-place finish Sunday moved him up to second place in Toyota Tundra Bassmaster Angler of the Year points and put him in contention for another Angler of the Year title. He is the all-time BASS money-winner with over $2.5 million in earnings.
Starks was quick to note Sunday his "smack talk" challenging VanDam over the last couple of days was uttered entirely in jest. He'd since learned, however, that some people hadn't taken it that way.
"That really disappointed me," Starks said. "Anybody who would take it that way just doesn't have a sense of humor.
"It's a sport. We're having fun. If you can't have a little fun with it, what's the value in it?
"Kevin VanDam is the greatest there ever was or will be. I have all the respect in the world for him."
Starks smiled and added, "But I'm going to talk some smack, if I get a chance."
Those chances haven't come very often, especially this season. Starks didn't make a top 50-cut and earn a check until the last Elite Series event on Lake Murray, when he finished 33rd. In the previous five tournaments this season, Starks had placed 68th, 83rd, 95th, 65th and 103rd.
"I've always been a better summertime fisherman than I am in the spring," Starks said. "That's something I've really got to work on. I'm more of a structure fisherman instead of cover. I've got to learn to be better at some of the other stuff."
But with an Elite Series victory under his belt, Starks is assured of having time on the tour to do that.
"It's everything," Starks said of the win. "It doesn't matter at what point you are in your career. How many guys have won an Elite Series event?"
It wasn't hard to imagine how much the victory meant to Starks Sunday: After starting to thank members of his family for their support, and mentioning his father, in particular, a second time, Starks had to back away from the microphone and compose himself.
"To go into the last day and beat Kevin VanDam," Starks said later. "You couldn't script it any better than that."