Kevin VanDam: Smith Mountain Lake
By Rob Russow
ESPNOutdoors.com
With warming spring weather each day of competition for the Advance Auto Parts Blue Ridge Brawl on Smith Mountain Lake, anglers were met by waves of bass moving to the shallows to spawn.
Kevin VanDam brought home his fifth Elite Series title after weighing in 61 pounds, 13 ounces by targeting both spawning bass and the occasional bigger bass cruising the shallows.
"Largemouth were back in the protected pockets, while the smallmouth like the main lake," VanDam said. "I couldn't tell by looking at them, but the points that had gravel on them were the best areas. When there was gravel, you would maybe find three beds or so, then the next three points would be clay or rock."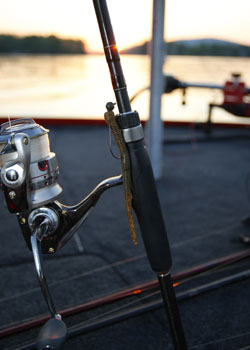 VanDam figured out those areas were prime for throwing a 1/8-ounce Strike King shaky head with a dirt color 4-inch Strike King 3X finesse worm. The dirt color is a laminate color made up of pumpkin and watermelon and VanDam used the worm to target smallmouth spawning areas, estimating that 75 percent of his fish came off that one bait.
"The key to that worm is that it is real stretchy and buoyant," VanDam said. "When that worm falls into a bed, the tail sticks straight up and that is huge when the bass are spawning."
He rigged the worm on a 7-foot medium action Quantum spinning rod and a Quantum PT reel spooled with 8-pound Bass Pro Shops fluorocarbon line.
"Fluorocarbon is really invisible to the fish and as spooky as they were," VanDam said. "I don't think I would have been able to do the job with mono."
His major reason for pursuing smallmouth over largemouth was for their aggressiveness. Catching a smallmouth off a bed takes less time than largemouth, giving VanDam more time during the day to look for the bigger cruising fish.
VanDam also targeted a shad spawn early in the morning on the final day to boat a few critical keepers. His main lure of choice was a Strike King Spit-N-King popping surface bait. He also relied on a wacky-rigged Strike King Ocho, a soft-plastic stickbait.
One key to victory that VanDam cited was his Oakley sunglasses, especially under the sight-fishing conditions.
"They have the most different lens colors," VanDam said. "When I'm fishing smallmouth and bedding bass, I pull out all the stops."
Pulling out all the stops included turning on his Biosonix unit, which turned out to be important both while bed fishing and during the shad spawn early in the mornings.
"I turned my Biosonix unit on to get the fish activated," VanDam said. "A lot of times those smallmouth would charge at the boat. It kept the shad on the points for 15 minutes this morning."
The last piece of key equipments helping carry VanDam to victory was Mustad Ultrabite scent.
"Ultrabite is a pheromone-based scent that is key during the spawn," VanDam said.
VanDam managed his spawning and cruising fish to perfection, totaling limits of 15-7, 17-2, 15-6, and 13-14 for his 15th BASS victory.
Winning Gear archive: Wheeler Lake | Lake Dardanelle | Lake Amistad