Tough going as only 10 in second WBT event catch limit on Day One
By Deb Johnson
Bassmaster.com
WEST MONROE, La. — Janet Parker of Little Elm, Texas, nailed the first-day lead with 10 pounds, 14 ounces of largemouth bass at the Academy Sports + Outdoors Women's Bassmaster Tour tournament on the Ouachita River.
On a day that challenged most of the anglers — only 10 pros had five-fish limits — Parker led by just 11 ounces. Danalee Lofton of Little Rock, Ark., posted 10-3, the only other angler to boat more than 10 pounds.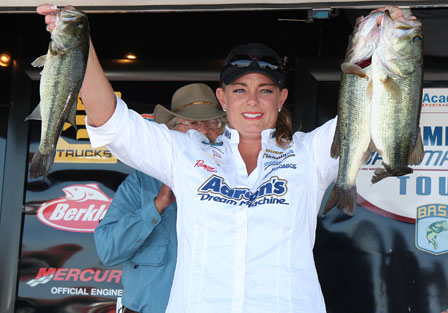 Larry Towell
Janet Parker (1st, 10-14)
In third was Laura Gober of Pendergrass, Ga., with 8-14. Gober's WBT record includes a come-from-behind victory in 2007 in Louisiana on the Red River.
Closest to Gober were Meta Burrell of Fort Worth, Texas, with 7-9, and four-time WBT champion Pam Martin-Wells of Bainbridge, Ga., who had 7-8.
Even the leader was somewhat disappointed in her opening-day catch.
"The quality of fish that I found today was not what I was catching in practice, but fortunately I could pick up the smaller fish today in the spots I found in pre-fishing," Parker said. "During practice, I caught a 6, a 5 and a 4, so I know they're there."
She had her five-fish limit by about 10:30 a.m., then turned back all five by 1 p.m. as she culled to upgrade.
Revealing only that she locked into one pattern that worked in several places, Parker said she's "keeping it simple" and plans to repeat her first-day strategy.
Lofton landed in second place even though she was one short of a limit after losing a fish. An anchor largemouth of 4-11 helped make up for the one that got away.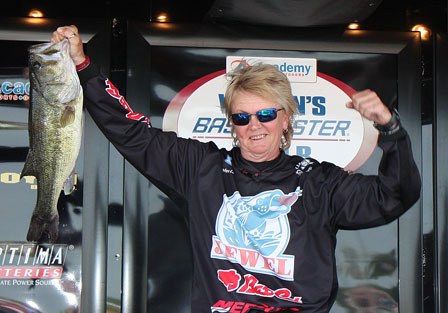 Larry Towell
Danalee Lofton (2nd, 10-3)
"Everything I caught today was pre-spawn," she said. "I'm fishing a unique pattern, and it's dependent on one area, but it's a large area."
The water level fluctuations that caught many of the anglers off guard "aren't bothering me at all," Lofton said.
In the three-day event, pros are after a top prize of a $55,000 Triton/Mercury boat package. They're also earning points that count toward qualifying for the Oct. 16-18 Academy Sports + Outdoors WBT Championship on the Red River out of Shreveport-Bossier City, La.
From the championship, one angler will emerge as the Toyota Tundra Women's Bassmaster Tour Angler of the Year, and earn a Toyota Tundra and a berth in the 2010 Bassmaster Classic out of Birmingham, Ala., set for Feb. 19-21.
As winner of the season opener on Alabama's Neely Henry Lake, Martin-Wells led the Angler of the Year points race going into the Ouachita competition. She was among those stumped by the up-and-down water levels.
"The fish are moving back and forth and it's hard to stay on them," she said, comparing Thursday with the previous practice days. "Today the fish were so far back in the woods in some places, you can't get to them."
Co-angler Terri Bittner of McKinleyville, Calif., led her division with 6-5. Right behind her in the contest for a $25,000 Triton/Mercury rig were Gail Wood of Russellville, Ark., with 4-8 and Sherry Melton of Monterey, Tenn., with 4-5.
Live coverage of the WBT weigh-ins will continue at Bassmaster.com through Saturday, the tournament's final day. Real-time leaderboards and live, streaming video will begin at 3:45 p.m. ET. Extensive photo galleries, standings and daily coverage also are available at Bassmaster.com.
Fans are invited to attend the daily launches through Saturday at 8:15 a.m. ET at Lazarre Park at Hamilton and Thompson streets in West Monroe, La., and the 3:30 p.m. daily weigh-ins at the Academy Sports + Outdoors store at 111 Constitution Drive in West Monroe.
The WBT anglers also will be available to meet fans and sign autographs. All events are free and open to the public.