BUFFALO, N.Y. — Matt Reed executed the perfect game plan for Lake Erie's wavy waters on Thursday's opener of the Bassmaster Elite Series Empire Chase presented by Farmer's Insurance.
That game plan was as follows: 1) catch five bass weighing a Berkley Heavyweight Bag of 23 pounds, 3 ounces; 2) catch only five bass, then head for "the house"; 3) include a 5-pound, 10-ounce smallmouth Purolator Big Bass in your limit.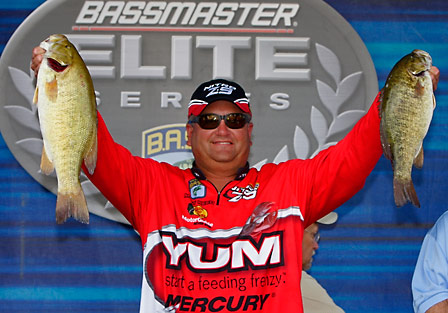 Larry Towell
Matt Reed (first, 23-3)
The Madisonville, Texas, pro was able to do exactly that Thursday morning, then spent the rest of his day fishing around the NFTA Boat Harbor launch site, while the rest of the 106 Elite Series anglers took a pounding from Lake Erie's increasingly higher swells throughout the day.
"Those were the first five I caught today," Reed said of his tournament-leading total. "It took probably two-and-a-half or three hours. There's a bunch of them there, but they won't bite."
In fact, the bite is so slow that when Reed found this school of fish on his sonar screen in practice, he was about to decide they weren't bass. Then he landed a 5-pound smallmouth.
"It made me crazy," Reed said. "Last year, if you found them, they'd bite like crazy."
Reed may have had the easiest day on Lake Erie, but he's got plenty of competition at the top of the leaderboard. Aaron Martens is second with 22-0; Michael Iaconelli is third with 21-6; defending champion Edwin Evers is fourth with 21-3 and defending runner-up Kotaro Kiriyama is fifth with 20-15.
"I went 18 miles-an-hour out there and 18 miles-an-hour back," said Reed about navigating the chop on Lake Erie.
The wind picked up throughout the day. Numerous pros thanked the various service crews for rescuing them Thursday. And even if all the boat-bouncing didn't cause a breakdown, it was a long day for everyone but Reed.
Kiriyama, the Japanese angler who now calls Moody, Ala., home, estimated it took him three hours to motor to the Dunkirk area, where he caught them last year, and three-and-a-half hours to get back. That left him only about 90 minutes of fishing time, but he made the most of it. "I beat myself up, but fortunately my boat and my engine ran well," Kiriyama said. "If it's like this (Friday), I don't know if I can get there."
Just how rough was it? Brian Clark of Halton City, Texas, spent nine years riding bulls on the Professional Bull Riders circuit and the Professional Rodeo Cowboys Association before starting his rookie season on the Elite Series.
If it came down to a choice between riding bulls or Lake Erie, Clark said, "You can line up any bull you want to, and I'll get on (versus boat riding on Lake Erie). That was crazy. Ten-foot swells for almost 40 miles. Three hours to get there (Dunkirk) and almost four to get back."
Clark is tied for 34th place with 16-9, as he made the most of his two hours of fishing time.
"If it will just calm down, the potential for a 20-pound bag is there," Clark said.
And those were the two dominant themes of the day: 1) how good the smallmouth bass fishing is on Lake Erie; and 2) how rough the water can get on the 10th-largest lake in the world.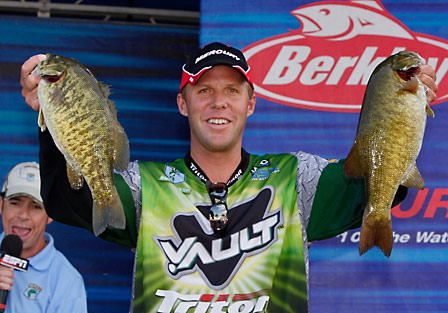 Larry Towell
Aaron Martens (second, 22-0)
"I was trying to think about how many waves I took today," said Martens, whose 22 pounds came despite penalties for two dead fish. "It had to be astronomical."
Martens was kicking himself for the fish care penalties, as he turned his livewell pump off to clear an obstruction, then momentarily forgot about it as he battled the waves. But he was also encouraged about what is possible over the next three days, weather permitting.
By Steve Wright
"I didn't get to my best spot," said Martens, who estimated he was catching fish at depths of 40 to 60 feet. The Leeds, Ala., resident also had the second-biggest bass of the day, a 5-9 smallmouth.
Iaconelli's pre-game plan of practicing for various wind conditions appeared brilliant with his third-place showing Thursday. After fishing Erie last year, Iaconelli went into this week's practice with the approach of finding spots that would be productive if the wind was blowing out of the north, the west or the east.
"If you're looking at an eight-hour day, I probably only lost about three hours running," said the 2006 Bassmaster Angler of the Year. "That's a lot more (fishing time) than a lot of guys had.
"I've got four to six spots on each of the three banks," he said. "I probably only fished four (on one bank) today."
"Fishing on the bank" is a relative term at Lake Erie. Iaconelli noted Thursday morning that he was fishing shallower than he did here last year, concentrating on depths of 35 to 45 feet this week.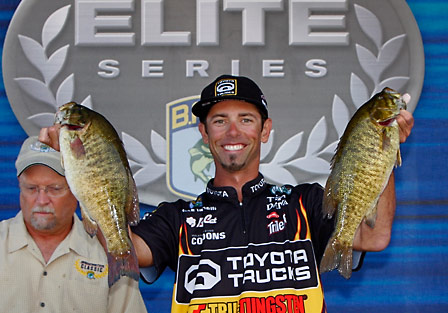 Larry Towell
Michael Iaconelli (third, 21-6)
If the wind is calm here, the dominant pattern is lowering a drop-shot rig into a school of smallmouth bass gathered around rock structure on the bottom. With the wind blowing like it did Thursday, the main method was to throw not one, but two drift socks in the water to slow your boat, then attempt to drift a Carolina rig or heavily-weighted tube bait over those same bottom-oriented bass.
Despite the choppy water, several of the Elite Series pros were able to do that successfully. Eight anglers had over 20 pounds; the next 19 pros — places nine through 27 in the standings — were separated by only two pounds.
Angler after angler remarked, "This is the best smallmouth bass fishery in the world."
With this the next-to-last Elite Series event of the year, the focus on the Toyota Tundra Bassmaster Angler of the Year title will grow tighter every day this week. If Thursday's standings held, Todd Faircloth would have jumped past current leader Kevin VanDam.
The Jasper, Texas, resident was only 16 points behind VanDam entering this week and caught 20-1 for eighth place Thursday.
Among the other top five points leaders, VanDam held his own with 16-11, which was 32nd. McClelland, 115 points behind KVD, was 49th Thursday with 15-1 — dangerously close to the top 50 cut made after Friday's weigh-in. Skeet Reese (fourth in AOY points) and Dean Rojas (fifth) have their work cut out for them Friday, as they occupy the 83rd (11-10) and 94th (9-5) spots in the standings here, respectively.