By Mark Hicks
Downsize the standard Carolina rig to overcome heavily pressured fisheries
Frank Scalish knows a thing or two about coping with pressured bass. He earned a master's degree on Ohio's lakes and rivers, among the most heavily fished in the nation. Many of the bass unfortunate enough to reside in Ohio have multiple hook holes in their months, making them extremely shy about striking lures.
The lessons Scalish learned in Ohio have helped him hold his own while fishing Bassmaster tournaments. He qualified for the CITGO Bassmaster Tour his first year out. The following season, he was the Tour's top rookie and qualified for the 2002 Bassmaster Classic.
When bass grow wary, Scalish coaxes bites with what he calls "a finesse Carolina rig." Scalish devised the rig while fishing tournaments on Berlin Reservoir in northeastern Ohio. On any given weekend during the summer, bass fishermen swarm this 1,765-acre lake. Every inch of shoreline gets pounded. You have to take a number to fish some offshore ledges. There are no secrets. The entire lake is a community hole.
"Before I started competing on the Bassmaster Trail, I fished a lot of buddy tournaments in Ohio with my good friend, Dennis Troutman," said Scalish. "Over a span of two years, we won nearly every tournament we fished on Berlin Reservoir. The finesse Carolina rig was a big part of our success."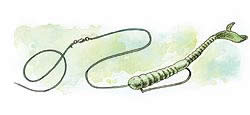 Scalish and Troutman were two of the first anglers to tap Berlin's ledges with Carolina rigs. Since they were fishing open water, it was obvious where they were catching bass. Soon, throngs of anglers ravaged their best holes with Carolina rigs.
"We started getting fewer bites," recalled Scalish. "It was frustrating. One day we put together a Carolina rig with a 1/8-ounce sinker and a tube. We whacked bass on a ledge that wouldn't give up a fish to a regular Carolina rig."
That experience prompted Scalish to continue experimenting with the finesse Carolina rig. He has refined it over the past five years to the point that it's now his most productive rig when fishing gets tough. It has produced fish for him in several Bassmaster tournaments, including those on lakes Martin, Guntersville and Seminole.
His finesse rig consists of 10-pound-test Super Silver Thread (including the leader), a 1/8- to 3/16-ounce Excalibur Tungsten bullet weight, a swivel and a No. 1 Gamakatsu offset worm hook. (See illustration.)
Scalish initially placed a glass bead between the sinker and the swivel, but he soon found he caught more bass without it. The hook is usually dressed with a 5-inch Yum Shakin' Worm or a 4-inch Yum Rib Worm.
"I throw four basic colors," continued Scalish. "Green/pumpkin, redbug, watermelon and junebug. If I throw a watermelon or green/pumpkin worm, I dye the tail chartreuse."
Scalish matches his finesse Carolina rig with a custom 7-foot spinning rod (medium action) and a Daiwa spinning reel.
"Even with spinning tackle, you can't cast this rig as far as a regular Carolina rig with a 3/4- or 1-ounce sinker," he cautioned.
The finesse Carolina rig excels when Scalish fishes more specific targets. These are often prime spots on pieces of structure. They include dropoffs, stumps, brushpiles or isolated patches of aquatic vegetation. He fishes the rig from the shallows to depths down to about 25 feet.
"I mainly use the finesse Carolina rig in clear water and in high pressure fishing situations. I catch bass with it right behind guys that can't get bites on regular Carolina rigs."
Scalish also employs the finesse Carolina rig as cleanup bait. When bass stop biting his heavy Carolina rigs, refishing the area with a finesse rig usually gets one or two more bites.
The small baits and light line have greater appeal to temperamental bass, he said. More important is the softer presentation afforded by finesse Carolina rigging. He regularly casts into water as shallow as 3 feet deep, especially when bass begin moving up to spawn. The sinker lands lightly and glides over the bottom.
"The small tungsten sinker barely makes a splash. And tungsten is so hard it really telegraphs what's on the bottom. I can feel when I hit rocks, weeds and brush."
Scalish calls his finesse retrieve a "gentle glide." He envisions his worm swimming freely behind the light sinker, as opposed to a jerky start-stop action with a heavier sinker. When he fishes submerged grass, the light sinker dances along on top of the vegetation instead of burying into it. The light weight also results in less disturbance and maintains a more direct line to the lure. (See related illustration.)
"I get a lot of strikes as the light Carolina rig floats slowly down dropoffs," said Scalish. "Those bass won't hit a regular Carolina rig because the heavy sinker drops too fast. Or the sinker never loses contact with the bottom." While the presentation is subtle, Scalish claims bites on the finesse Carolina rig are aggressive. Bass take the baits deeply, so the hooking percentage is high. When he gets a bite, Scalish drops the rod, takes up slack and sweeps the rod sideways while cranking furiously.
Fall flats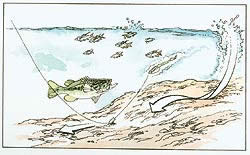 When bass follow shad into the backs of creeks in autumn, Frank Scalish loads up on them with his finesse Carolina rig. It pays off big when bass lie low between feeding sprees.
"I look for balls of shad on the surface over flats 3 to 10 feet deep," explained Scalish. "The baitfish don't have to be near the shoreline or any kind of drop. The bass go wherever the shad go."
If he sees bass busting shad on the surface, Scalish temps them with a Cordell Super Spot or some other action lure. But when no feeding activity is evident, he casts his finesse Carolina rig beyond a ball of shad. Then he drags it across the bottom, beneath the baitfish.
"I throw a Yum Rib Worm under shad," he added. "The tail's swimming action triggers strikes. I move it ahead 3 feet at a time and don't let it set long. I want to keep the tail of that worm fluttering."
Jitterworm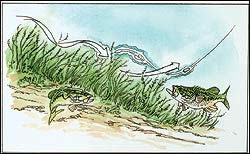 Just because it's a finesse rig doesn't mean you have to use a finesse bait with it, according to Frank Scalish, referring to his downsized Carolina-style finesse setup.
"When bass want something bigger, I switch to a 3/0 hook and a 7-inch Yum Floatin' Jitterworm.
"When you drag the buoyant Jitterworm behind a light sinker, it quivers and swims like a snake. Its supersoft plastic and balance give it a better action than any straight worm I've ever tried. I use it a lot when the water has some color to it. The bait's action and size make it easy for bass to find."