Thinking small produces big results on Smith Mountain Lake
By Doug Grassian
Bassmaster.com
MONETA, Va. — Harkening back to his Michigan roots, four-time Toyota Tundra Bassmaster Angler of the Year Kevin VanDam picked apart a clear, deep fishery — just like he used to do years ago as a kid in Kalamazoo — on Smith Mountain Lake, to the tune of 61 pounds, 13 ounces, enough to hold off Matt Herren of Trussville, Ala., for a victory by more than 2 pounds Sunday at the Advance Auto Parts Blue Ridge Brawl.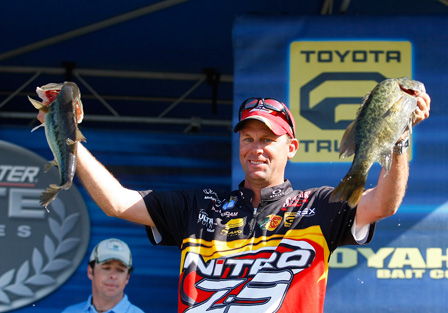 James Overstreet
Kevin VanDam (1st, 13-14)
With a decidedly different approach than most in the Elite field, VanDam targeted smallmouth bass by sight on the way to his 15th BASS victory and the accompanying $100,000 top prize. While most were sight fishing, no one else was actively seeking smallmouth. To boot, VanDam used a technique that isn't considered one of his strengths.
But VanDam has shaped an illustrious career — his 15 wins put him third on BASS' all-time list — by adjusting to the conditions. Sunday, he boated 13 pounds, 14 ounces, and threw everything but the kitchen sink to close out the victory.
"It seemed like every time things weren't going right, I made an adjustment and things would turn on again," said VanDam, who is closing in on $3.5 million in BASS career earnings. "It was just one of those magical weeks where everything fell into place. I'm just really proud of the decisions and adjustments I made."
While VanDam was technically sight fishing, he wasn't executing the technique in the traditional sense. He was keying in on areas where shad — the main forage on Smith Mountain — were spawning and attracting the aggressive smallmouth. His main weapon of choice was a 1/8-ounce Strike King Shaky Head paired with a 4-inch finesse worm in dirt color.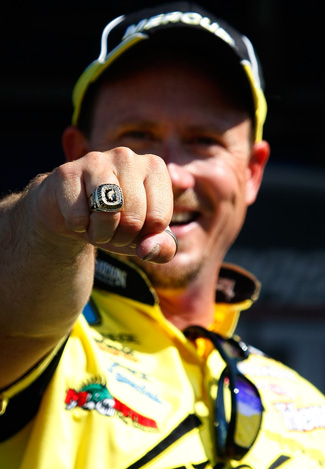 James Overstreet
Reese gives the camera a closer look at his new jewelry.
In a twist of fate, VanDam, who is often plagued by throngs of spectator boats, felt he got a boost from the abundance of spectator traffic on the spacious fishery. He felt the traffic helped to disturb the waters, causing the bass to become more aggressive in sensing an easy meal.
Perhaps most importantly, VanDam has put himself in the driver's seat in the Toyota Tundra Bassmaster Angler of the Year race with 1,063 points. A victory in the seasonlong points race would be his fifth and his second straight. His credentials already match up favorably with any bass angler who has ever competed.
"Since Day One, I have been focused on the Angler of the Year," said VanDam, also a two-time Bassmaster Classic champion. "This year, it's going to be interesting. I just want to get on a pretty good run here so I can build some momentum heading into the postseason."
The AOY race is shaping up to be intense and memorable. An angler just as hot as VanDam, Skeet Reese of Auburn, Calif., the 2009 Bassmaster Classic champ, is close behind in second, trailing by just 65 points.
Herren, an Elite Series rookie, came up short Sunday, but he scored his best Elite finish and, if not for a terrible morning, he might have edged VanDam.
"One fish probably cost me the tournament," said Herren, 46. "I spent 2 1/2 hours trying to get her in the boat and she just wouldn't go. I had the darnedest luck today. I guess it just wasn't meant to be."
Still, Herren, who is seventh in the AOY standings, felt his biggest slip-up was on Friday, when he didn't perform to his own lofty expectations. His four-day total of 59 pounds, 5 ounces was accumulated strictly sight fishing with a variety of lures, including a creature bait and lizard.
Holding onto third was Day One leader Kelly Jordon of Mineola, Texas, with 58-3. In fourth was Greg Hackney of Gonzales, La., with 57-0. Moving up seven spots into fifth was Aaron Martens of Leeds, Ala., with 55-0. The field was cut to the top 12 for Sunday's final day of competition.
The top 12 pros in the AOY standings at the end of the regular season will advance to the two-event postseason, during which the Angler of the Year will be determined.
Up next in the Elite Series is the May 7-10 Marine Formula STA-BIL Southern Challenge on Lake Guntersville out of Guntersville, Ala.
Fishing fans can catch all of the on-the-water action from the Blue Ridge Brawl on The Bassmasters, which airs Saturday, May 9, at 9 a.m. ET on ESPN2. The daily weigh-ins for all regular-season Elite events and the two postseason events will air live on ESPN360.com, ESPN's broadband sports network, while a wealth of unique content will also be available at Bassmaster.com.
Photos | Standings | Live coverage | Archive