Weight predictions fall with worries of crowds in small water
By John McQueen
Special to Bassmaster.com
A few things have been evident in talking to roughly a quarter of the field in this pre-practice period of the 2009 Bassmaster Classic: the water is a lot warmer and a lot lower than most anticipated. And now anglers are saying the weights will be much less than the earlier slugfest-like predictions.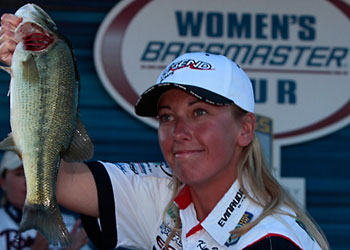 Larry Towell
Kim Bain-Moore says low water will limit areas and bring spectator boats more into play.
But that's not to say the weigh-ins won't be impressive. Producing for three days and dealing with the Red River's seemingly open-book policy, are the issues.
Kim Bain-Moore, the first female angler to fish in the Bassmaster Classic, is among the competitors who believe that spectator boats could play a factor.
"You always like to have people cheering you on, but you do worry that people bumping into stumps could have a negative impact," she said. "For that and other reasons, it's tricky to guestimate weights in this tournament."
Byron Velvick was right along with her in expressing concern about the role that spectators could play.
"The thing that jumped out at me is the sheer number of recreational boats out there," Velvick said. "And not just on weekends. I flew over on Thursday and saw boats in places I didn't figure would be there.
"Friday, Saturday and Sunday were much worse, but that's to be expected. The thing about it is that when you try and get away from the boats, you don't get bit. There's definitely a reason they are where they are."
Aaron Martens, like most anglers, went in hoping for exactly the type of stable weather and river flow now present on the Red River. What he and others — who came prepared for it — have found is that much of the prime backwater areas are cut off due to shallow water.
"Even the guys who brought aluminum boats can't get in there. We're pretty much fishing secondary areas," Martens said.
Martens is unhesitant in eschewing the popular sentiment going in that the Classic record books would be shattered as waves of pre-spawn largemouths fattened up in preparation for their procreation period. It's not that the fish aren't there. The issue is who else will be there.
"It's going to be hard to catch 10 pounds on five fish here. These fish are just about all real solid 2 ½- to 4-pound fish," Martens said as he relaxed with family and friends Sunday night following the three-day scouting session. "Now you hear that and probably say 'Then why aren't you predicting more weight?' (Martens says 17 pounds a day will put an angler in contention). And I'd say, 'Because it's the Red River.' It's fishing small."
Bain-Moore concurred, saying that perhaps two fish in practice were undersized.
Larry Towell
As the first female to fish a Classic, Kim Bain-Moore might have to deal with some added spectator traffic.
"The fish are very healthy, nice and fat. I'd say under 10 pounds for five fish, the chances are very small," said Bain-Moore, who indicated that she was excited just to be able to fish for an extended period of time after spending much of the late fall period prior to the cut-off simply finding her way around the vast river system.
"If you really knew this place like the back of your hand, you could probably do 20 pounds a day pretty easily, maybe even in one hour or so," Martens said. "I don't think we have anyone here that qualifies as that. You'd have to have good areas and good back-up areas."
Velvick is one such angler who hopes the fish turn on and make stump-bumping observer boats a moot point.
"I think I can compete in a slugfest. I'd rather see a wide open bite this week," he said. "It's just hard to figure whether your fish are coming or going with this off period coming up."
The anglers have one more practice period on Wednesday before competition starts on Friday.
Despite the issues, Martens says the fish have made this practice period enjoyable. Thick-backed, aggressive fish have often made it hard for anglers to shake off bites as they try not to sore-mouth likely money fish.
"It's almost textbook. They're playing crankbaiters, spinnerbaiters, flippers, Carolina riggers. That happens sometimes. It's just a matter of putting it together for three days," Martens said. "It's been a lot of fun. These things are hungry. And there's a good number of them spawning right now.
"Anytime you get water in the 60s this time of year, there's going to be some that are going to be spawning. I'm not going to say there's a huge wave of fish up on the beds. And you definitely can't win this thing just on spawning fish. But there are definitely some there."
Click here to pick a fantasy team for the Bassmaster Classic.