By Pete Robbins
ESPNOutdoors.com
BIRMINGHAM, Ala. — If several hundred spectators hadn't been there to witness it firsthand, both from the water and from the bank, it would be hard to believe how easily Kevin VanDam won his third Bassmaster Classic crown this week at Alabama's Lay Lake.
In an era when increasingly specialized electronics and 70-plus mph boats are considered indispensable on the Bassmaster Elite Series, the simple fact is that VanDam probably could have won this tournament out of a jon boat with a 9.9-horsepower outboard.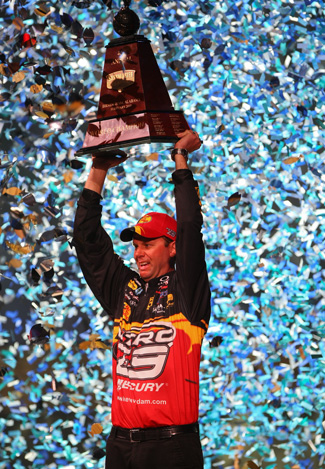 James OverstreetVanDam holds the trophy as confetti begins to fall.
"I didn't have to work my equipment very hard," VanDam said. "But I certainly did during practice."
Based on past experiences, he believed that the coontail in the backs of creeks and pockets had the potential to produce the winning weight. He said that he scoured the lake "dam to dam" with his side-imaging sonar looking for such areas and only found two other places where it existed, although neither was quite as sexy as the back of Beeswax Creek.
He mined a large spawning flat in the back of Beeswax for three days and delivered three limits that totaled 51 pounds, 6 ounces. He outlasted Jeff Kriet, Todd Faircloth, Russ Lane and 47 others to take home the trophy to an increasingly crowded mantle.
In many respects, it was déjà vu all over again for the Kalamazoo, Mich., angler. He found the area during practice for the 2007 Classic, which was chilly like this year's, but a warming trend at the end of the prefishing period spread the fish out.
This year the cold persisted through the first two days of the tournament and lasted long enough to keep the bass buttoned up in the back of Beeswax. The 2007 Classic was also the event when he introduced the Strike King Red Eye shad to the world. It produced a third-place finish that week, but it's come through multiple times since then, including this most recent event.
He used gold and gold sexy shad hues to match the gizzard shad that choked his chosen fishing area. Using his GPS, he marked key stumps and shellbed points and when the bait bounced off those key pieces of structure, he let it flutter down to generate strikes. He said he caught seven bass off a single stump.
"Well, this was a challenging week weatherwise. I've had a lot of success in Alabama over the years," VanDam said of his seventh Classic in the state. "It's always eluded me. I love fishing these lakes."
VanDam was also appreciative of the fishing-savvy fans in the state, saying the throngs of spectators gave him room to win. "In 1992, when I won my first AOY, what I remember about Alabama is the fans," he said. "One of the main reasons I was able to catch what I did was the fans. I was fishing in the back in Beeswax Creek and the fans were very courteous."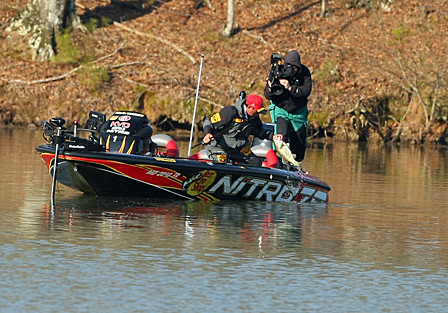 James OverstreetAt 8:24 a.m., Kevin VanDam he put his second 4-pounder in the boat on Sunday en route to a 19-7 day.
The victory wasn't wire to wire: VanDam led after Day One but trailed Kriet by 2 ounces after the second day. When they launched Sunday, he was only a single ounce ahead of Faircloth. All three fished almost exclusively in Beeswax, but VanDam's fish proved the most reliable, plentiful and sizable over the course of three days.
If VanDam's legacy as the greatest fisherman alive wasn't already cemented, then this week's victory adds another weatherproof brick to the wall. He now trails only Rick Clunn (four) on the all-time Classic victory list. Only three other anglers, Bobby Murray, Hank Parker and George Cochran, have won more than once.
VanDam also has five Bassmaster Toyota Tundra Angler of the Year awards, including the past two. Furthermore, he's only 42 and may not have peaked yet.
VanDam boated Sunday's big bag of 19-7 to weather the charge by Kriet, who totaled 46-6. Todd Faircloth finished third with 44-2 while Lane made a major jump in the standings with 18-1 Sunday to take fourth with 43-12.
VanDam's Day One and Day Three bookend limits of 19-8 and 19-7 were the only bags to eclipse the 19-pound mark. His area was so chock-full of bass, he said, that on the first day of competition he "threw back a 15-pound bag and a 14-pound bag and a 13-pound bag."
Despite falling water and increased spectator galleries, VanDam remained confident all three days.
"Some people worry about anything and everything," he said. "I don't worry about things that I can't control."
It appeared that the only thing that could shake VanDam's confidence was a matter of simple mathematics. After 20 Classics, he's only won three times. As a batting average, that would be poor, but compared to his competitors, he's Ted Williams. "In this sport, you're going to lose a lot more than you win," he said.
At this point, that provides little consolation to the rest of the field, all of whom would give anything to win anywhere near as often as VanDam does.