Michigan's Kevin VanDam in prime position in AOY race
By Doug Grassian
Bassmaster.com
MONETA, Va. — Despite experiencing a "slow day," four-time Toyota Tundra Bassmaster Angler of the Year Kevin VanDam of Kalamazoo, Mich., managed a two-day total of 32 pounds, 9 ounces — enough to take the lead at the Advance Auto Parts Blue Ridge Brawl on Smith Mountain Lake.
A notoriously fast angler, VanDam's patience was tested Friday, but the reigning AOY ably managed to adapt.
VanDam, a 14-time BASS winner, was running a defined pattern in different areas, primarily focusing on smallmouth bass. He mixed in sight fishing — a technique used by many in the top tier of the field — along with a number of blind casts.
A key to his success was stealthy boat operation, as he said it was important to identify a fish and quickly cast to it before it sensed him.
"I was pretty fortunate today because it was definitely a struggle out there," said VanDam, who leads the BASS career earnings list with more than $3 million. "The fish were in a pretty funny mood today and it was important to be patient."
While he has established a slim lead — 14 ounces over Fred Roumbanis of Bixby, Okla., — VanDam said he would search for new water as he had tapped into many of the productive spots he located in practice.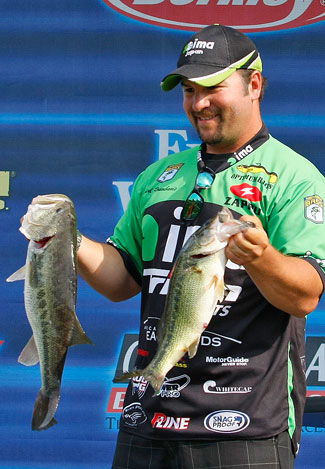 James Overstreet
Fred Roumbanis (Second, 31-11)
He said he knew that the fish were relating to bottom but couldn't identify exactly what about the bottom the larger bass liked.
Similar to last year, VanDam is making his performance count just when the Toyota Tundra Bassmaster Angler of the Year race is getting interesting. Nearly halfway through the regular season, with a solid finish here, VanDam could grab hold of the AOY lead. Dangerous with any lead, VanDam is excited about the new Bassmaster Elite Series postseason.
"This year, especially, there is going to be a ton of drama," said VanDam, 41. "I'm on a pretty good roll right now but it's important to peak right near the postseason. Anything can happen this year." While VanDam's pattern was defined, Roumbanis was all over the place Friday. He had 15 rods strapped to the deck and used every one of them while junk fishing around spacious Smith Mountain.
A skilled sight fisherman, Roumbanis tried that tactic but came up empty-handed Friday. He did, however, locate some bedding bass that he plans to go to Saturday.
His day started quickly — he boated a 5-pound, 9-ounce bass one hour into his competition day.
"The water is so clear so you can cover a huge area with one cast," said Roumbanis, 30, who called his style "slow-fast."
"So you don't need to get too keyed in to any one area. I had the trolling motor on full all day. But at the same time, you need to patient."
Roumbanis scored a 16th-place finish on Smith Mountain in 2007 but conditions were much different at that event. Searching for his third BASS victory, Roumbanis is 33rd in the AOY standings and in solid position to qualify for his third Bassmaster Classic.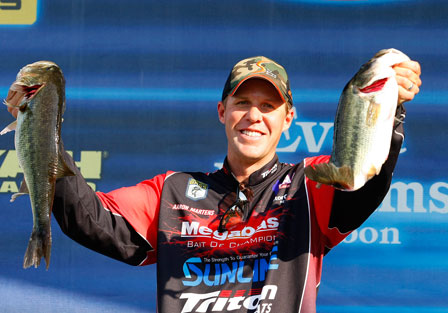 James Overstreet
Aaron Martens (Fourth 30-13)
Behind Roumbanis by 1 ounce was Day One leader Kelly Jordon of Mineola Texas, with 31-10. Jumping to fourth was Aaron Martens of Leeds, Ala., with 30-13. Holding steady in fifth was Matthew Sphar of Pavilion, N.Y., with 30-10.
Another talented sight-fisherman, Dean Rojas was lurking close in sixth with 30 pounds, 0 ounces. The field was cut to the top 50 anglers for Saturday's competition, and only the top 12 will advance to Sunday's final day of competition.
Other anglers safely in the cut included Japan's Morizo Shimizu (13th), Elite rookie J Todd Tucker of Moultrie, Ga. (18th) and home-state pro John Crews of Salem (45th). The 2007 Blue Ridge Brawl champion, Casey Ashley of Donalds, S.C., just missed the cut and finished 56th.
Several anglers noted that Smith Mountain could really turn on in the final two days. Jordon was giddy at the possibilities and figured that a 30-pound bag was still possible. Rojas, too, was encouraged and felt that the final day could be a slugfest.
Photos | Standings | Live coverage | Archive