Alabama Pro Scores a Five-Fish Limit Weighing 22 Pounds, 6 Ounces to Lead After Day 1 for Group A – Group B Begins Competition Wednesday
BAY CITY, Mich. (Aug. 1, 2023) – Phoenix pro Greg "The Rooster" Vinson of Wetumpka, Alabama , went on a morning flurry, weighing in 12 scorable bass, with his best five totaling 22 pounds, 6 ounces, to grab the early lead for Group A after Day 1 of the Major League Fishing (MLF) Bass Pro Tour Minn Kota Stage Seven on Saginaw Bay Presented by Suzuki. Pro Jacob Wheeler of Harrison, Tennessee sits 4 pounds, 4 ounces behind Vinson with five scorable bass totaling 18-2, good for second place, while Texan Dakota Ebare rounds out the top three, finishing a mere 5 ounces behind Wheeler, with a five-fish limit weighing 17-13.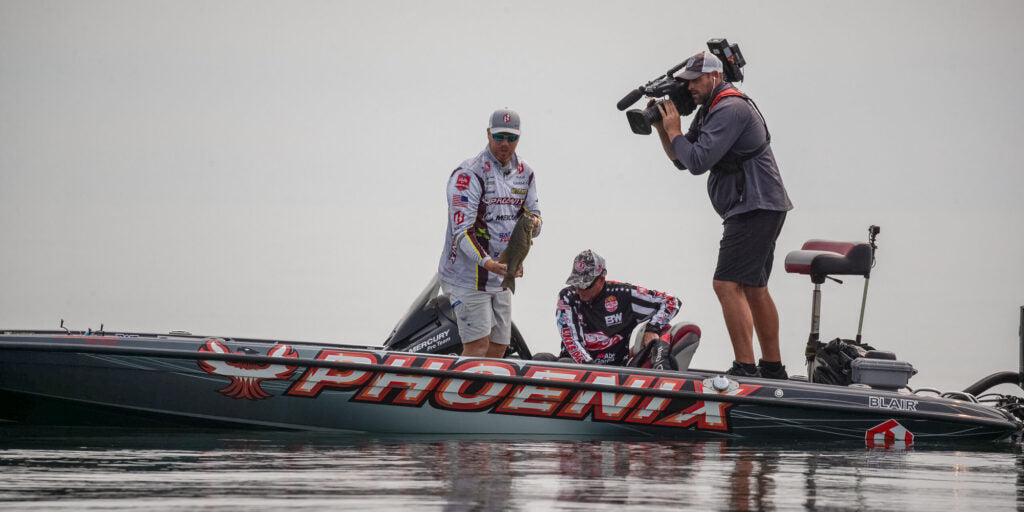 The six-day tournament, hosted by Bay City, Michigan, showcases 80 of the top professional anglers in the world, competing for a purse of more than $805,000, including a top payout of $100,000 and valuable Angler of the Year (AOY) points in hopes of qualifying for the General Tire Heavy Hitters All-Star event and REDCREST 2024, the Bass Pro Tour championship.
Link to Hi-Res Photo of Qualifying Group A Leader Greg Vinson
Link to HD Video – Fish-Catch Highlights of Group A Qualifying Round Day 1 on Saginaw Bay
Link to Photo Gallery of Group A's Day 1 Qualifying Round Highlights
The 40 anglers in Group A will now have an off day from competition Wednesday, while the 40 anglers competing in Group B will begin their first day of competition. Group A will resume competition on Thursday.
Vinson shot out of the gate early Tuesday, racking up 22 pounds in Period 1. Although smallmouth dominated the leaderboard throughout the day, largemouth were in contention as well, with many pros– including Vinson – ending the day with a combination of both.
"Man, what an awesome day," said Vinson. "I knew it was possible after looking at previous weights from past tournaments, but there's a lot to take into consideration on this big body of water. Somehow, I just ran across them today and I couldn't ask for anything more."
While mere ounces separated many of the anglers in the top 10, Vinson finished the day with a substantial margin over Wheeler going into the second day of competition for Group A.
"This morning was the kind of day you dream about in tournament fishing," said Vinson. "Oftentimes you find something in practice that looks promising, but then you pull up during the competition and it's almost always different than what you expected, so you have to adjust.
"This morning I pulled up where I'd seen these fish the other day during practice, and it started off a little slow, but once they grouped up, it was lights out," Vinson continued. "There was a school of those bigger smallmouth and every time I'd catch one, I'd pull the whole school up and kind of move them. I had a good feel for the line they were moving up and down each time though, so I just kept fishing around them, and eventually I'd catch another one."
A total of 16 fish weighing more than 4 pounds were caught during Day 1, with six of those reeled in by Vinson.
"There was about a one-hour window this morning that was just magical," said Vinson. "Every time I got bit, I pulled out a 4-pounder and those are so hard to come by here this week, so that was something really special that I won't ever forget. I put a lot of work, worry and stress into this tournament, so it's nice when you have a day like today and all that preparation pays off."
Although Vinson filled his limit with quality fish early in the day, he didn't upgrade once in the final period.
"The last few hours of the day were fun, but unproductive," Vinson continued. "I caught three or four later in the last period that were scorable, but not significant.
"I really thought I'd get some 2- to 3-pound largemouth while running new water this afternoon, but obviously the area I was in wasn't the ticket," said Vinson. "Thankfully I figured that out today and not during the competition on Thursday, and that also gave me more confidence in the areas where I did find some better largemouth."
Vinson said he spent 12 hours looking for quality smallmouth during practice, and only has one area that he feels confident in going into the next day of competition.
"I hate to even think about having to go find them again, so if it's not happening on Thursday, I'll just have to jump on the largemouth train and try to get through to the next round," Vinson said. "I think the biggest factor for me is going to be the wind that's being forecast. With the area I'm in and the style I'm fishing, I feel really vulnerable going into the second day of competition.
"I'm not a smallmouth specialist," Vinson continued. "I can catch them, but when the weather changes the smallmouth will change patterns, so I have to be ready for that and have another plan in place.
"I came into this event on the other side of the cutline for REDCREST, which will be in my home state of Alabama next year," Vinson continued. "Hopefully I can catch enough to make it through to the next round and have a good chance of qualifying for REDCREST."
The top 20 pros in Group A after Day 1 on Saginaw Bay are:
1st:           Greg Vinson, Wetumpka, Ala., five bass, 22-6
2nd:          Jacob Wheeler, Harrison, Tenn., five bass, 18-2
3rd:          Dakota Ebare, Brookeland, Texas, five bass, 17-13
4th:           Kevin VanDam, Kalamazoo, Mich., five bass, 17-11
5th:           Russ Lane, Prattville, Ala., five bass, 16-13
6th:           Bryan Thrift, Shelby, N.C., five bass, 16-10
7th:           Zack Birge, Blanchard, Okla., five bass, 16-8
8th:           Brandon Coulter, Knoxville, Tenn., five bass, 16-4
9th:           Justin Lucas, Guntersville, Ala., five bass, 16-2
10th:        Ott DeFoe, Blaine, Tenn., five bass, 15-10
11th:        Michael Neal, Dayton, Tenn., five bass, 15-7
12th:        Tommy Biffle, Wagoner, Okla., five bass, 15-7
13th:        Anthony Gagliardi, Prosperity, S.C., five bass, 15-3
14th:        Josh Bertrand, Queen Creek, Ariz., five bass, 14-14
15th:        Cole Floyd, Leesburg, Ohio, five bass, 14-13
16th:        Bradley Roy, Lancaster, K.Y., five bass, 14-12
17th:        Gary Klein, Mingus, Texas, five bass, 14-8
18th:        Fred Roumbanis, Russellville, Ark., five bass, 14-8
19th:        Mark Davis, Mount Ida, Ark., five bass, 14-7
20th:        Spencer Shuffield, Hot Springs, Ark., five bass, 14-6
A complete list of results can be found at MajorLeagueFishing.com.Vinson tied with Berkley pro Justin Lucas of Guntersville, Alabama for Tuesday's $1,000 Berkley Big Bass Award, each weighing in a bass totaling 4 pounds, 10 ounces, to claim a share of the daily award. Berkley awards $1,000 to the angler who weighs the heaviest bass each day, and another $3,000 bonus to the angler who weighs the heaviest bass of the tournament.
The 40 Anglers in Group A compete in their two-day qualifying round on Tuesday and Thursday – the 40 anglers in Group B on Wednesday and Friday. After each two-day qualifying round is complete, the top 20 anglers from each group advance to Saturday's Knockout Round. In the Knockout Round, weights are zeroed, and the remaining 40 anglers compete to finish in the top 10 to advance to Sunday's Championship Round. In the final day Championship Round, weight carries over from the Knockout Round and the angler with the heaviest two-day total wins the top prize of $100,000.
Anglers will launch each day at 7:30 a.m. ET from the Golson Boat Launch, located at 1598 N. Johnson St. in Bay City. Each day's General Tire Takeout will be held at the launch location, beginning at 4 p.m. Fans are welcome to attend all launch and takeout events and also encouraged to follow the event online throughout the day on the MLFNOW!® live stream and SCORETRACKER® coverage at  MajorLeagueFishing.com.
As part of the event, on Saturday, August 5 and Sunday, August 6, the MLF Fan Experience will be taking place at Wenonah Park in Bay City from 1 p.m. to 6 p.m. MLF will welcome fans of all ages to celebrate fishing and the outdoors with free giveaways, local vendors, photo opportunities with pro anglers and PAW Patrol characters and the opportunity for fans to hang out and watch the pros live on the MLFNOW! ®  big screen during the MLF Watch Party. The first 100 kids onsite each day will get a free rod and reel combo, and fans can also check out the latest gear and offerings from MLF and MLF sponsors including Toyota, Suzuki, the U.S. Air Force, Humminbird, Minn Kota and Kubota.
On Sunday, the final 10 Championship Round Bass Pro Tour anglers will be on hand at the trophy celebration to meet and greet fans, sign autographs, and take selfies. Kalamazoo's own Kevin VanDam will be onsite throughout the weekend to celebrate his final regular-season professional tournament with fans.
The Minn Kota Stage Seven at Saginaw Bay Presented by Suzuki features anglers competing using the MLF catch, weigh, immediate-release format, with each angler's five (5) heaviest bass per day tallied as their day's weight. Anglers strive to catch their heaviest five fish each day, while also feeling the pressure and intensity of the live scoring SCORETRACKER® leaderboard. Minimum weights are determined individually for each competition waters that the Bass Pro Tour visits, based on the productivity, bass population and anticipated average size of fish in each fishery.
The 2023 MLF Bass Pro Tour features a field of 80 of the top professional anglers in the world competing across seven regular-season tournaments around the country, fishing for millions of dollars and valuable points to qualify for the annual General Tire Heavy Hitters all-star event and REDCREST 2024, the Bass Pro Tour championship, held March 13-17, 2024, on Lay Lake in Birmingham, Alabama.
The MLFNOW!® broadcast team of Chad McKee, Marty Stone and J.T. Kenney will break down the extended action live on all six days of competition from 7:45 a.m. to 4:30 p.m. ET. MLFNOW!®  will be live streamed on MajorLeagueFishing.com  and the MyOutdoorTV (MOTV) app.
Television coverage of the Minn Kota Stage Seven at Saginaw Bay and Saginaw River Presented by Suzuki Championship Round will air with a two-hour episode starting at 7 a.m. ET, on Saturday, November 11, on the Discovery Channel. New MLF episodes premiere each Saturday morning on Discovery, with re-airings on the Outdoor Channel.
Proud sponsors of the 2023 MLF Bass Pro Tour include: 13 Fishing, Abu Garcia, Ark Fishing, ATG by Wrangler, B&W Trailer Hitches, Bally Bet, Bass Cat Boats, Bass Pro Shops, Berkley, Black Rifle Coffee, Daiwa, Epic Baits, Favorite Fishing, Ferguson, Fox Rent A Car, General Tire, Grundéns, Humminbird, Lowrance, Minn Kota, Mercury, Mossy Oak, Onyx, Power-Pole, Rapala, Star tron, T-H Marine, TORO, Toyota, U.S. Air Force, Yellowstone Bourbon, Yo-Zuri and Zoom Baits.
For complete details and updated information on Major League Fishing and the Bass Pro Tour, visit MajorLeagueFishing.com. For regular updates, photos, tournament news and more, follow MLF's social media outlets at Facebook, Twitter,  Instagram and YouTube.
About Major League Fishing
Major League Fishing (MLF) is the world's largest tournament-fishing organization, producing more than 250 events annually at some of the most prestigious fisheries in the world, while broadcasting to America's living rooms on CBS, the Discovery Channel, the Outdoor Channel, CBS Sports Network, the World Fishing Network and on-demand on MyOutdoorTV (MOTV). Headquartered in Benton, Kentucky, the MLF roster of bass anglers includes the world's top pros and more than 30,000 competitors in all 50 states and 13 countries. Since its founding in 2011, MLF has advanced the sport of competitive fishing through its premier television broadcasts and livestreams and is dedicated to improving the quality of life for bass through research, education, fisheries enhancement and fish care.
Get all of your tackle here!
You can follow us here 👇👇👇👇👇👇👇👇👇👇
Instagram https://www.instagram.com/bass_365/
Facebook https://www.facebook.com/365bass/
Keep up to date with everything going on in the fishing world http://bass365.com/
Download the BASS 365 LIVE app for free!
https://apps.apple.com/us/app/bass-36…