The Academy Sports + Outdoors Women's Bassmaster Tour will open its fourth season out of Gadsden, Ala., when the circuit returns March 26-28, to Neely Henry Lake, a fishery that's proved to be one of the toughest stops on the tour.
Fishing fans can follow the action on www.Bassmaster.com with live, streaming video and real-time leaderboards. Daily coverage, including photo galleries, stories and standings, also will be available at Bassmaster.com.
By several accounts, WBT anglers will have to fish hard for five-fish limits three days running for a chance to claim the event's top prizes, fully rigged boat-and-motor packages. The rig that will go to the winner in the pro division is valued at $55,000; on the co-angler side, it's worth $25,000.
For pro division competitors, the season-opening event also is the starting line in the 2009 Toyota Tundra Women's Bassmaster Tour Angler of the Year points race. The AOY crown comes with a new Toyota Tundra and a berth in the 2010 Bassmaster Classic set for Feb. 19-21, out of Birmingham, Ala.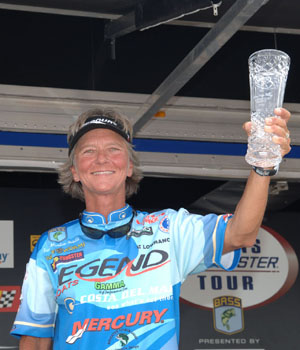 Bass in grass helped Pam-Martin Wells of Bainbridge, Ga., to the win on Neely Henry Lake in 2008.
The woman who scores that big prize package will follow in the historic footsteps of WBT pro Kim Bain-Moore of Alabaster, Ala., who as the 2008 AOY became the first woman to qualify for a Classic. Bain-Moore capped off her Feb. 20-22, 2009, Classic experience with a 47th-place place finish. She earned everyone's respect for her cool approach as the first woman in a Classic competition.
The 2010 Classic qualifier from the WBT would also be a pioneer. But whoever it turns out to be, she'll have to clear the first hurdle, the Neely Henry competition. Anglers who competed in the WBT's April 2006 and May 2008 events there know that Neely snakes through northeastern Alabama for almost 78 miles, and that it's a run-of-the-river impoundment rather than a wide, lazy vista of a lake.
The most prolific species is spotted bass. Main-river spots feed when the current flows. The bite shuts down quickly after the upstream dam's gates are closed. The largemouth bite, while not as reliant on current, can be just as fickle.
But recently, barely two weeks before the event's start, Neely Henry's water level was high, the water was heavily stained, and the main river was filled with floating timber and debris from recent hard rains. Water temps were well below the spawning trigger. Those conditions were reported by WBT pro Karen Elkins of Oxford, Ala., who said she's been fishing Neely Henry since she was a teenager.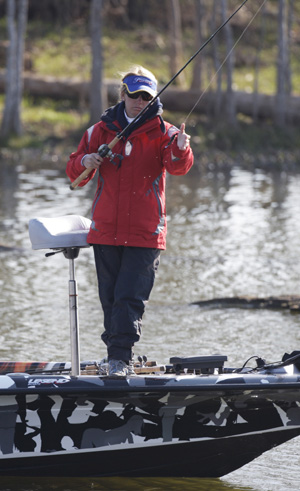 Kim Bain-Moore fishes on Day One of the 2009 Bassmaster Classic.
"The lake has flooded twice since January," Elkins said. "It may be still running dirty and full when we fish. In the main river, the water temperature is around 54-55 degrees. In the back of the southernmost creeks, the temps are about 60 degrees. I haven't seen anything other than pre-spawn conditions."
Conditions are more than likely to change, she said, and perhaps not for the better. Rain is predicted, yet the lake may not be up to full pool.
"I've heard rumors they're going to bring the water up early (to normal summer pool levels)," she said. "They always drop Neely, and it's vastly different winter to summer pool."
Then, given daily currents, the bite could be great.
"If the rain will stop, then it's game on," Elkins said. "This won't be won on just one type of bait, but on at least three different baits. Ability to change with conditions will be key."
Another entrant in next week's event, Pam Martin-Wells of Bainbridge, Ga., put together 36 pounds, 1 ounce, to take her third of three BASS wins on Neely Henry in 2008. But that was in May.
A month can make a big difference, said Martin-Wells. She said she plans a few days of scouting before the three official practice days of March 23-25.
"There was no need going too early," she said. "This time of year, conditions change really quickly."
She is not expecting to find much that reminds her of her 2008 winning patterns.
"I would imagine it's going to be totally different," she said. "It's a lot earlier, so it's going to be a whole new ball game. It's more than likely going to be a pre-spawn."
Martin-Wells did not elaborate on an anticipated daily tournament weight or estimated winning weight because of changing river conditions. She holds one basic philosophy.
"My goal will be what it always is: to get five fish in the boat and go from there," she said.
Neely Henry Lake, one of the Coosa River's six impoundments, encompasses 11,235 acres. It is home of a prolific spotted bass population as well as a healthy number of largemouth bass.
Fans are invited to attend the daily launches Thursday through Saturday at 6:30 a.m. CT at Coosa Landing, 200 Lake Street, Gadsden, Ala., and the 2:30 p.m. daily weigh-ins at the Academy Sports + Outdoors retail store at 601 George Wallace Drive, Gadsden.
Fans can meet and talk with the WBT anglers Wednesday, March 25, 3:00-4:30 p.m., at the Gadsden Academy store. All BASS events are free and open to the public.
The local sponsor of the Women's Bassmaster Tour on Alabama's Neely Henry Lake is the City of Gadsden Parks and Recreation.
After the Alabama tournament, the WBT will make three more stops, then move to the Oct. 16-18, Academy Sports + Outdoors WBT Championship on the Red River out of Shreveport-Bossier City, La., the same venue as the 2009 Bassmaster Classic. From the championship will emerge the 2009 AOY, who qualifies for the 2010 Classic.