BOSSIER CITY, La. — If you want to know who Jami Fralick is, start with the 25 friends, family and Federation Nation club members that drove nearly 1,200 miles to watch him.
They made that drive before Fralick caught a single fish, knowing he could just as easily finish 45th as lead. But he is leading after two days with 38 pounds, 9 ounces, and his fan club is a little excited.
It should have been obvious after seeing the matching shirts and painted chests, but know that if you ask to speak with Fralick's friends, you do so at your own risk. They'll corner you: his mom, dad, three sisters and husbands, girlfriend, her mom and dad, five nephews and 10 guys from his Federation Nation club in South Dakota.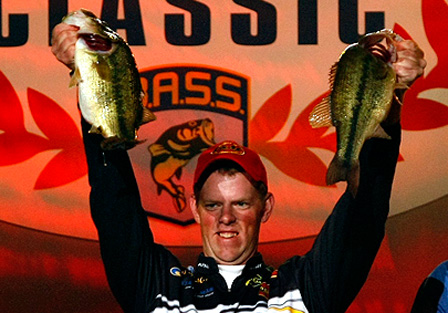 James Overstreet
Jami Fralick (First, 38- 9)
All of them with something to say, some way to dote on their buddy, son and uncle.
"He came from a small town and he's still small-town Jami Fralick," said Joe Sestak, a Nation club buddy.
According to club member Tom Louge, Fralick's been "kicking our ass for years" in club tournaments, and he still does. One of the reasons he gets so much love is because when he's not on the Elite Series and not fishing the Northern Opens, Fralick still fishes club tournaments with the Bonhomme Bass Association in Tyndall, S.D.
"As soon as I qualified, Tom said we're all jumping in a van and coming to see you, and my parents did the same thing," Fralick said. "I come from a very close family."
Fralick was taught to fish by his dad, Monty, in Marten, S.D., and he caught on quick.
"When he was 6 years old, it was just like having a partner in the boat," the elder Fralick said. "I didn't have to tie his lines, he had his own tackle and his own everything.
"I got him involved in the BASS Federation as soon as we could, and he qualified for the first divisional on our state team and he's the youngest person to ever fish the divisional."
That's what it all came back to — the Federation Nation. Louge, a boat dealership owner, was the first to sponsor Fralick, Sestak has known him for years, and he stays at Bob Mings' house in Ohio when he driving across the nation from tournament to tournament.
"Three weeks ago I tried to make is simple," Mings said. "I told him, you're only 15 bites away from winning the Bassmaster Classic. So he came to campground last night and told me he's only 10 bites away. Well guess what now? It's down to five."
That campground is an hour away from Shreveport, but Fralick made the drive there and back Friday night to have dinner with his friends. And Fralick is not short on friends.
He met his girlfriend, Lori Callaway, because he made friends with her uncle, Jeff Hager, at the 2005 Classic in Pittsburgh (his only other trip). Callaway wasn't there, but she was at Hager's house when Fralick was helping him build his house in between events this year on the Elite Series.
"He is one of the most pleasant, optimistic people I've ever met," Callaway said. "It doesn't matter if he does really poorly or really great, he doesn't pitch a fit at the end of the day."
Even Fralick, 33, who is very matter of fact and surprisingly calm considering his current situation, admitted to being even keel.
"In bass fishing the highs are really high and the lows are really low, and if you let yourself get caught up in it, it starts distracting you," he said. "I think that's just the way I was born. Whatever happens happens. All I can control is the bites I get tomorrow."
Further solidifying his easy-to-get-along-with reputation is the water he's sharing with Brian Snowden this Classic. Snowden said it hasn't been a problem and won't be on Sunday. Snowden's one of a handful of guys that travel and share information with Fralick.
"The way he looks at it and the way I look at it, is I would rather fish next to him and have him catch fish next to me, than to have someone else come in," Snowden said. "The reality of fishing the way it is anymore, it's better to work in teams, especially in areas because a lot of people find the same stuff.
"We've been doing this for years and sometimes he helps me and sometimes I help him. It's an even trade."
Snowden (sixth, 34-13), Fralick and 25 crazy people with letters painted on their chest hope that hole holds up on more day, for 10 more bites.
"If I had to finish second to anyone, I'd want it to be him," Fralick said of Snowden.
But second place was far from Peggy Fralick's mind. She's been watching her son fish for years, and has a feeling tomorrow will be his moment. She's not worried about the spot, not worried about star-studded top 10, and she's certainly not worried Fralick will crack under the pressure.
"Jami is very determined but he's very relaxed," Peggy Fralick said. "He doesn't get nervous and worked up about something and handles himself very well in stressful situations. He just always has. He just doesn't lose his cool. He just doesn't."
2009 Classic archive | Photo galleries | Classic blog | Live coverage | Standings
Fralicks, friends, family and fellow pros talk about the South Dakota pro
By Kyle Carter
Bassmaster.com