Parker claims her first Women's Bassmaster Tour victory
By Deb Johnson
Bassmaster.com
WEST MONROE, La. — All week Janet Parker of Little Elm, Texas, has been saying she was "keeping it simple" out on the water, but Parker also made it look easy when she won wire-to-wire Saturday by more than 8 pounds at the second stop of the 2009 Academy Sports + Outdoors Women's Bassmaster Tour event on the Ouachita River.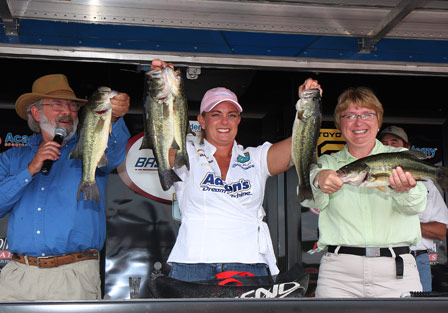 Larry Towell
Janet Parker (First, 32-2)
The first day she led by 11 ounces. The second day she stretched her lead to almost 5 pounds. With Saturday's weight of 11 pounds, 2 ounces — her best of the three days — she totaled 32-2, easily staying in front of Sheri Glasgow of Muskogee, Okla., who took second with 23-13.
Patti Campbell of Waxahachie, Texas, who on Friday moved up from 21st into third place, also finished there with 21-13.
It was the first WBT title for Parker, who's been competing in the women's circuit since its inception in 2005. Her previous best finish was in June 2008 at Tennessee's Old Hickory Lake, where she finished 14th after leading the first day.
"Last night, when I realized I had a 4-pound, 12-ounce lead, I thought maybe I could win here," Parker said. "I didn't get overconfident because maybe my fish would turn off, or someone would catch an 8-pounder — you just don't know. I did not count my chickens before they hatched."
Her wire-to-wire win was worth a $55,000 Triton/Mercury boat package, $650, and a valuable 315 points in Toyota Tundra Women's Bassmaster Tour Angler of the Year race, where the eventual AOY winner will qualify for the 2010 Bassmaster Classic. Parker also received a bonus $500 that was donated to the winner by the Ouachita River Valley Association.
By "keeping it simple" on the Ouachita River, she meant she worked a Texas-rigged plastic crawfish in the same way to trigger a reaction bite, regardless of where she fished.
"I felt the key was having a weight and a magnetic bead," Parker said. "I'd let the lure fall, then hop it up, and the beads would clack together. Then I'd let it rest and hop it up again."
She fished the same rig in two markedly different areas. One was a shallow backwater, and the other a main-river ledge.
In the backwater, she picked up bass hitting baitfish at the mouth of an underwater culvert in water from 2 feet to about 8 feet deep. She also flipped to trees and brush in the same backwater.
On the main river channel, she threw her craw to bass holding in an eddy behind a ledge. Her only alteration in the rig for the main-river spot was a switch from a 3/8-ounce to a 1/2-ounce weight.
Ending in second place, Glasgow relied on a custom-made spinnerbait with a single Colorado blade, the same bait she used to win a WBT event at Arkansas' Lake Dardanelle in 2007. "It puts out a lot of thump, a lot of vibration, your rod tip's bouncing as it pulses through the water," said Glasgow, the 2007 Toyota Tundra WBT Angler of the Year. "You can slow-roll it, and when you bring it by a piece of structure, you can stop it and let it flutter. It worked great in this muddy water."
Glasgow said she stayed in the Ouachita's backwater lakes, working flooded buckbrush and cypress trees, moving with the fish as the water level changed each day. Winner in the co-angler division and the $25,000 Triton/Mercury boat rig was Day Two leader Linda Owens, a retired law enforcement officer from Brandon, Miss. Her three-day weight of 16 pounds, 14 ounces, was almost 5 pounds more than her closest competitor.
"This is my first win at a tournament, ever," said Owens, whose first look at the Ouachita River was on the first day of competition. She said the boat she won will replace a boat she had to give up after retirement.
Owens said she flipped and pitched to cypress trees and brush all three days, a technique that is "right up my alley." Her go-to lure was a Zoom Baby Brush Hog with a chartreuse dip on the tail.
"For some reason, they wouldn't hit if the tail wasn't dipped," Owens said.
Other top finishers in the co-angler division included Gail Wood of Russellville, Ark., who was second with 12-2. First-day leader Terri Bittner of McKinleyville, Calif., was third with 10-12.
The final two stops of the WBT regular season will be out of Little Rock, Ark., for a June 4-6 competition on the Arkansas River; and Sept. 10-12 stop at Old Hickory Lake out of Hendersonville, Tenn.
After the Old Hickory tournament, the top 20 in both the pro and co-angler points standings will advance to the Oct. 16-18 Academy Sports + Outdoors WBT Championship on the Red River out of Shreveport-Bossier City, La.