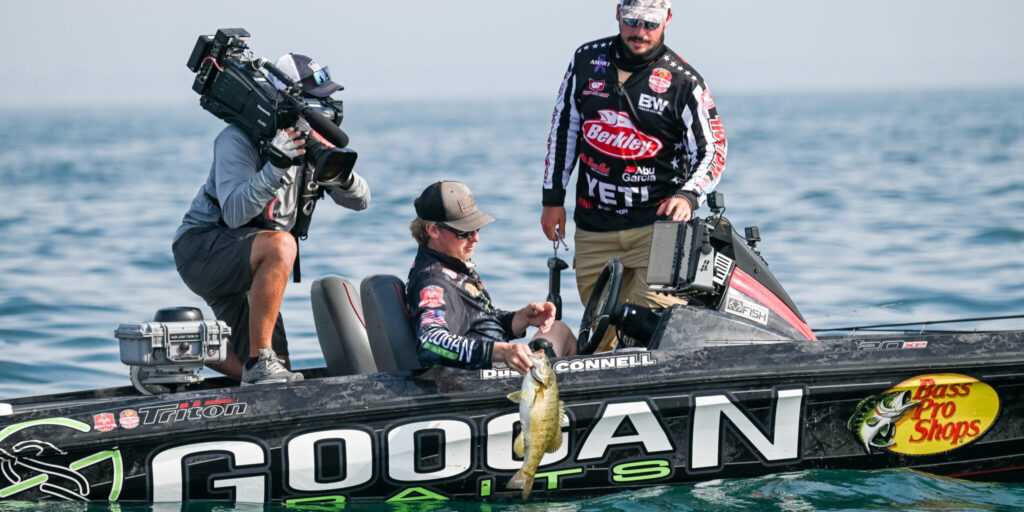 Link to Hi-Res Photo of Qualifying Group B Leader Dustin Connell
Link to HD Video – Fish-Catch Highlights of Group B Qualifying Round Day 1 on Lake St. Clair
Link to Photo Gallery of Group B's Day 1 Qualifying Round Highlights
The six-day event, hosted by the Detroit Sports Commission, Macomb County and Lake St. Clair Metroparks, showcases 80 of the top professional anglers in the world, competing for a purse of more than $805,000, including a top payout of $100,000 and valuable Angler of the Year (AOY) points in hopes of qualifying for the General Tire Heavy Hitters All-Star event and REDCREST 2024, the Bass Pro Tour championship.
"It's been a heck of a day," said Connell. "It started out quick and we did good, which put us in a great position for the rest of the week. I found a couple new areas this afternoon, but I've got one little spot that's really good and I'm just hoping that it holds out."
Connell jumped out to an early lead Sunday, filling his limit within the first 30 minutes of competition and staying atop the SCORETRACKER® throughout the day.
"The fish are there – I mean, there are a bunch of 4- to 5-pounders there," Connell continued. "I lost one this morning that was over 4 pounds, so hopefully that spot will be sustainable throughout the event."
Connell spent his day targeting bass offshore with his Lowrance ActiveTarget and caught his fish on a 7-foot, 2-inch medium heavy Favorite Fishing Hex Rod, throwing a drop-shot rig on 15-pound braid.
"This is my favorite way to fish," said Connell. "It's just awesome watching the way the fish react to your bait. I'm hoping that the wind dies down as we get further into the event, so we can really get after it.
"Right now, the fish are down deep, stuck to the bottom. With all these waves, they just really want to hunker down low. But when the sun pops out and it gets slick, they slide up closer to the surface and you can see them a little better on your electronics.
"I don't know how this tournament is going to be won, but I think it's going to come down to finding a good area that you have to yourself," Connell finished.
The 40 anglers in Group B will now have an off day on Monday, while the 40 anglers competing in Group A will wrap up their two-day Qualifying Round. Group B will finish their Qualifying Round on Tuesday.
The top 20 pros in Group B after Day 1 on Lake St. Clair are:
1st:           Dustin Connell, Clanton, Ala., five bass, 22-13
2nd:          John Hunter, Shelbyville, Ky., five bass, 22-9
3rd:          Dylan Hays, Hot Springs, Ark., five bass, 20-15
4th:           Bradley Roy, Lancaster, Ky. five bass, 20-11
5th:           Mark Daniels Jr., Tuskegee, Ala., five bass, 20-8
6th:           Dakota Ebare, Brookeland, Texas, five bass, 20-6
7th:           Jeremy Lawyer, Sarcoxie, Mo., five bass, 20-5
8th:           Alton Jones, Lorena, Texas, five bass, 20-3
9th:           Todd Faircloth, Jasper, Texas, five bass, 19-5
10th:        Gerald Spohrer, Gonzales, La., five bass, 19-4
11th:        Justin Lucas, Guntersville, Ala., five bass, 19-2
12th:        Jesse Wiggins, Addison, Ala., five bass, 18-15
13th:        Josh Bertrand, Queen Creek, Ariz., five bass, 18-15
14th:        Jacob Wheeler, Harrison, Tenn., five bass, 18-13
15th:        Brett Hite, Phoenix, Ariz., five bass, 18-12
16th:        Mark Davis, Mount Ida, Ark., five bass, 18-8
17th:        Jeff Sprague, Wills Point, Texas, five bass, 18-4
18th:        Kevin VanDam, Kalamazoo, Mich., five bass, 18-0
19th:      Keith Poche, Pike Road, Ala., five bass, 17-15
20th:        James Elam, Tulsa, Okla., five bass, 17-12
A complete list of results can be found at 
MajorLeagueFishing.com
.Hunter earned the $1,000 Berkley Big Bass award after a 5-pound, 8-ounce smallmouth bit his drop shot with five minutes remaining in Period 3. Berkley awards $1,000 to the angler who weighs the heaviest bass each day, and another $3,000 bonus to the angler who weighs the heaviest bass of the tournament.
The 40 Anglers in Group A compete in their two-day qualifying round on Saturday and Monday – the 40 anglers in Group B on Sunday and Tuesday. After each two-day qualifying round is complete, the top 20 anglers from each group advance to Wednesday's Knockout Round. In the Knockout Round, weights are zeroed, and the remaining 40 anglers compete to finish in the top 10 to advance to Thursday's Championship Round. In the final day Championship Round, weight carries over from the Knockout Round and the angler with the heaviest two-day total wins the top prize of $100,000.
Anglers will launch each day at 7:20 a.m. ET from Lake St. Clair Metropark, located at 31300 Metro Parkway in Harrison Township. Each day's General Tire Takeout will be held at the Metropark, beginning at 4 p.m. Fans are welcome to attend all launch and takeout events and also encouraged to follow the event online throughout the day on the MLFNOW!® live stream and SCORETRACKER® coverage at MajorLeagueFishing.com.
On Championship Thursday, June 29, from 1 p.m. to 6 p.m., MLF will welcome fans of all ages to celebrate the top 10 and crown the General Tire Stage Six at Lake St. Clair Champion at the Watch Party and Trophy Presentation. The final 10 Championship Round Bass Pro Tour anglers will be on hand at the trophy celebration to meet and greet fans, sign autographs and take selfies.
The General Tire Stage Six at Lake St. Clair Presented by John Deere Utility Vehicles features anglers competing using the MLF catch, weigh, immediate-release format, with each angler's five (5) heaviest bass per day tallied as their day's weight. Anglers strive to catch their heaviest five fish each day, while also feeling the pressure and intensity of the live scoring SCORETRACKER® leaderboard. Minimum weights are determined individually for each competition waters that the Bass Pro Tour visits, based on the productivity, bass population and anticipated average size of fish in each fishery.
The 2023 MLF Bass Pro Tour features a field of 80 of the top professional anglers in the world competing across seven regular-season tournaments around the country, fishing for millions of dollars and valuable points to qualify for the annual General Tire Heavy Hitters all-star event and REDCREST 2024, the Bass Pro Tour championship, held March 13-17, 2024, on Lay Lake in Birmingham, Alabama.
The MLFNOW!® broadcast team of Chad McKee, Marty Stone and J.T. Kenney will break down the extended action live on all six days of competition from 7:45 a.m. to 4:30 p.m. ET. MLFNOW!®  will be live streamed on MajorLeagueFishing.com  and the MyOutdoorTV (MOTV) app.
Television coverage of the General Tire Stage Six at Lake St. Clair Presented by John Deere Utility Vehicles Championship Round will air as a two-hour episode starting at 7 a.m. ET, on Saturday, November 4 on the Discovery Channel. New MLF episodes premiere each Saturday morning on Discovery, with re-airings on the Outdoor Channel.
Proud sponsors of the 2023 MLF Bass Pro Tour include: 13 Fishing, Abu Garcia, Ark Fishing, ATG by Wrangler, B&W Trailer Hitches, Bally Bet, Bass Cat Boats, Bass Pro Shops, Berkley, Black Rifle Coffee, Daiwa, Epic Baits, Favorite Fishing, Ferguson, Fox Rent A Car, General Tire, Grundéns, Humminbird, Lowrance, Minn Kota, Mercury, Mossy Oak, Onyx, Power-Pole, Rapala, Star tron, T-H Marine, TORO, Toyota, U.S. Air Force, Yellowstone Bourbon, Yo-Zuri and Zoom Baits.
For complete details and updated information on Major League Fishing and the Bass Pro Tour, visit MajorLeagueFishing.com. For regular updates, photos, tournament news and more, follow MLF's social media outlets at Facebook, Twitter,  Instagram and YouTube.
About Major League Fishing
Major League Fishing (MLF) is the world's largest tournament-fishing organization, producing more than 250 events annually at some of the most prestigious fisheries in the world, while broadcasting to America's living rooms on CBS, the Discovery Channel, the Outdoor Channel, CBS Sports Network, the World Fishing Network and on-demand on MyOutdoorTV (MOTV). Headquartered in Benton, Kentucky, the MLF roster of bass anglers includes the world's top pros and more than 30,000 competitors in all 50 states and 13 countries. Since its founding in 2011, MLF has advanced the sport of competitive fishing through its premier television broadcasts and livestreams and is dedicated to improving the quality of life for bass through research, education, fisheries enhancement and fish care.