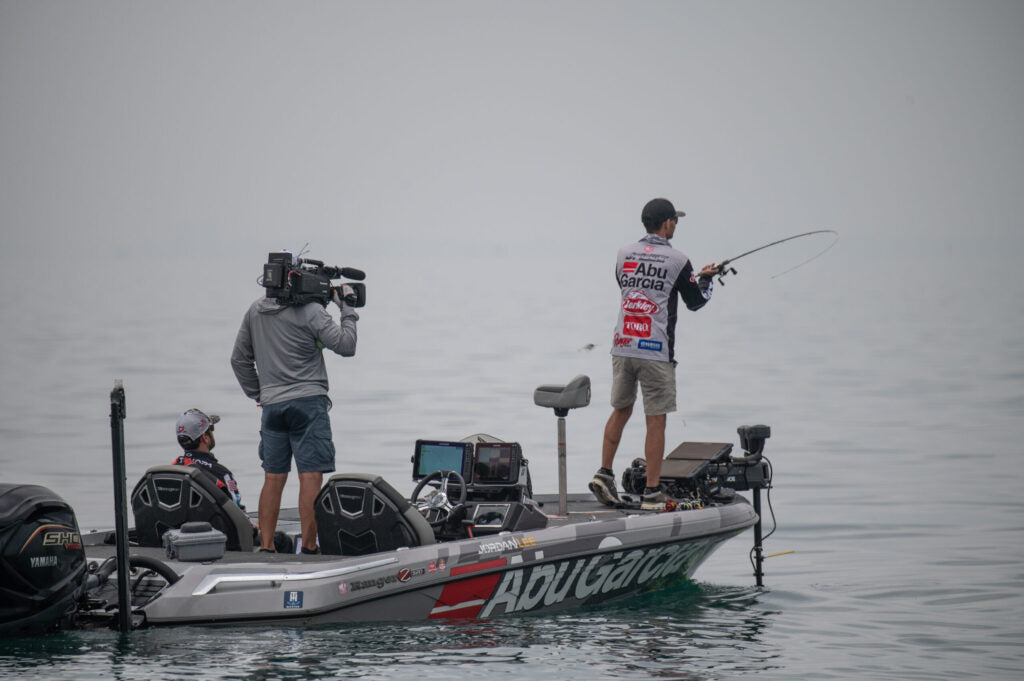 The six-day event, hosted by the Detroit Sports Commission, Macomb County and Lake St. Clair Metroparks, showcases 80 of the top professional anglers in the world, competing for a purse of more than $805,000, including a top payout of $100,000 and valuable Angler of the Year (AOY) points in hopes of qualifying for the General Tire Heavy Hitters All-Star event and REDCREST 2024, the Bass Pro Tour championship.
Link to Hi-Res Photo of Qualifying Group A Leader Jordan Lee
Link to HD Video – Fish-Catch Highlights of Group A Qualifying Round Day 1 on Lake St. Clair
Link to Photo Gallery of Group A's Day 1 Qualifying Round Highlights
The 40 anglers in Group A will now have an off day from competition Sunday, while the 40 anglers competing in Group B will begin their first day of competition. Group A will resume competition on Monday.
Lee started the day off with a bang, catching a 5-pound, 14-ounce smallmouth – the biggest fish of the day – in the first 10 minutes of competition to catapult into the early lead.
"I honestly expected to find a lot more schooling fish on this Canada side of Lake St. Clair, but that has not been the case," said Lee. "I've basically just been practicing all day since we couldn't fish over here during practice. I know it's all about finding a good area, so I've been running around all over, bouncing here and there. The size of fish is just a little bit better over here, though, which is what I was hoping for.
"When you get around them, you catch some smaller ones, but they look healthy – they aren't paper-thin," Lee continued. "I also caught a couple bigger fish (today), which is key."
Lee said his Lowrance ActiveTarget was critical to his success, and he caught his bass on several different baits, including a hair jig and drop-shot rig, a Berkley PowerBait MaxScent The General on a 3/8-ounce Ned Head and a Berkley PowerBait MaxScent Lil' General.
"I'm not sure what to expect on Monday with the winds that are being forecast, but maybe the bite will be better," said Lee. "I thought they would be a lot hungrier than they were because these fish haven't seen a bait in a long time. The slick calm weather we've had today was great for being able to move around on the water, but it's notorious for making fishing more difficult.
"If we get a little wind on Monday, I think the bite will pick up," Lee continued. "They just weren't firing today, but I'll definitely take it. Maybe I can learn a little something and just take it day by day. Winning the first day doesn't really mean a lot in the grand scheme of the tournament, but it feels great to get off to a good start."
The top 20 pros in Group A after Day 1 on Lake St. Clair are:
1st:           Jordan Lee, Cullman, Ala., five bass, 22-8
2nd:          Spencer Shuffield, Hot Springs, Ark., five bass, 22-7
3rd:          Alton Jones Jr., Waco, Texas, five bass, 21-5
4th:           Greg Vinson, Wetumpka, Ala., five bass, 20-12
5th:           Matt Becker, Ten Mile, Tenn., five bass, 20-9
6th:           Ryan Salzman, Huntsville, Ala., five bass, 20-9
7th:           Terry Scroggins, San Mateo, Fla., five bass, 20-5
8th:           Cody Meyer, Star, Idaho, five bass, 19-11
9th:           Michael Neal, Dayton, Tenn., five bass, 19-6
10th:        David Dudley, Lynchburg, Va., five bass, 19-4
11th:        Brent Chapman, Lake Quivira, Kan., five bass, 19-4
12th:        Kelly Jordon, Flint, Texas, five bass, 18-14
13th:        Fletcher Shryock, Guntersville, Ala., five bass, 18-12
14th:        Andy Morgan, Dayton Tenn., five bass, 18-12
15th:        Boyd Duckett, Guntersville, Ala., five bass, 18-9
16th:        James Watson, Lampe, Mo., five bass, 18-4
17th:        Mark Rose, Wynne, Ark., five bass, 17-13
18th:        Randall Tharp, Port St. Joe, Fla., five bass, 17-12
19th:        Ott DeFoe, Blaine, Tenn., five bass, 17-10
20th:        Dean Rojas, Lake Havasu City, Ariz., five bass, 17-10
A complete list of results can be found at 
MajorLeagueFishing.com
.Lee's 5-pound, 14-ounce smallmouth in Period 1 was the biggest fish of the day, earning him the first $1,000 Berkley Big Bass Award of the event. Berkley awards $1,000 to the angler who weighs the heaviest bass each day, and another $3,000 bonus to the angler who weighs the heaviest bass of the tournament.
The 40 Anglers in Group A compete in their two-day qualifying round on Saturday and Monday – the 40 anglers in Group B on Sunday and Tuesday. After each two-day qualifying round is complete, the top 20 anglers from each group advance to Wednesday's Knockout Round. In the Knockout Round, weights are zeroed, and the remaining 40 anglers compete to finish in the top 10 to advance to Thursday's Championship Round. In the final day Championship Round, weight carries over from the Knockout Round and the angler with the heaviest two-day total wins the top prize of $100,000.
Anglers will launch each day at 7:20 a.m. ET from Lake St. Clair Metropark, located at 31300 Metro Parkway in Harrison Township. Each day's General Tire Takeout will be held at the Metropark, beginning at 4 p.m. Fans are welcome to attend all launch and takeout events and also encouraged to follow the event online throughout the day on the MLFNOW!® live stream and SCORETRACKER® coverage at MajorLeagueFishing.com.
On Championship Thursday, June 29, from 1 p.m. to 6 p.m., MLF will welcome fans of all ages to celebrate the top 10 and crown the General Tire Stage Six at Lake St. Clair Champion at the Watch Party and Trophy Presentation. The final 10 Championship Round Bass Pro Tour anglers will be on hand at the trophy celebration to meet and greet fans, sign autographs and take selfies.
The General Tire Stage Six at Lake St. Clair Presented by John Deere Utility Vehicles features anglers competing using the MLF catch, weigh, immediate-release format, with each angler's five (5) heaviest bass per day tallied as their day's weight. Anglers strive to catch their heaviest five fish each day, while also feeling the pressure and intensity of the live scoring SCORETRACKER® leaderboard. Minimum weights are determined individually for each competition waters that the Bass Pro Tour visits, based on the productivity, bass population and anticipated average size of fish in each fishery.
The 2023 MLF Bass Pro Tour features a field of 80 of the top professional anglers in the world competing across seven regular-season tournaments around the country, fishing for millions of dollars and valuable points to qualify for the annual General Tire Heavy Hitters all-star event and REDCREST 2024, the Bass Pro Tour championship, held March 13-17, 2024, on Lay Lake in Birmingham, Alabama.
The MLFNOW!® broadcast team of Chad McKee, Marty Stone and J.T. Kenney will break down the extended action live on all six days of competition from 7:45 a.m. to 4:30 p.m. ET. MLFNOW!®  will be live streamed on MajorLeagueFishing.com  and the MyOutdoorTV (MOTV) app.
Television coverage of the General Tire Stage Six at Lake St. Clair Presented by John Deere Utility Vehicles Championship Round will air as a two-hour episode starting at 7 a.m. ET, on Saturday, November 4 on the Discovery Channel. New MLF episodes premiere each Saturday morning on Discovery, with re-airings on the Outdoor Channel.
Proud sponsors of the 2023 MLF Bass Pro Tour include: 13 Fishing, Abu Garcia, Ark Fishing, ATG by Wrangler, B&W Trailer Hitches, Bally Bet, Bass Cat Boats, Bass Pro Shops, Berkley, Black Rifle Coffee, Daiwa, Epic Baits, Favorite Fishing, Ferguson, Fox Rent A Car, General Tire, Grundéns, Humminbird, Lowrance, Minn Kota, Mercury, Mossy Oak, Onyx, Power-Pole, Rapala, Star tron, T-H Marine, TORO, Toyota, U.S. Air Force, Yellowstone Bourbon, Yo-Zuri and Zoom Baits.
For complete details and updated information on Major League Fishing and the Bass Pro Tour, visit MajorLeagueFishing.com. For regular updates, photos, tournament news and more, follow MLF's social media outlets at Facebook, Twitter,  Instagram and YouTube.
About Major League Fishing
Major League Fishing (MLF) is the world's largest tournament-fishing organization, producing more than 250 events annually at some of the most prestigious fisheries in the world, while broadcasting to America's living rooms on CBS, the Discovery Channel, the Outdoor Channel, CBS Sports Network, the World Fishing Network and on-demand on MyOutdoorTV (MOTV). Headquartered in Benton, Kentucky, the MLF roster of bass anglers includes the world's top pros and more than 30,000 competitors in all 50 states and 13 countries. Since its founding in 2011, MLF has advanced the sport of competitive fishing through its premier television broadcasts and livestreams and is dedicated to improving the quality of life for bass through research, education, fisheries enhancement and fish care.