BENTON, Ky. (Aug. 24, 2023) – Major League Fishing (MLF) announced today the schedule for the sixth season of professional bass fishing's most competitive circuit – the 2024 Bass Pro Shops Bass Pro Tour. The 2024 season will showcase the world's top professional bass anglers competing across seven regular-season tournaments for millions of dollars, valuable points in the Bally Bet Angler of the Year race, and qualification into REDCREST 2025 and the General Tire Heavy Hitters all-star event.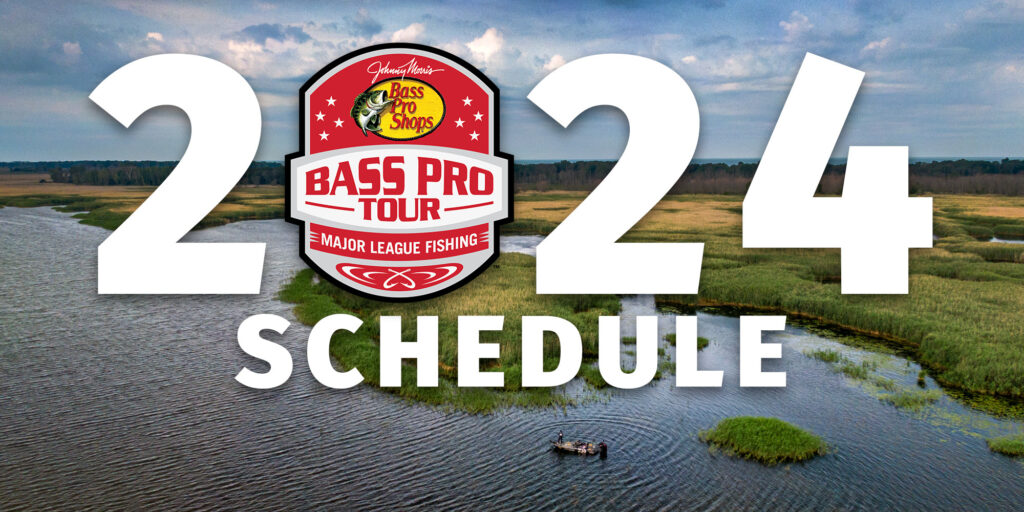 "We are proud to roll out a schedule with seven new destinations that have never before hosted a Bass Pro Tour event," said Kathy Fennel, MLF Executive Vice President & General Manager. "Our MLF tournaments create exciting and compelling content for our fans and sponsors. This schedule shines a light on some locations that haven't hosted a major bass-fishing tournament in some time. The stage is set for a very exciting 2024 season."
2024 MLF Bass Pro Tour Schedule:
Jan. 30- Feb. 4                 Stage One at Toledo Bend                                                      Many, La.
Hosted by Toledo Bend Lake Country
Feb. 20-25                        Stage Two at Santee Cooper Lakes                                   Clarendon County, S.C.
Hosted by the Clarendon County Chamber of Commerce
March 14-17                   REDCREST 2024 at Lay Lake                                                 Birmingham, Ala.
Hosted by the Greater Birmingham Convention & Visitors Bureau
April 9-14                         Stage Three at Dale Hollow Lake                                       Byrdstown, Tenn.
Hosted by the Byrdstown-Pickett County Chamber of Commerce
April 30- May 5              Stage Four at Lake Eufaula                                                    Eufaula, Okla.
Hosted by Vision Eufaula
May 18-23                        General Tire Heavy Hitters at Kissimmee Chain      Kissimmee, Fla.
Hosted by the Kissimmee Sports Commission
June 4-9                             Stage Five at the Chowan River                                           Edenton, N.C.
Hosted by the Town of Edenton, the Chowan County Tourism Development Authority and Harbor Towns Cruises
June 25-30                       Stage Six at the James River                                                  Richmond, Va.
Hosted by Richmond Region Tourism
Aug. 6-11                          Stage Seven at the St. Lawrence River                            Massena, N.Y.
Hosted by the Town of Massena
Each stage of the 2024 Bass Pro Tour features six days of competition using the catch, weigh, immediate-release format, broadcast live on MLFNOW! and streamed to the Major League Fishing app, MyOutdoorTV (MOTV) app, and at MajorLeagueFishing.com.
MLF also announced today that to better align with the REDCREST Outdoor Sports Expo, the REDCREST 2024 competition will be a four-day event. The tournament is scheduled for March 14-17, on Lay Lake in Alabama. The free, family friendly REDCREST Outdoor Sports Expo will be held in Birmingham, March 15-17.  In addition, the full 2024 Bass Pro Tour roster will be announced later this fall, and the 2024 MLF Bass Pro Tour, REDCREST and General Tire Heavy Hitters, will air on Discovery Channel beginning in July 2024.
For complete details and updated information on Major League Fishing and the Bass Pro Tour, visit MajorLeagueFishing.com. For regular updates, photos, tournament news and more, follow MLF's social media outlets at Facebook, Twitter,  Instagram and  YouTube.
About Major League Fishing
Major League Fishing (MLF) is the world's largest tournament-fishing organization, producing more than 250 events annually at some of the most prestigious fisheries in the world, while broadcasting to America's living rooms on CBS, the Discovery Channel, the Outdoor Channel, CBS Sports Network, the World Fishing Network and on-demand on MyOutdoorTV (MOTV). Headquartered in Benton, Kentucky, the MLF roster of bass anglers includes the world's top pros and more than 30,000 competitors in all 50 states and 13 countries. Since its founding in 2011, MLF has advanced the sport of competitive fishing through its premier television broadcasts and livestreams and is dedicated to improving the quality of life for bass through research, education, fisheries enhancement and fish care.